From playgrounds to battlegrounds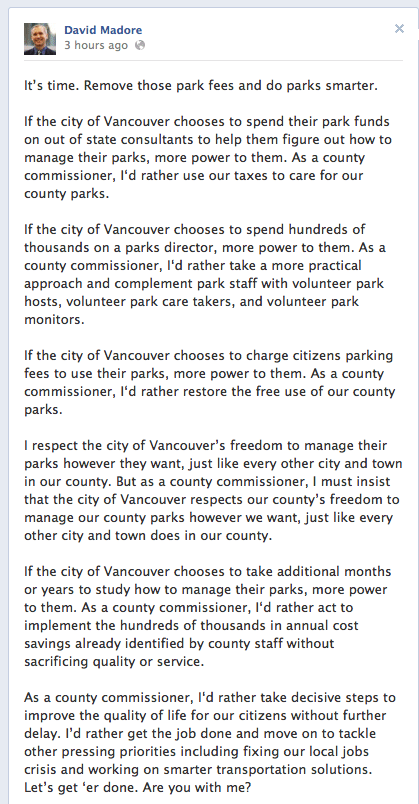 Much like the word "retreat" has been ruined for me by covering local government — turning it into a word with a positive connotation to one that fills me with dread — so goes the word "parks."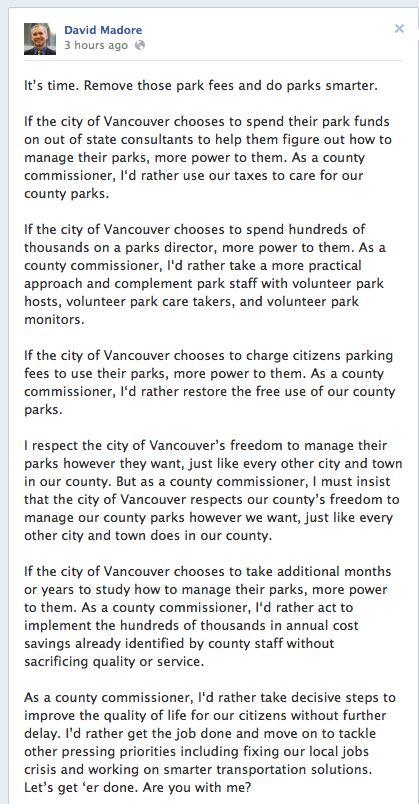 It used to mean playgrounds. Now it means battlegrounds.
If you've been following our stories, you know the county and city are revisiting the interlocal agreement that's the basis for the Vancouver-Clark Parks and Recreation Department. Then there are subplots, such as the fact Vancouver voters made it clear they don't want a new tax to fund parks and a disagreement among county commissioners whether the general fund should be tapped in order to cut parking fees at regional parks and boat launches.
Last weekend, the saga took a nasty turn after Clark County Commissioner David Madore posted this on Facebook.
Vancouver City Councilor Jack Burkman saw the post, took a screen shot and sent it in an email to City Manager Eric Holmes, cc'ing Mayor Tim Leavitt and other councilors.
"I want to bring to your attention Commissioner Madore's Facebook posting made this morning – pasted below and attached as a pdf document," Burkman wrote.
"I find his attack on our efforts to address our community's parks needs to be unwarranted and unacceptable. His statements make it abundantly clear that he has no interest in working with our city on this issue. Commissioner Madore is determined to have the county stand alone in their efforts to provide parks and recreation services to their residents."
" I request that you place the appropriate item on the Council's agenda to immediately begin the process to cancel the inter-local agreement and create a complete and total separation of the City of Vancouver's parks and recreation services from Clark County.
"All of Council has been copied so they know what is going on here. Council, please do not respond to this email as I do not want to initiate a violation of the open public meetings law," he wrote.
Holmes responded: "I will raise the matter under manager communications on February 25 (our next meeting) at the latest."
Councilor Jeanne Harris also hit reply-all in her response to Burkman:
"I can tell that you are very upset about this and so am I," she wrote. "This is definitely an issue that needs to be discussed. I've expressed the same feelings in my meetings with the city manager and with the mayor for quite some time but wanted the report from the team examining Parks first before making a comment. I think we have several options and need to go over all of them in a workshop. I don't want to separate from the county because of one commissioners insensitivity to the other jurisdictions involved and our public transparent process."
Then, at Wednesday's morning work session, Madore backed off after hearing Public Works Director Pete Capell talk about the benefits of working with the city. For one thing, many residents don't know which parks are in the county (particularly those with a Vancouver address that are actually outside city limits) and it helps to have one number to call for people to reserve shelter spaces, and have one person coordinating schedules for youth sports teams.
At the end of the work session, Madore said it doesn't sound like it's in the best interests of the county right now to end the interlocal agreement.
We'll see what the councilors say Monday when Holmes brings it up.