Wow, were the elections really just in November? Somebody should remind failed state legislative candidate Carolyn Crain. Oh wait, nevermind. State Rep. Jim Moeller, who picked up his sixth term with 60 percent of the vote, had to swing when Crain lobbed this softball at him in The Columbian's comments section.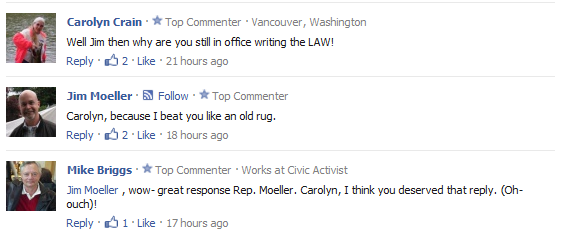 The story was about the county commissioners considering a nonbinding, advisory vote on whether county money should be spent on the CRC.
Crain's response

Psst, Carolyn – Mike Briggs doesn't even live in the 49th District. Also, don't feel bad about Moeller getting 60 percent. He picked up 62 percent in 2008, 61 percent in 2006 and 60 percent in 2004, and won by smaller margins in 2010 and 2002.