"Cowgirl up," Councilor Stewart
I've always been puzzled by Commissioner David Madore referring to Vancouver City Councilor Jeanne Stewart as "the princess."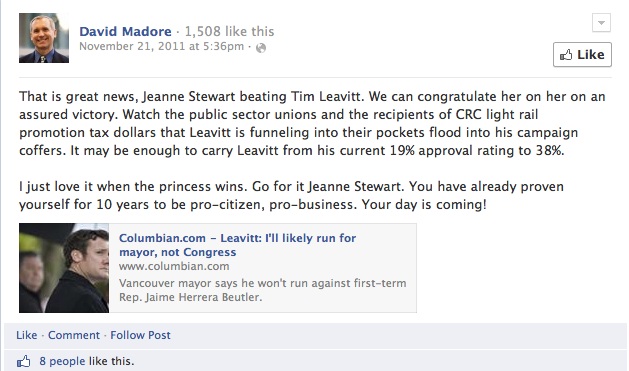 This Facebook post from Madore was from 2011, when Vancouver Mayor Tim Leavitt said he'll likely run for re-election instead of making a bid for Congress. Stewart had expressed interest in running for mayor, and on FB Madore predicted Stewart would beat Leavitt. "I just love it when the princess wins. Go for it Jeanne Stewart," he wrote.
Fast-forward to 2013. Stewart decided to just seek re-election, and Leavitt is running against Councilor Bill Turlay.
But unless you're talking about Disney characters or real-life princesses, who refers to a female over the age of 10 as "the princess" and means it as a compliment?
Since this is a blog, I'll feel free to quote from urban dictionary's definition of "princess:" a girl who has been pampered, sheltered and spoiled her whole life to the extent that she has no friggin' idea about the real world.
Now, that doesn't sound like Jeanne Stewart, does it? During meetings, I would sometimes wonder what she would look like wearing a tiara, ballgown and long white gloves. She seems far too pragmatic to be "the princess."
So with all of this in mind, I was delighted when Stewart showed up at Monday's council picnic with the pink cowboy hat she got at a recent Southwest Washington Contractors' Association event.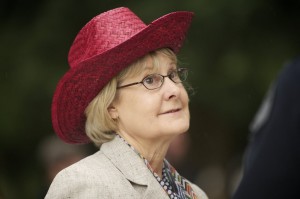 Now, I'm not calling her a cowgirl. With the exception of Bart "Boy Scout" Hansen, I don't have nicknames for any of the councilors. But I do think this is more fitting for her than a tiara. Let me refer again to urban dictionary, and the phrase, "cowgirl up:" be your own woman, make your own path and take responsibility for who you are and what you do. 
Better, right?