Blast from the past: Stormwater fee edition
At their last hearing Tuesday, the Clark County Board of Commissioners approved increases to stormwater fees for the first time in more than a decade. What the commissioners didn't do was approve a "litter fee," which would have been assessed to newspapers. And that's telling.
As I laid out in my story Wednesday about the board's decision, that county needs to do more research into what extent newspapers contribute to stormwater pollution.
Legally, the county has to show a connection between newspaper litter and stormwater pollution and a cost associated with it. That wasn't explicitly spelled out at Tuesday's hearing, however. While Environmental Services Director Don Benton has claimed he has proof that newspapers contribute to pollution — costing hundreds of thousands of dollars, he's claimed — no evidence has been presented publicly.
As previous stories have detailed, this isn't the first time the county has attempted to charge newspapers a fee or tax and struggled with the legal restrictions in doing so. In 2011, Mielke proposed the idea of levying a tax on newspapers. That decision was swiftly swept under the rug after Bronson Potter — the county's former chief civil deputy prosecuting attorney, now an attorney with the city of Vancouver — concluded that the idea constituted an unlawful business and occupation tax. Local jurisdictions are, generally speaking, not allowed to pass those.
Below is a photo of the email Potter sent clarifying the law, at the request of former Commissioner Marc Boldt.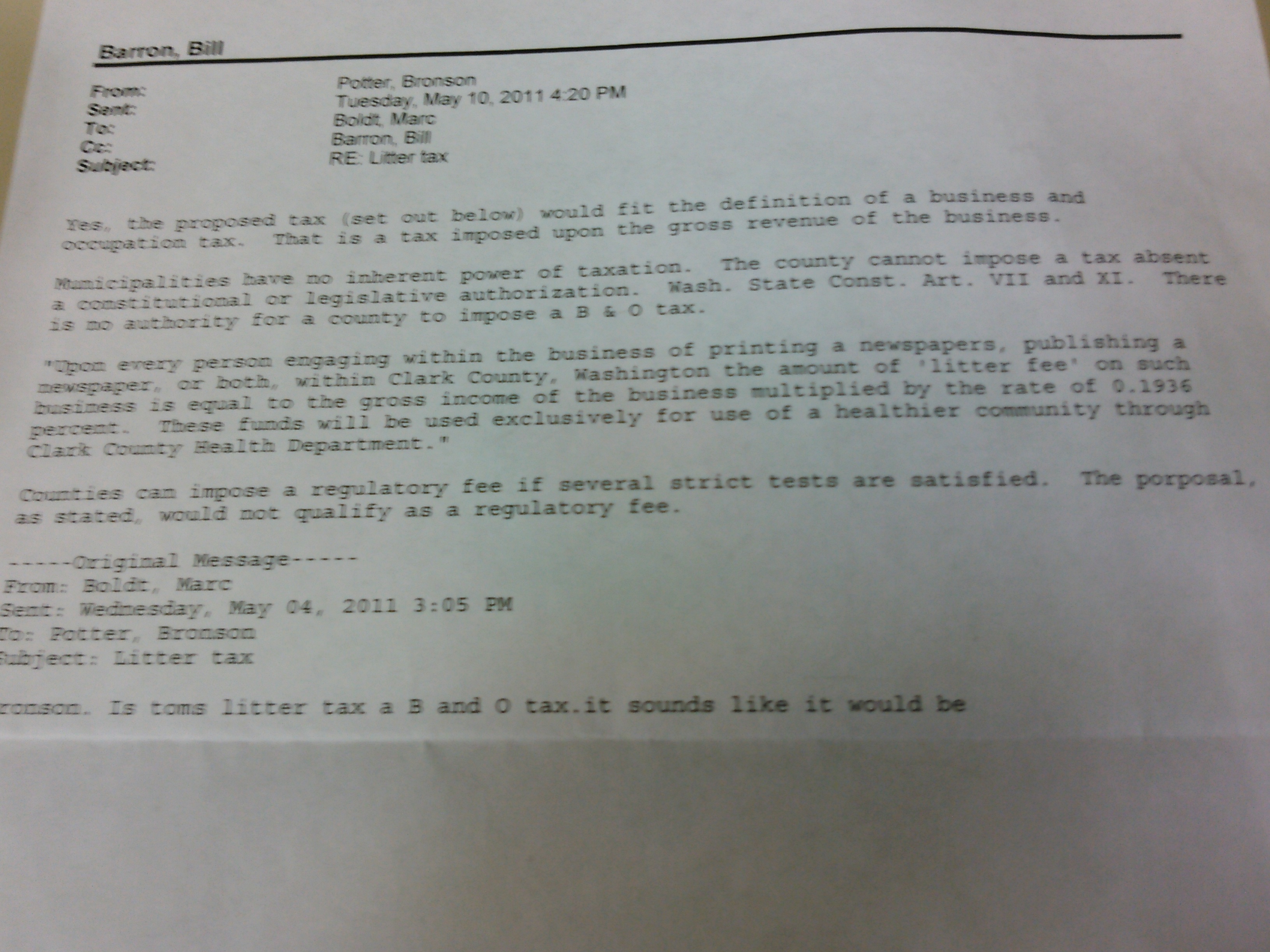 Potter declined to comment about the county's most recent attempt to charge newspapers a fee. But he did say the previous proposal was merely a blip on the radar because it was so clearly illegal.
Obviously, that won't be the case with the current fee proposal. The county plans to readdress the matter next year.
Looking ahead, it will be interesting to see how the county's stormwater pollution study shapes up. The findings will undoubtedly face plenty of scrutiny, in particular among attorneys. Attorneys I've spoken to — and there have been several — say they've never heard of such a fee anywhere, not just in Washington but nationwide.