Be prepared for Clark County meetings with 'fill-in-the-blank' story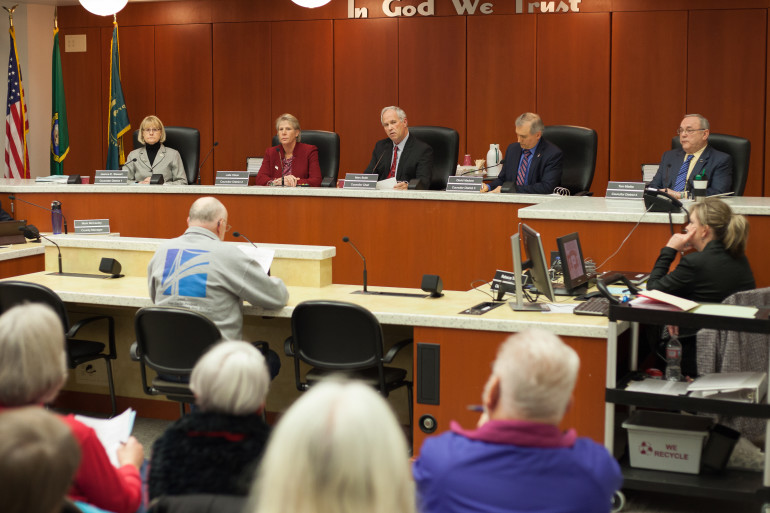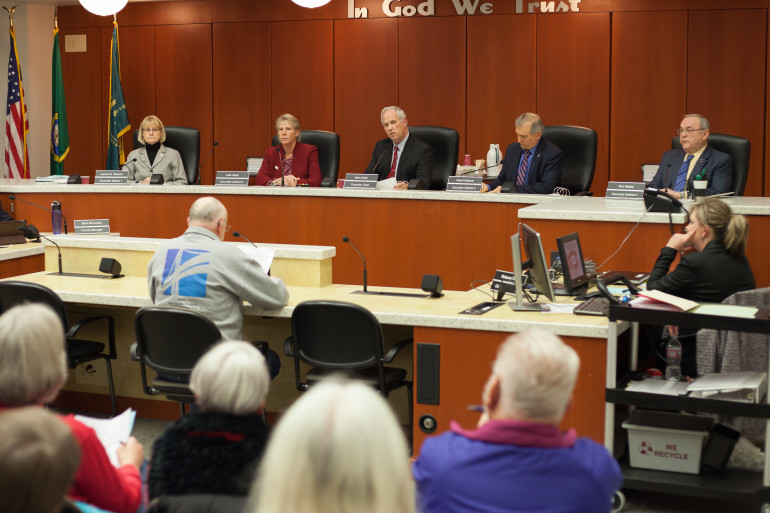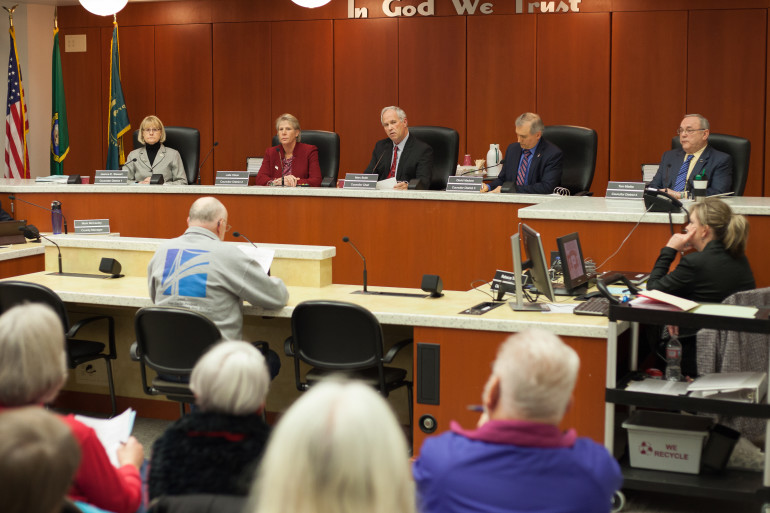 A proposed charter amendment introduced by Councilor David Madore, despite apparent disinterest from a majority of councilors, appears doomed to suffer a slow, drawn-out death.
Late last year, Madore, supported by Councilor Tom Mielke, introduced a charter amendment that would limit property tax levy increases to 1 percent unless first approved by a majority of voters.
If you'll recall, last year Republicans Madore and Mielke approved a resolution that scheduled a hearing to discuss an ordinance that if approved would have put the proposed charter amendment to a public vote this November.
But after individual meetings with councilors, Acting County Manager Mark McCauley did not issue a public notice for that hearing. It was clear, he said, that this proposed amendment was "doomed."
This is, of course, problematic under the Open Public Meetings Act, as experts we spoke to said it basically amounted to a serial meeting.
So to correct that, the county council indeed discussed the charter amendment on Tuesday, as scheduled in last year's resolution. Unfortunately, that meeting was not properly noticed, so the council couldn't vote on it after all, deciding instead to put the matter off for a month in order to provide adequate public notice.
So now, we face another meeting that will feature a slew of circular argument only to end in a predictable result: The Clark County council is likely to vote 3-to-2 to reject this charter amendment. Three of the five have expressed disinterest, questioned the legality of the amendment and criticized Madore for tying the hands of the current council.
But that's OK. You'll be prepared for that day, because I've written your very own Clark County 'fill-in-the-blank' that you can fill in as you're watching that meeting, or frankly, any other meeting of the Clark County council.
***
After several hours of [Adjective] arguing, a divided Clark County council voted Tuesday to approve [Policy].
By a vote of 3 to 2 — with Republican Councilors Julie Olson and Jeanne Stewart and Chair Marc Boldt, no party preference, in the majority — the council at its meeting approved [Policy].
But Councilor David Madore, a Republican, urged the council to instead consider [Noun].
"This is [Exclamation]," Republican Councilor David Madore said. "Yet again, the liberal majority has voted to take away your [Noun]."
Republican Councilor Tom Mielke agreed, then [Verb, past tense] a [Noun].
Olson, meanwhile, disputed Madore's accusations.
"Mr. Horne, does this board have the authority today to [Verb] [Article] [Noun]?" she asked Deputy Prosecutor Chris Horne.
"The board can take [Number] of [Larger number] actions today," Horne said. "But it is my legal opinion that all are [Adjective]."
Stewart, meanwhile, demanded to know why she'd only learned of the issue [Number] [Unit of time] before Tuesday's meeting.
"I haven't had time to [Verb] this," Stewart said.
Boldt, meanwhile, was visibly [Adjective] by Madore's accusations.
"To me, this is putting the county in an [Adjective] position," he said. "So we're going to move on now."
Madore, however, spoke over Boldt.
"Let the record show that these three councilors are making a [Adjective] decision that will [Verb] the citizens," he said.
After the meeting, Madore wrote an [Adjective] Facebook post, accusing his fellow councilors of [Verb], [Verb] and [Verb].