An endorsement for Long, and a climb for Khalil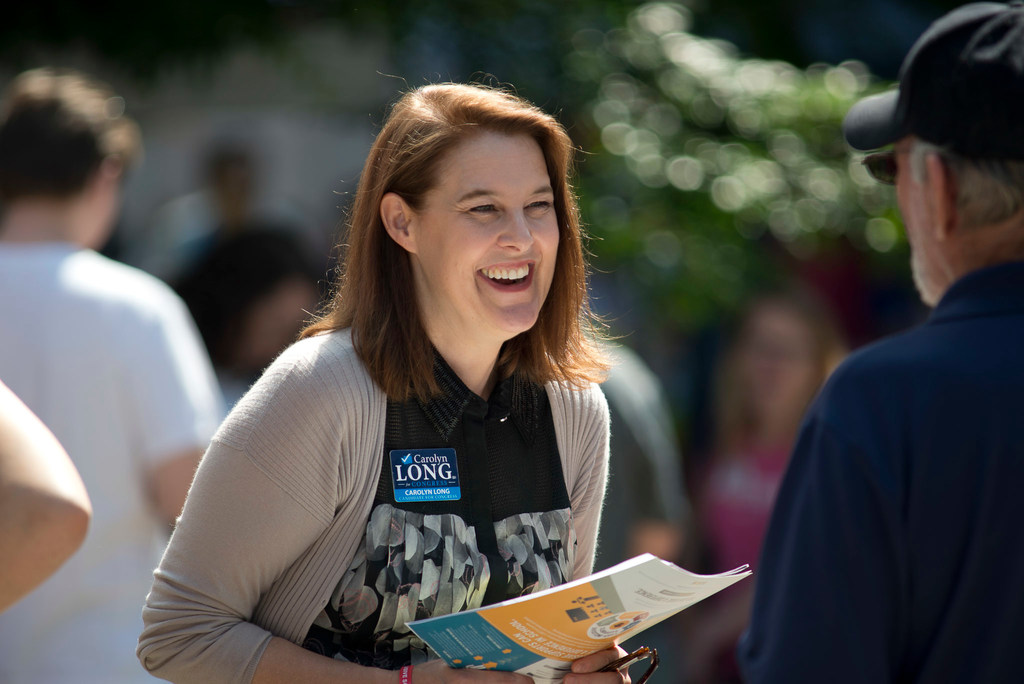 Carolyn Long, a Democrat running to represent Washington's 3rd Congressional District, picked up an endorsement from End Citizens United on Tuesday. 
End Citizens United, so named for the 2010 Supreme Court decision that protected campaign donations as free speech under the First Amendment, is a political action committee focused on removing corporate money from politics. In their endorsement the group cited Long's pledge not to accept any corporate PAC dollars.
"Carolyn Long's rejection of corporate PAC money highlights her commitment to fighting for southwest Washington families, not corporate special interests," said ECU President Tiffany Muller in a prepared statement. 
"Carolyn understands the importance of reducing health care costs and lowering the price of prescription drugs. She also understands that making progress isn't possible while politicians like her opponent, Rep. Jaime Herrera Beutler, has taken over $1.1 million in corporate PAC money over the course of her career."
In 2018, Long ran against and ultimately lost to Herrera Beutler, the incumbent Republican currently serving a fifth term in Congress. But refusing to take corporate PAC dollars became something of a rallying cry among other progressive politicians in 2018, including much of the House freshman class.
In a media release, Long said she hopes to work with ECU to "win in 2020, restore our democracy and put political power back in the hands of the people."
"Southwest Washingtonians deserve a representative who is committed and accountable to them, not corporations who write checks and then give marching orders," Long said.
In Long's 2018 Congressional bid, ECU announced their endorsement two months before the general election. Over that period the group donated to her campaign three times, totaling $5,000. It's a relatively small number. EMILY's List, a progressive pro-choice PAC that threw its considerable weight behind Long's 2020 bid last week, funneled more than $40,000 to her campaign in the months leading up to the 2018 election. 
But unlike the endorsement from EMILY's List, which only supports women politicians, the ECU's support of Long wasn't a foregone conclusion. 
Khalil's uphill battle?
Peter Khalil, a fellow 2020 Democratic challenger and former Wall Street lawyer, would arguably have been a more natural candidate to carry the ECU torch. While Long's campaign messaging touches briefly on overturning Citizens United, her top priority is healthcare affordability. Khalil, conversely, centers campaign finance reform in his platform. He often cites his years on Wall Street, which gave him a front-row seat to the "dysfunction and a lot of corruption" that lead to the Great Recession. The first quote on his website says as much:
"WE ARE PART OF A NATIONAL MOVEMENT DEMANDING BANKS, CORPORATIONS, AND OUR GOVERNMENT BE HELD ACCOUNTABLE AND WORK IN THE INTEREST OF THE PEOPLE."
On messaging alone, Khalil's a seemingly perfect fit for an ECU endorsement, and the fact that he didn't get it could be interpreted as a canary in the electoral coal mine.
Ideologically Khalil swings to the left of Long, which may prove a liability in a historically moderate district like Washington's 3rd. But lack of name recognition will likely prove his biggest hurdle. 
In the last cycle, Long proved she could run a campaign, serving the only serious challenge to Herrera Beutler since 2010 and making a name for herself among voters hoping to flip the district blue. By comparison, Khalil is an unknown entity. And while he has more than 10 months to change that before the primary in August, endorsements like this one from the ECU (and the funding they provide) are crucial to pick up momentum. If political groups are writing him off and throwing their support behind Long this early, Khalil could face an uphill climb to the primary ballot.
I've reached out to Khalil for comment. I'll update this post when I hear back from him.
UPDATE: 10:30 a.m.
Khalil called me to say he's unconcerned about being bypassed by ECU's endorsement.
"Endorsements don't win elections," he said. "The way that we're going to win this election is by engaging the most voters, period."
I responded that endorsements raise money, and that money certainly helps a candidate hold events to engage voters.
"We're going to get enough of the endorsements to do that," Khalil said. He also pointed to an endorsement from Our Revolution Washington, which he received last week.