A bone for conspiracy theorists to chew on
Vancouver Mayor Tim Leavitt has yet to take a public stance on the prospect of having the largest oil-handling facility in the Northwest in his city. He's been out of town this week, so he missed Monday's workshop on the proposed resolution against the Tesoro-Savage project. Only Leavitt and Turlay have kept mum on how they'll vote. The other five members of the council support it.
Meanwhile, this application caught my eye.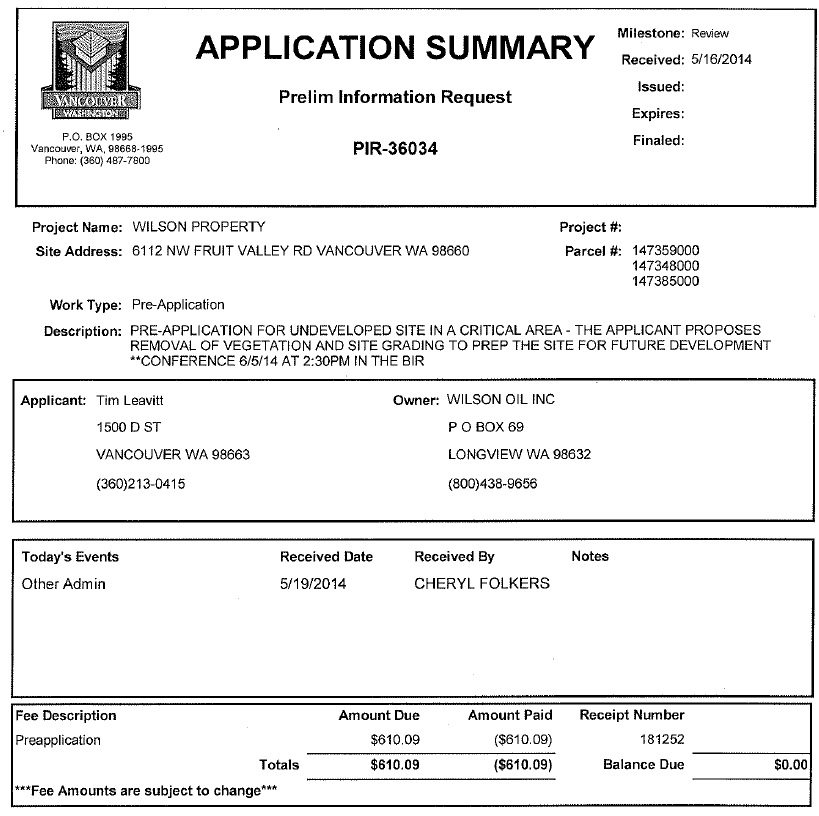 As a civil engineer for PBS Engineering + Environmental, Leavitt represents a variety of clients. I was just amused at the timing of him submitting an application on behalf of a company that has "oil" in its title. Wilson Oil, which does business as Wilcox & Flegel, is a fuel distribution company.
According to the application, the company wants to "improve the site to a pre-development condition. Specifically, the proposed project includes a removal of existing onsite vegetation and import of clean and compacted backfill material (sand, gravel, rock). At this time, there is no specific land development proposal envisioned."
So the company wants to prime the land for development but doesn't have a specific development in mind. OK.
Here's an aerial view of the property (three tax lots) from the application packet. The company bought the land for $2 million in 2010; the property is zoned for light industrial use.