Last month, Vancouver Mayor Tim Leavitt and Camas Mayor Scott Higgins sent a request to the U.S. Postal Service. They asked that approximately 880 addresses with a Camas ZIP code (98607) be changed to accurately reflect the homes are within Vancouver city limits, and that eight addresses within Camas city limits with a Vancouver ZIP code (98682) be given a Camas ZIP code.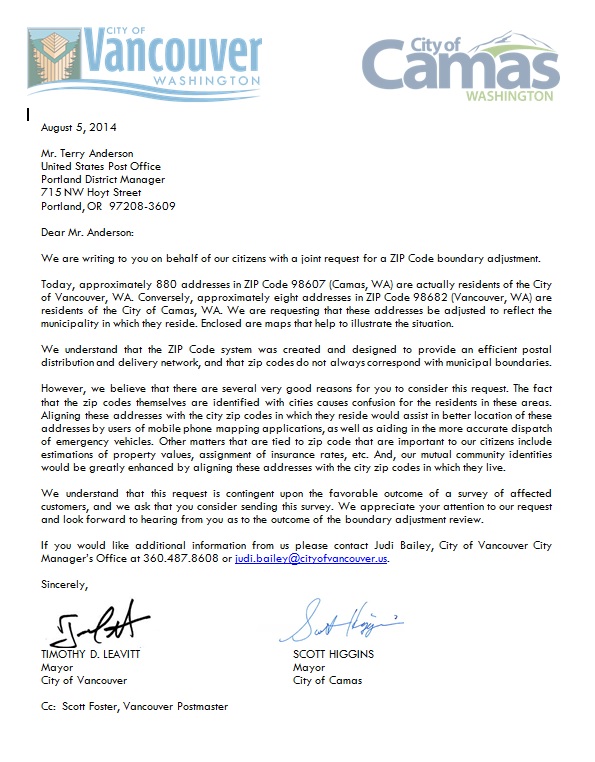 The mayors also sent a letter to residents, explaining why they made the request.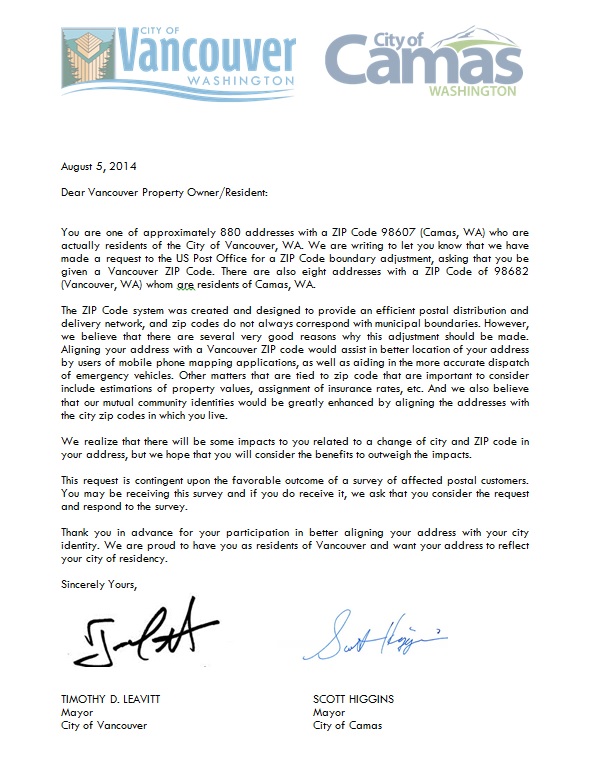 Some residents freaked out. Or, as Vancouver's neighborhoods program manager Judi Bailey wrote in an email to Leavitt, "vehemently opposed" the change.
Jan Bader, the city's policy director, wrote in an email to me that concerns "included impact on school district boundaries (this wouldn't impact the boundaries since they don't follow the city limits anyway), hassle of changing addresses on all sorts of forms, concerns about impact on property taxes (we confirmed that your zip code is not a factor in assessing your property taxes), impact on insurance rates and possible delays in mail delivery while a new zip code was implemented."
Two weeks ago, I heard from one resident who wanted the newspaper to write a story about the proposed change. I told him he bought a home in Vancouver city limits and I didn't think it was worth a story that the mayors wanted ZIP codes to accurately reflect where people live.
Here was his response, which I'm sharing to illustrate why some Vancouver residents were so upset about potentially losing their Camas ZIP code.
"Actually, it's a little more complicated than that, as the city name for my address is Camas, the zip code is Camas, and our taxes for school district are paid to Camas schools. However, we do pay a portion of our taxes to the city of Vancouver for general funds, as you could see on the attached doc I submitted.
If this passes, and our homes get a new zip code and city name attached to them, it can directly impact our home's value (as home values in Camas' 98607 are much higher than in Vancouver's 98682), increase our insurance rates due to the new zip code (home insurance rates are higher in 98682). This change could also make it very difficult for someone looking for a home for sale in the Camas school district (highest rated district in Clark County and one of the top in the state) to find one of these 880 homes, especially if they're using one of the common real estate search engines which use city name or zip code. This could have a direct negative impact on our ability to sell our homes if and when we choose to do so.
We all bought homes in what was listed as Camas, with a zip code of 98607, which is Camas, many of us with kids with the intent of ensuring we were in the Camas school district. This change could impact those issues forever, potentially leading down a slippery slope where Vancouver next decides to annex these homes into a Vancouver (i.e. Evergreen) school district.
Just thought it was well worth reporting on, especially as it may have an impact of upwards of 1,000 school aged kids in Clark County."
But he and other Vancouver residents concerned about losing their Camas status can rest easy, because the Postal Service denied the request. And given the opposition from residents, Leavitt and Higgins decided not to appeal the decision, Bader said.