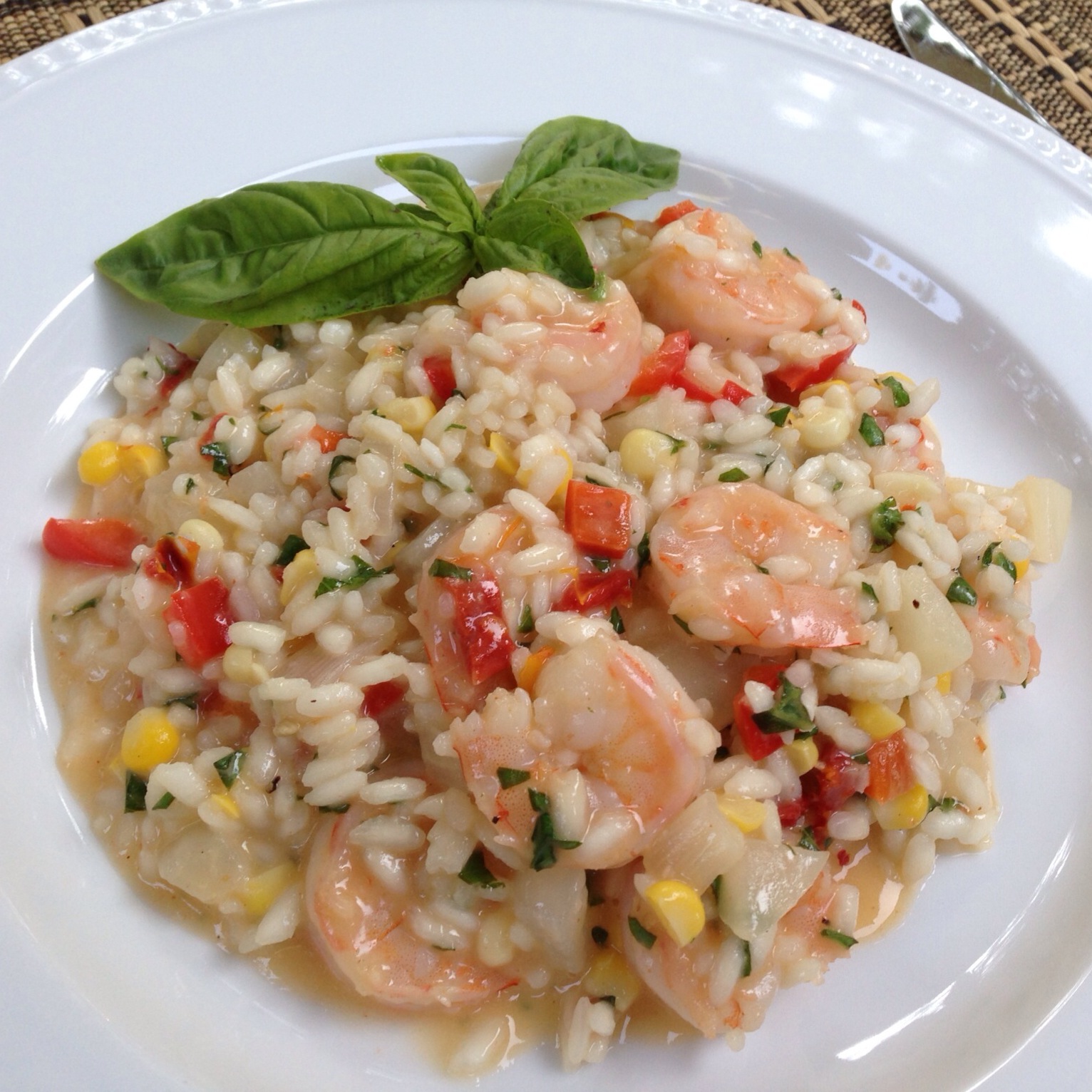 Though risotto, the creamy, Italian rice dish, is one of the most common meals in Italy, it is also one of the most versatile. Risotto can be made with chicken, beef, or vegetable stock, it features everything from peas to pancetta, mussels to mushrooms, and may be served as a first course or the main meal. In the same way, risotto has become an extremely versatile dish in my family, as well. What began as a special occasion meal served to guests and out-of-town relatives became a weeknight staple, as my dad got to know the recipe very well, and adapt it to his own needs.
Our favorite risotto recipe usually involves shrimp, corn, asparagus, and roasted red peppers, but we have experimented with chicken, sausage, and salmon, too, and we like to add any and every vegetable currently in season.  Perhaps my most poignant memories of eating risotto while growing up come from the addition of saffron, which gives the rice a brilliant yellow color and spicy aroma.  This is my family's go-to recipe for risotto. I think you will be surprised how a dish can taste so refined, yet be surprisingly easy to prepare. Enjoy!
Shrimp Risotto
Serves 10
Ingredients:
2 pounds medium raw shrimp, shells removed
Four cloves of garlic, chopped
One medium onion, diced
One medium to large red pepper, diced
2 cups arborio rice (do not substitute a different type of rice)
1 cup white wine
1 quart low-sodium chicken broth, heated
Large pinch saffron threads (optional but worth it)
¼ cup sun dried tomatoes, chopped
½ cup fresh corn kernels (may use frozen, but thaw first)
1 cup blanched asparagus cut in 1" pieces (see note)*
½ stick butter softened
¾ cup fresh grated parmesan cheese*
1/3 cup chopped Italian flat leaf parsley*
4 Tbsp Extra Virgin Olive oil, divided
Salt and freshly ground pepper
Directions:
1.  In large pot, saute shrimp in 2 Tbsp olive oil along with the garlic over medium high heat until opaque.  Remove and set aside.
2.  Saute onions and peppers in remaining 2 Tbsp olive oil until just starting to brown. Add rice and stir constantly for 1-2 minutes.
3.  Add white wine and stir until most of liquid is absorbed.  Add warm broth ½ cup at a time stirring frequently.  Wait until most of liquid is absorbed before adding more broth.  You will add the entire quart over 10-15 minutes.  Remember to stir frequently.  At the end of this process the rice will still be a bit firm and start to look creamy. Add saffron if using.   Adjust heat to medium low.  Stir in sun dried tomatoes and vegetables.  Stir in butter and cheese.  Stir in parsley.
4.  Add the cooked shrimp and garlic.  Salt and pepper to taste.
Notes:
*I often will substitute chopped fresh basil for the parsley, but be sure to add after the risotto has been removed from the heat, or it will go from green to gray.
*Feel free to adjust the amount of cheese to taste (I will often use a bit more) and substitute any other firm vegetable (peas, zucchini, etc.) you wish.
*To blanch asparagus, immerse the cut pieces in boiling salted water for 1-2 minutes until crisp tender and bright green.  Then immerse in ice water to stop cooking process.  Drain.