Zucchini "Pasta" with Shrimp and Creamy Avocado Basil Sauce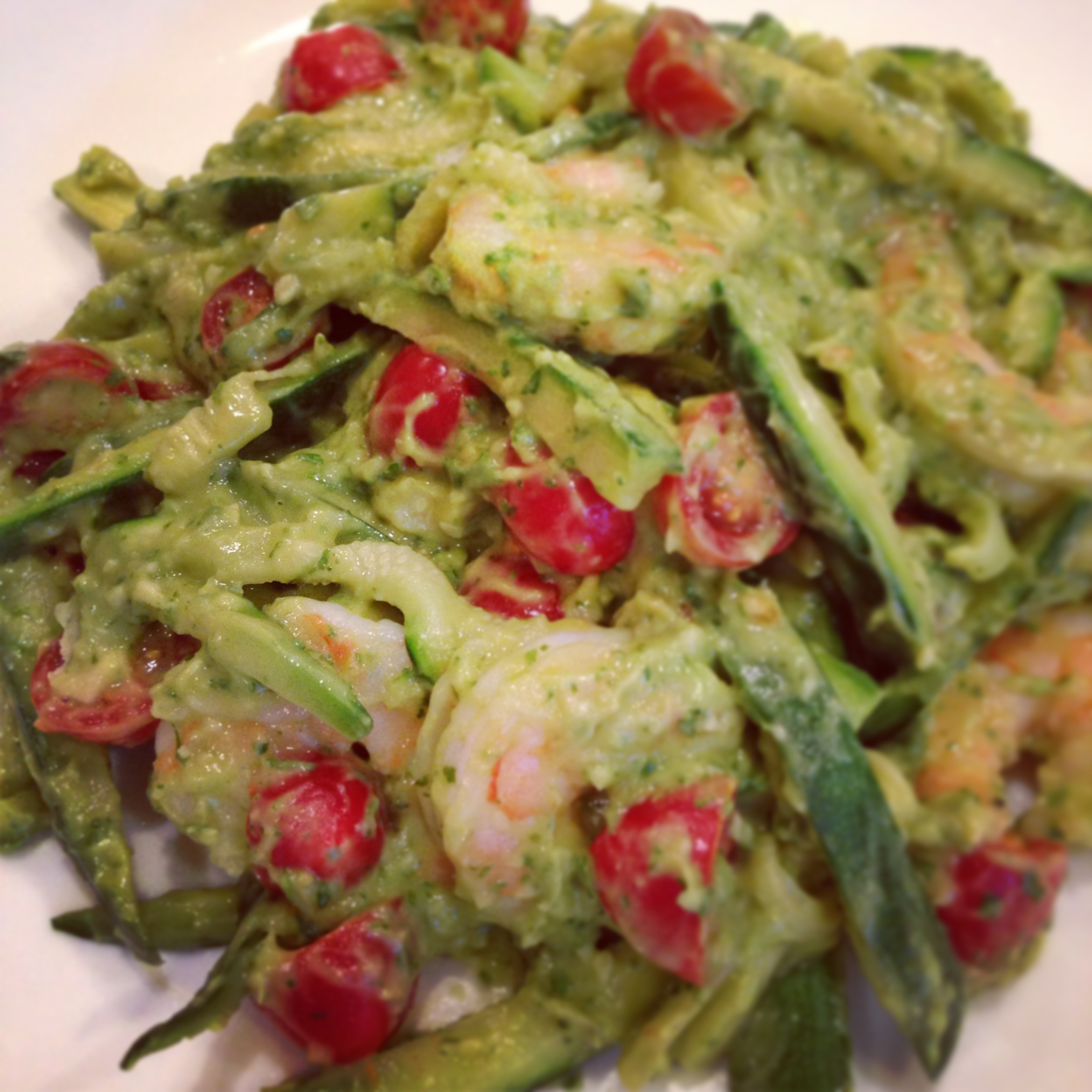 Similar to recipes made using spaghetti squash, a vegetable takes the place of pasta in this dish for a fresh, healthy, and flavorful meal. Zucchini, a summer staple currently at the peak of its season, holds up just like noodles when blanched, and serves as an excellent base for prawns and a smooth, creamy avocado sauce. Though the simple sauce is composed of only avocado, basil, garlic, lemon juice, salt, and pepper, it tastes wonderfully rich and indulgent. I made the entire dish in less than twenty minutes, and found the clean-up to be just as fast. (It helped that there weren't any leftovers!)
PS. Wondering what to do with the second half of the avocado? Try my Creamy Dreamy Pineapple Green Smoothie, recipe here.
Zucchini "Pasta" with Shrimp and Creamy Avocado Basil Sauce
Serves 1
Ingredients:
3 small green zucchinis
5 oz tiger prawns, cooked*
½ cup cherry tomatoes, halved
For the Avocado Basil Sauce:
½ cup of basil
¼ of a ripe avocado
1 cloves of garlic, minced
juice of half a lemon
salt and pepper, to taste
Directions:
1.  Start by making the zucchini "pasta." Slice off both ends of each zucchini. Use a mandoline with the "julienne" attachment to make pasta-like strips. If you do not have a mandoline, cut the zucchini into thin wide strips, lengthwise, then finely slice the strips, lengthwise again. You should have long, thin strips of zucchini that look like linguini.
2.  Bring water to a boil in a saucepan. Blanch the zucchini for 30 seconds, then rinse under cold water. You merely want to slightly soften the zucchini. Set aside.
3.  Make the sauce. Place the basil, avocado, garlic, lemon juice, salt, and pepper in a food processor or blender. Blend until you obtain a pesto-like consistency.
4.  Toss the zucchini, prawns, tomatoes, and sauce in a bowl until the sauce is evenly distributed. Lightly season with salt and pepper.
5.  I served the pasta warm, but you may also serve it chilled or at room temperature–whatever you prefer!
* I bought cooked shrimp at the seafood counter, but you can cook the shrimp yourself, if you prefer. Any method of cooking will work in this dish. Personally, I think that grilled shrimp would be delicious.