Sweet and Spicy Salmon Kebabs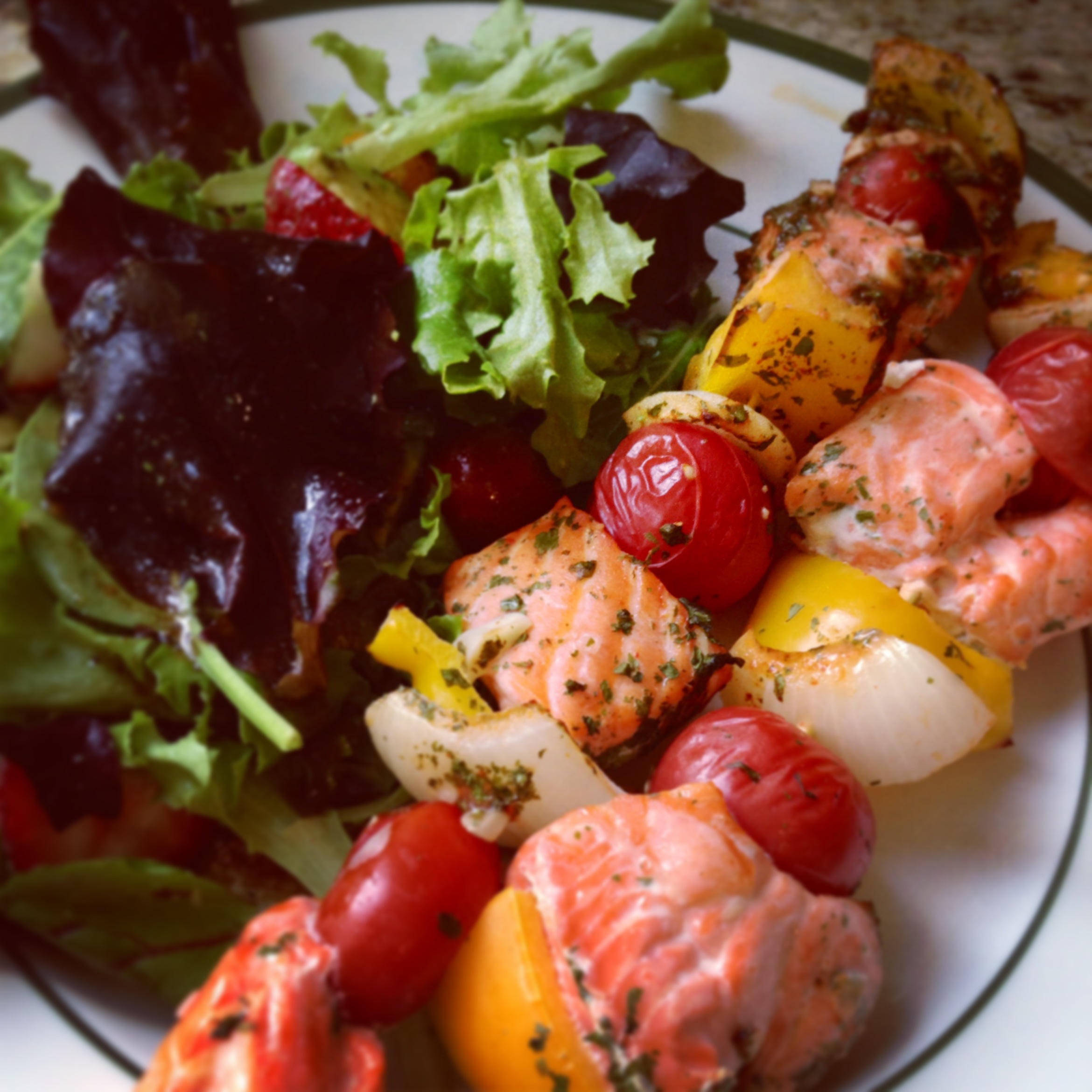 Being from the Pacific Northwest, I love salmon. While on a camping trip with my second-grade Girl Scout troop, my fellow scouts and I encountered a group of salmon swimming upstream to spawn. We stood on a bridge over the river, cheering the salmon on to victory, "Go salmon! You can do it!" I would like to think that my encouragement played a large role in helping the salmon find their way to the end of the run, and eventually onto my plate.
These sweet and spicy salmon kebabs are incredibly fast and easy to make. I used King Salmon, but any type of fresh salmon will do. To save even more time, I asked the man at the fish counter to cut the salmon into 1.5-inch kebab cubes, and he was happy to comply. Serve the salmon with brown rice and/or a side salad–I'm posting one of my go-to side salad recipes below!
Sweet and Spicy Salmon Kebabs
Serves 2 (2-3 skewers each)
Ingredients:
For the kebabs:
1 lb. raw salmon, cut into 1.5-inch cubes
8 cherry tomatoes
1 large yellow bell pepper, cored, seeded, and cut into 1-inch pieces
Half of a yellow onion, cut into 1-inch pieces
6 wooden skewers
Marinade:
1 tsp each: cayenne pepper, sea salt, and parsley
2 tsp chopped garlic
1 T light brown sugar
1 T organic ketchup
Directions:
1.  Allow the skewers to soak in a baking dish of water, so that they don't burn in the oven.
2.  Meanwhile, cut up the pepper, onion, and, if needed, the salmon.
3.  Mix all marinade ingredients in a bowl, and set aside.
4.  Thread the salmon cubes and vegetables onto the skewers, alternating the salmon with the onions, yellow peppers, and cherry tomatoes.
5.  Place the skewers in a large sealable plastic bag, and add the marinade.  Seal the bag, and gently massage it to evenly coat the skewers. Put the bag into the refrigerator for 20 minutes.
6.  Preheat the oven to Broil, making sure the top oven rack is roughly six inches from the broiler.
7.  Cover a broiler pan with foil, and arrange the skewers on top.  Place in the oven for approximately three minutes, then turn the kebabs and broil for an additional three to four minutes until the salmon is no longer pink and the veggies are well-browned.
8.  Remove from oven, and serve with rice or a side salad.
Strawberry-Avocado Side Salad:
Ingredients:
One package of mixed greens
One large avocado, cored and sliced
8-10 large strawberries, tops removed and cut in half
1 cup cherry tomatoes
Light Balsamic Vinaigrette
Directions:
1.  Wash the greens, and place in a large bowl.
2.  Place all other ingredients in the bowl, and toss well.
3.  Serve alongside your favorite light balsamic dressing.