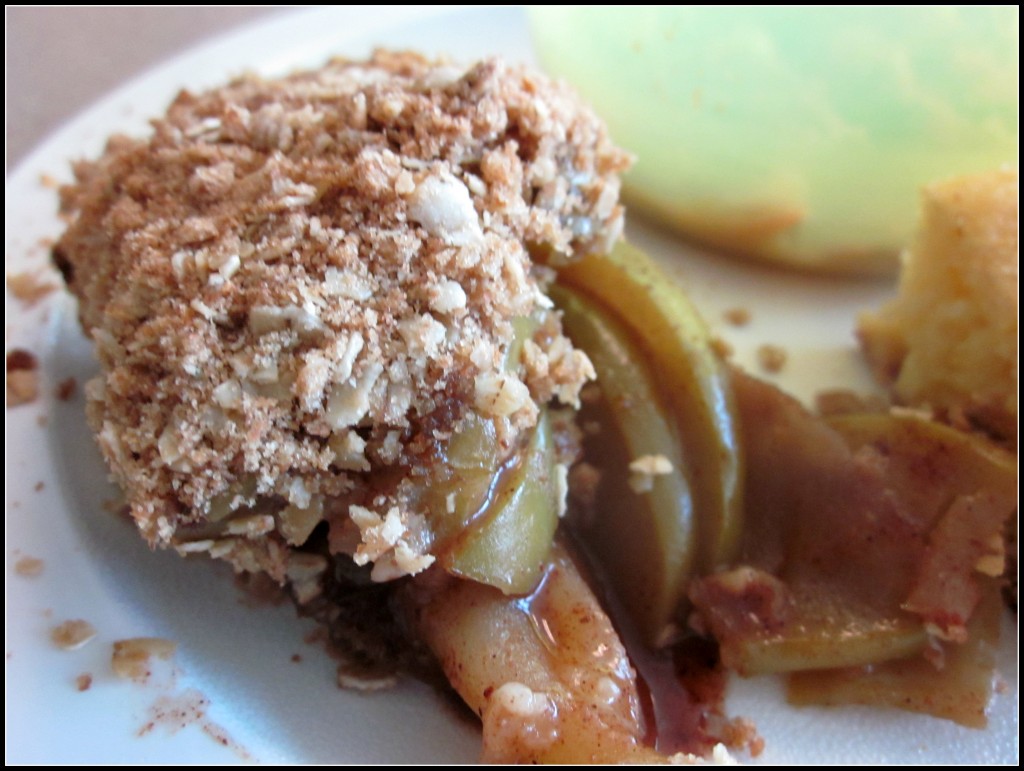 My work is collaborating with the Clark County Food Bank again this summer.  We are providing nutrition education and cooking classes to at-risk teens.  We use Cooking Matters, a nationally recognized curriculum, to teach healthy, delicious, inexpensive recipes.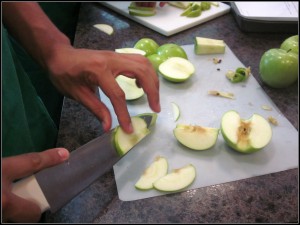 The Cooking Matters classes are incredible; youth love the food and the chance to develop skills in kitchen.  Today we made a delicious apple crisp with oatmeal topping.  Although there was a mix up around teaspoons vs tablespoons of cinnamon, the crisp was fantastic.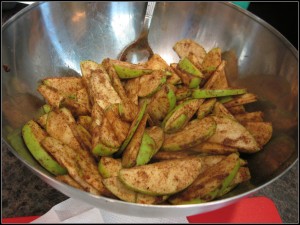 If you wish, you can "like" us on the Food Bank's Facebook page.  I also recommend trying last year's recipe, Rolled Oat Peanut Butter Cookies.  The teens are still taking about them!
Healthy Apple Crisp
Serves 9 (1 9×9 pan)
Ingredients:
5 medium apples, recommend Granny Smith
3/4 C dark brown sugar, divided
1/2 C whole wheat flour, divided
1/2 t (not T) cinnamon
1/4 t nutmeg
1/2 stick (4 oz) cold butter
1 1/2 C quick cooking oats
Directions:
Heat oven to 350
Wash, core and slice apples into equal size pieces.  Do not peel.
Combine sliced apples with 1/4 C brown sugar, 1 T flour, cinnamon and nutmeg.  Mix well.
Spray 9×9 baking dish with non-stick cooking spray.
Pour apple mixture into baking dish.  Spread evenly.
In separate bowl, cut cold butter into oatmeal, remaining flour and remaining brown sugar.  You can use pastry cutter, forks or clean fingers.  Mixture will resemble coarse crumbs.
Sprinkle on top of apples, bake 25-35 mins until golden brown and apples are bubbling.
Serve with honey or small amounts of ice cream.  Make youth wash all the dishes.  Watch teens (or anyone) be proud of what they can create!
Special thanks to Kristen, Allison, Mikeila and Linda for their help in class.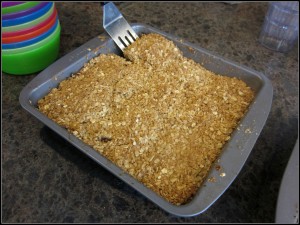 Recipe from Cooking Matters for Adults, 2013, page 128.