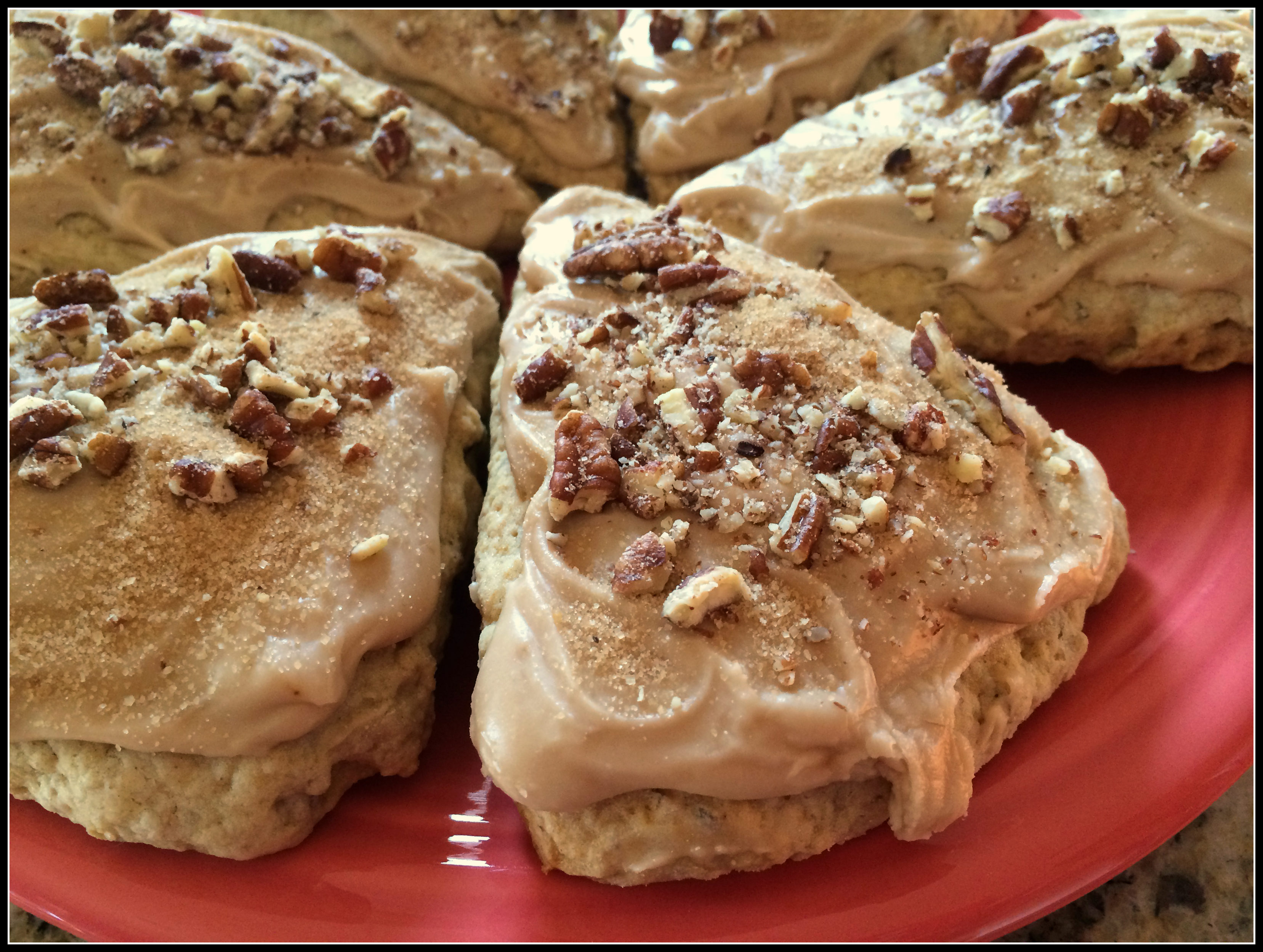 Maple sugar scones are delicious and lightly sweet.  The glaze is amazing and I might start putting it on everything- scones, sandwiches, vegetables, whatever.  Don't be afraid of the instant coffee, it cuts the sweetness of powdered sugar and brings out the maple flavor.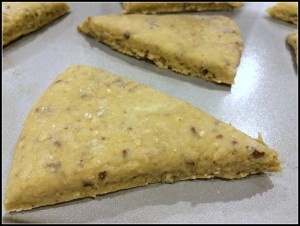 Maple Sugar Scones
Makes 16 scones
Ingredients: 
1 C (2 sticks) cold butter cut into cubes
2 3/4 C flour
1/2 C sugar
1/2 C oats, ground in food processor
1/4 t salt
2 T baking powder
1 C chopped pecans
3/4 C milk
1 egg
Maple Glaze
4 C powdered sugar
1/4 C milk
2 T melted butter
1/4 t instant coffee (I used a Starbucks Via tube)
1 T natural maple extract
Pinch salt
1/4 C maple sugar
1/2 C chopped pecans
Directions:
Heat oven to 350.  Line baking sheets with parchment paper.
Combine flour, sugar, ground oats, baking powder and salt.
Using pastry cutter, cut in cold, cubed butter.  Mixture looks like coarse crumbs, all approximately the same size.  Stir in chopped pecans.
In small bowl, mix milk, egg and maple extract.  Drizzle over flour mixture.  Stir gently until just combined.  Do not over knead.  (This means quit touching as soon as it forms a large clump.  Scones are not bread dough- be gentle!)
Flour work surface.  Pull out approximately half the dough.  Form into a ball and flatten gently with your hands until about an inch thick, 6-8 inches across.  If dough is sticky, lightly dust with more flour.
With a sharp knife, cut "pizza style" into 8 pieces.  Transfer to baking sheet.  Repeat with remaining dough.  Give space on cookie sheets as scones puff up while baking.
Bake approximately 25 minutes until barely golden.  Cool completely before glazing.
To make glaze, whisk powdered sugar, milk, melted butter, pinch salt, instant coffee and maple extract.
If glaze is thin, add powdered sugar in 1/4 C increments.  If glaze is thick, add milk in 1 teaspoon amounts until desired consistency.  I wanted thick glaze (not the pourable stuff).  Mine had the texture of thick honey.
Using a knife or spoon apply glaze to cooled scones.  Sprinkle with maple sugar and pecans.  Glaze hardens completely in 12-24 hours.
I highly recommend these with coffee.  Yum!
Adapted from "Maple Pecan Scones," The Pioneer Woman