Are You Staying Up With The Fitness Trends?
The American College of Sports Medicine surveyed 3000 health and fitness pros to determine the top fitness trends for 2020.
If you're in a rut with your fitness routine, perhaps you need to try one of these hot trends!
Wearable Technology
Wearable technology was again the #1 trend and includes smart watches, fitness trackers, HR monitors, and GPS tracking devices. Examples include activity trackers like those manufactured by Fitbit®, Polar®, Garmin®, and Apple®. I know I am obsessed with my Apple Watch and its ability to track calories expended, heart rate, steps, sitti
ng time, movement time and more. It provides additional accountability and fun challenges to keep you motivated and inspired.
High-Intensity Interval Training (HIIT)
Bootcamps, Cross-Fit and any type of activity that involves short bursts of high-intensity intervals continue to be popular at fitness clubs, training studios, on TV and streaming online. The results touted with minimal time commitment seem to drive the popularity despite the potentially increased injury rates.
Group Training
The music, the inspirational instructor and the camaraderie of the group are some of the reasons more people are turning to group fitness whether Barre, Indoor Cycling, Boxing, Rowing, Yoga and more. If you are struggling with sticking to your workout solo, perhaps you need a tribe!
Training with Free Weights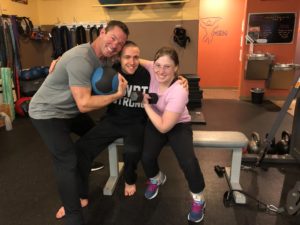 Athletes see the advantages of working with kettlebells, medicine balls, barbells, hand-weights and other tools separate from traditional weightlifting machines, which don't mimic real-life movement as well.
Personal Training
More and more people are recognizing the benefits of having a coach oversee your entire health and fitness program and provide the safety and accountability required to succeed. It is no longer reserved for the rich and famous as people dealing with medical health issues, injuries, and/or aches and pains associated with aging and an inactive lifestyle are placing their health as a priority and seeking guidance and support to start looking and feeling their best.
Exercise is Medicine®
Finally, doctors and other health-care providers are focusing on prescribing physical activity assessments and exercise-associated treatment recommendations as part of every patient visit, and referring their patients to exercise professionals. Prevention is the key!
Body Weight Training
There is no better piece of equipment than your own body! There are hundreds of exercises and thousands of variations to train using nothing but your own body!
Fitness Programs For Older Adults
Exercise and strength training are the true fountain of youth! Aging is not a number but an energy so it's very exciting to see Baby Boomers redefining what aging looks like!
Health/Wellness Coaching
We know we should be exercising and eating better but there is often a disconnect between knowing and doing. A health/wellness coach using a behavioral change approach can help you set goals, action steps and provide strategies to set up your lifestyle to succeed.
Employing Certified Fitness Professionals
Is there really a question? Your health is your number one asset so if you're going to have someone oversee your fitness program, make sure they are an expert and a certified professional.
Other trends to top off the Top 20 include…
Exercise for weight loss
Functional fitness training
Outdoor activities
Yoga
Licensing for Fitness Professionals
Lifestyle Medicine
Circuit Training
Workplace Wellness Programs
Outcome and Performance Measurements
Children in Exercise
Note: As an avid Columbian reader, you can redeem a 2 week pass at her world-class training studio to help get you started.  Contact 360.574.7292 for more details.
Yours in health & fitness,
Sherri McMillan
---
Join us for the Couve Clover Run (3, 7 & 10 Miles) March 22nd, 2020!
RUN, GIVE BACK & PARTY AT MAIN EVENT AND OTHER DOWNTOWN PUBS!
Join us for the 6th Annual Couve Clover Run and celebrate in your festive green while running or walking 3, 7 or 10 miles along an extremely fast and scenic course to support local charities! We will make you earn your post-event party but it will be off the charts hosted by Main Event and other downtown Vancouver Pubs & Breweries.
---