Gifts For Your Fit Friends
People who exercise regularly are the easiest to buy for because there is always some type of new gadget or the latest and greatest workout gear that they need. Plus even if they already have it, sometimes they get used so much and/or get so stinky, that they will need to upgrade.
Here's a list of the Top 15 ideas that any fitness fanatic would appreciate:
Wearable Activity Tracking Device – If there's one thing an athlete is obsessed with, it's tracking their workouts. Depending on your budget, you might go for an entry level FitBit, an Apple Watch, a Polar Monitor or a Garmin. Be sure to fully understand what your fitness enthusiast currently uses or values. If they are already using an Apple Watch, they probably wouldn't use a FitBit. One thing an athlete understands is that if you don't track the workout and post it to Facebook, it's almost like it didn't happen!
PowerBlock 24 pound Adjustable Dumbbell Set – Most athletes understand the importance of strength training so make it easy for them to perform some of their favorite strength moves right from home. Few of us have the space for a full gym at our homes, but these adjustable weight blocks, allow you to lift 3 to 24 pounds from one weight block. It's a full set of weights in one block!
Hydroflask Insulated Water Bottle – Every athlete needs to drink more water so purchase them a Hydroflack water bottle which will keep their water ice cold, tasting great and assure they stay fully hydrated throughout the day.
Wireless/Blue Tooth Headphones – Most athletes listen to music to help them get through tough workouts so picking them up a new pair of headphones would be greatly appreciated.
Mobility Tools and Foam Rollers – The more you workout, the tighter you can get. So all athletes need to spend more time releasing those tight areas. Trigger Point is a company that specializes in Foam Rollers, Mobility sticks, and Massage balls. You can view products at
Nutrition Options – If your friend is trying to eat healthier, perhaps gifting them a blender or smoothie maker would be a hit. Maybe they are trying to eat more vegetables so perhaps a vegetable slicer or spiralizer would come in handy. Perhaps you'd like to get them a subscription to one of the meal prep companies that deliver you your meals for the week – make it easy for them to eat healthy!
Massage – The best thing in the world after a tough workout is a massage so this gift will be greatly appreciated.  You can pick up a gift certificate at most local spas and most offer special holiday packages.
Race Entry: Register you and your loved one for an upcoming run or triathlon.  It will jump-start your New Year Resolutions and it's something you can train for together! Local races can be found at www.whyracingevents.com and www.getboldevents.com
Fitness Program Registration – Do you know someone who's always wanted to join a running clinic, try a Yoga program or a Pilates class or learn ballroom dancing?  Maybe they'd be interested in a ski or snowboarding camp, a kayaking or whitewater rafting trip?  Why not surprise them by picking up the cost of registration?  Better yet, enroll both of you in the program and show them how much you want to spend time with them.
Athletic Gear – Any avid athlete is in need of new workout clothing.  But remember this – quality is important.  Most exercisers would rather have one really good piece of gear than a number of poor-quality items.  Shop at any local specialty sporting goods store (Fleet Feet, REI, Nike, Adidas, Sweet Spot Skirts, LuluLemon, Lucy, Athletica) and they will provide you with high-quality options.  Keep in mind that keeping warm or cool and dry is critical to performance, so this may help guide you on what your athlete would like to find under the tree.  Here are a few suggestions:  running vest, wickable shirt, bra-top, fleece pullover, tights, specialty socks, running or weight-training gloves, head-warmer, beanie, arm sleeves or exercise glasses. If money's no object, buy a large gym bag and stock it full with the above items.
Gift-certificates – Safer than buying clothing or footwear is to give a certificate to your loved one's favorite sporting-goods store – that way they can choose what they need and you won't risk buying the wrong size, style or color.
Cycling Gadgets – If you have a cyclist on your list, consider purchasing them some Monkey Light LEDS to keep them very visible when riding at night. Or perhaps, you have an unlimited budget and want to make your cyclist super ecstatic, consider investing in the Zwift technology, allowing your cyclist to train indoors and race against thousands of cyclists all around the world.
Personal Training – Any exerciser would appreciate a little expert guidance towards their fitness ambitions.  It's a terrific way to help a loved one with their New Year's resolutions.  Most health clubs and trainers offer gift certificates during the holidays. Call us at 360.574.7292 if you would like us to prepare a Gift Package for your loved one.
Sports Magazine subscription – Purchase a year's subscription to a favorite magazine based on their interests.  Shape, Self, Fitness, Men's Health, Men's Fitness, Runner's World and Sports Illustrated are some of the more popular options.  You'll be happily remembered every time an issue arrives at the mailbox.
Sports and Fitness Books – Head to your local bookstore and browse the books on a favorite sport or general books on fitness, health and nutrition.
Happy shopping and enjoy a Happy & Healthy Holiday!
Sherri McMillan
Note:  As an avid Columbian reader, you can redeem a 2 week pass at her world-class training studio to help get you started.  Contact 360.574.7292 for more details.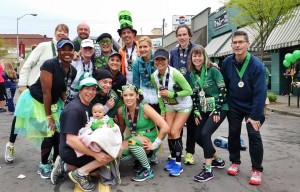 Join us for the…..COUVE CLOVER RUN – 3, 7 & 10 MILES – March 25th, 2018
Celebrate in your festive green while running or walking 3, 7 or 10 miles along an extremely fast and scenic course to support local charities! We will make you earn your post-event party but it will be off the charts hosted by Main Event and other downtown Vancouver Pubs & Breweries.