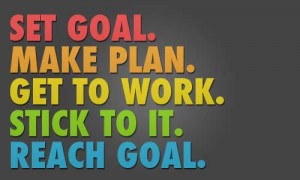 At this time of year, many of us will resolve to make some major changes in our lives.  Maybe we'll decide to start an exercise program, stop eating junk food, quit smoking or lose a substantial amount of weight.  Regardless of the goal, have you ever wondered why most people set the same New Year's Resolutions year after year?  That's because by March 1st, 80% of people have thrown in the towel on their original ambitions.  With that kind of failure rate, I'm convinced that it's not a problem with the person but rather the process.  Most people set themselves up for failure before the clock even strikes midnight because they attempt to do too much too quickly.  They don't do any planning and they have no idea how to monitor their progress.  When it comes to health and fitness, your chances for success will improve dramatically if you approach things differently.
Its a New Year, New You!
Write down all the reasons you're not satisfied with your present situation.  Write down what will happen if you don't make some changes to your lifestyle.
For example, none of your clothes fit, you have no energy, your blood pressure has risen, you can't sit comfortably in chairs, you feel embarrassed to wear a bathing suit, you keep gaining more and more weight every year, you cholesterol is getting out of control, you could actually die…
Write down all the reasons you want to achieve your goals.  Write down how your life will be better.
For example, you'll be able to wear whatever you want, your energy will improve, your blood pressure will drop, you'll feel comfortable in any environment, you'll be more productive at work, you'll feel more self-confident, you'll lower your risk for developing heart disease, cancer, osteoporosis, you'll have enough energy to go hiking, play with your kids/grandkids….
Surround yourself with people who are more motivated than you are and/or who have achieved the goals you have set for yourself.
That energy, discipline and motivation will rub off.
Find an activity that you love.
Adherence will go up dramatically if you enjoy what you are doing. Feel free to add music, a fun environment, and/or great people to make the activity even more enjoyable.
Find a workout buddy or group.
When you can't find the motivation within yourself, it's nice to have a person, a trainer or a group waiting for you to hold you accountable.
Avoid setting goals that are weight-loss oriented
Like deciding to lose 10 pounds by February 1st.  I find that clients who use weight loss as their ultimate goal fail more regularly than those who use action-oriented goals.  Setting an external goal is far more positive than focusing on body weight. Here's some examples of action-oriented goals.
Run on the treadmill for 10 minutes 3x/week so that by April 1st I've completed 36 workouts.
Resistance train every Monday, Wednesday, and Friday so that by June 1st I've completed 60 workouts
Work out with a personal trainer 2x/week until April 1st
Train to hike the Grand Canyon on Spring Break
Train to participate in the Hood to Coast Relay event at the end of August
Learn how to Snowshoe by February 1st
Finish the Shamrock Run in March (or the new Couve Clover Run on March 22nd)
Treat your goal like a Project Manager would.
It's important to understand that if you're undertaking a major lifestyle change, the big picture may be a bit overwhelming.  Take your ultimate goals and split them into small, easily achievable goals.  It'll help you succeed on a regular basis and that will give you the momentum you need to stick to the plan.  For example, if your goal is to finish a 10km fun run, then your 'baby steps' will be to pick up an entry form and register, sign up for a running clinic in your area, purchase a new pair of running shoes and gear, consult with a trainer who will design your exercise program etc.
I love this time of year and consider it as an opportunity to look back on the highlights of the last year and set goals for the upcoming year. It gets me excited for all the wonderful adventures ahead!  Happy New Year!
Sherri McMillan, M.Sc. has been inspiring the world to adopt a fitness lifestyle for over 25 years and has received numerous industry awards including International Personal Trainer and Fitness Presenter of the Year. She is the author of five books including "Go For Fit – the Winning Way to Fat Loss" and "Fit over Forty" and is the featured presenter in various fitness DVDs.  She is the owner of Northwest Personal Training in downtown Vancouver and can be seen running, hiking or cycling with her two children, Brianna and Jackson.  She can be reached at www.nwPersonalTraining.com or www.ShapeupwithSherri.com
Note:  As an avid Columbian reader, you can redeem a 2 week pass at her world-class training studio to help get you started.  Contact 360.574.7292 for more details.