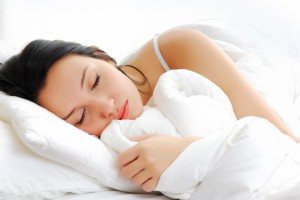 Last week, we discussed ways to overcome the Winter Blues that many people experience at this time of year. It's pretty clear that maintaining a fitness routine throughout the dark, rainy and cold months can keep your energy up and your outlook more positive.  But there are other ways to counteract SAD (Seasonal Affective Disorder) other than just turning up the heat by pumping your heart.
Get Some Sleep:
That's right! You can sleep your way skinny….There is a lot of recent literature touting the importance of sleep in terms of optimal health and even fat loss.  Sleep is when our body repairs itself, heals and rejuvenates.  When we aren't getting enough sleep, not only are we dragging all day long but our immune system suffers making us more likely to get sick or injured. Plus one sure way to be grumpy and in a bad mood is to be sleep deprived! We also now understand that when the body doesn't get the 7-8 hours of sleep every night that it needs, it finds ways to compensate for the lower levels of serotonin or dopamine caused by lack of sleep.  It does this by increasing appetite and craving foods with sugar and fats that instantly give you the immediate release of serotonin and dopamine.  It also causes you to store more fat as a defense mechanism to provide you the energy to help manage the longer days.  So get to bed early and get some good R & R!  Plus if you're in bed at a decent hour, you'll be less likely to be munching which can lead to that winter season weight gain than many experience.
Relax, Chill Out and Breathe:
It's easy to get stressed and overwhelmed at this time of year! Decorating, getting the holiday cards out, buying the perfect present, family get-togethers, cooking, baking, and party after party…Sometimes in order to manage the season, you have to manage your life and say 'no'.  If attending every single party you're invited to stresses you out, choose only the ones you know you'll have a great time.  If seeing each of your relatives on Thanksgiving day will leave you feeling exhausted, perhaps set up a rotation system for each year or schedule one large party where everybody gets together and there's no need to drive to 3 different locations. If the thought of cooking dinner for the whole family makes you want to cry, delegate responsibilities and enjoy a buffet dinner. If purchasing presents for everybody in your family or all your friends is enough to break the bank, draw names or instead, spend your time planning how you are going to enjoy special, quality time with them.  In fact, my favorite holiday memories are not of gifts but of long walks, hikes or sitting around with friends and family talking in front of the fireplace.
In addition, there has been quite a bit of research recently measuring stress hormones and how they affect our fat cells and fat metabolism. Dr. Pamela Peeke has been the leading researcher in this area and she has found that our body interprets any kind of stress in our live as physical stress and immediately responds using the "Fight or Flight" response. Unfortunately, most of the stress in our lives is not physical stress but rather, work, kids, financial, trying to get too much done etc – more of the emotional or mental type of stress. But nonetheless, as our stress increases, the stress hormone, cortisol, is released into the blood stream. Cortisol has two negative effects in terms of fat loss.  One, it causes the body to crave more fat and sugar. And secondly, it causes the body to uptake more fat into the fat cells in order to store energy.  Both act a defense mechanism to provide the body with energy to fight off the stress – unfortunately, since we're not really undergoing physical stress instead, we just get fatter.  The message is clear.  If you want to maintain optimal health and energy over the holiday season, you need to manage your stress.  Take baths, get a massage, spend quality time with those you love, watch a good movie, write in a journal, read, pray, practice deep breathing, participate in Tai Chi, Yoga or meditation classes.  Do whatever it takes to either interpret your stress differently or take care of yourself so that stress doesn't tear you down.
Sherri McMillan, M.Sc. has been inspiring the world to adopt a fitness lifestyle for over 25 years and has received numerous industry awards including International Personal Trainer and Fitness Presenter of the Year. She is the author of five books including "Go For Fit – the Winning Way to Fat Loss" and "Fit over Forty" and is the featured presenter in various fitness DVDs.  She is the owner of Northwest Personal Training in downtown Vancouver and can be seen running, hiking or cycling with her two children, Brianna and Jackson.  She can be reached at www.nwPersonalTraining.com or www.ShapeupwithSherri.com
Note:  As an avid Columbian reader, you can redeem a 2 week pass at her world-class training studio to help get you started.  Contact 360.574.7292 for more details.