Try a Triathon – Swim, Bike, Run Your Way to the Triathlon Finish Line – Week 3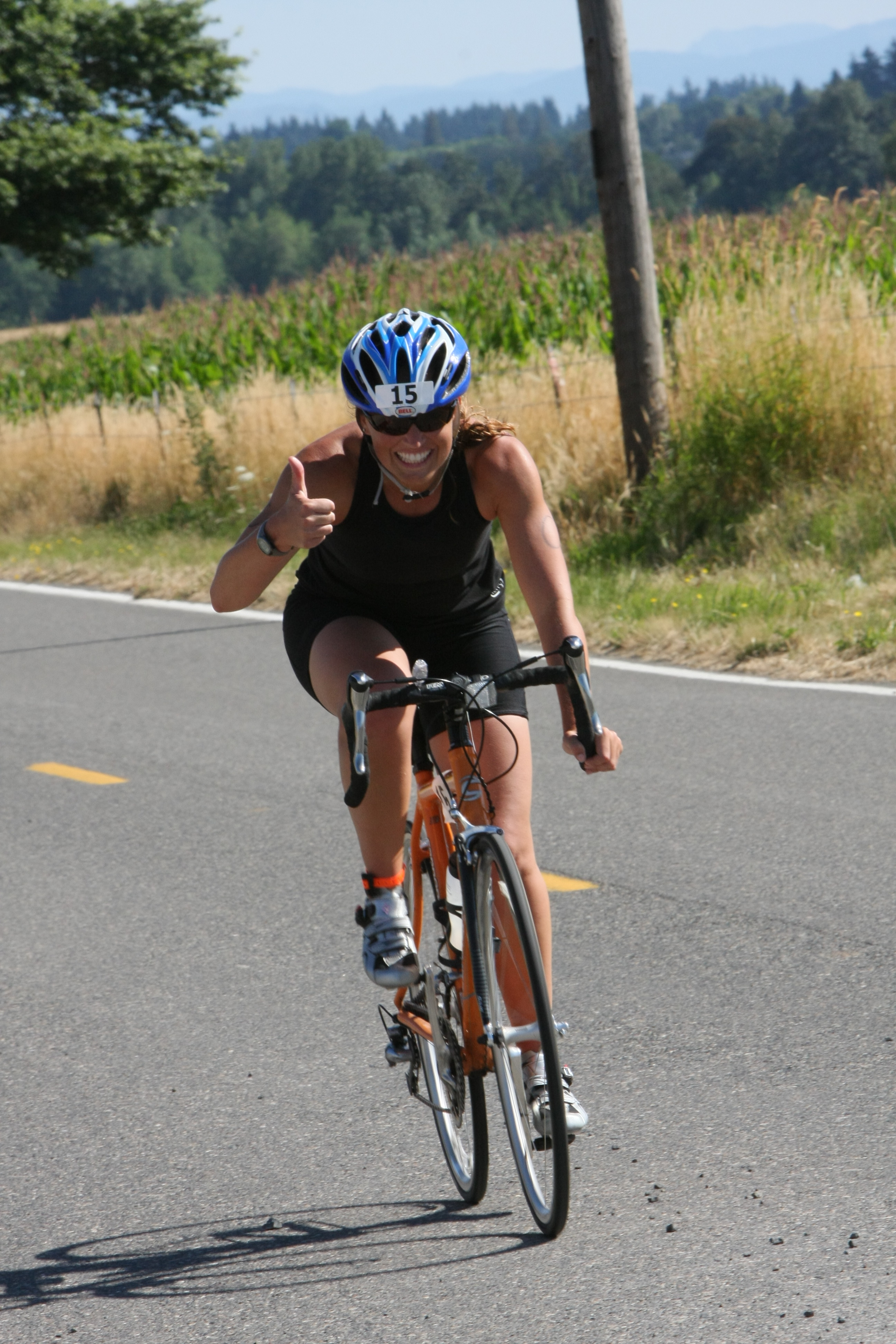 Over the last 2 weeks, we've discussed the sport of triathlon and provided some tips for the most dreaded leg of a Triathlon, the swim.  Now that we've got that behind us hopefully you've all been inspired and realize that you can get to the finish line of a Triathlon THIS summer.  Yes, you can do it!
Today we are going to tackle the second leg of a triathlon, the bike ride. This discipline is probably the least intimidating for most people, most of us have rode and owned a bike at some point in our life so there's some muscle memory there.
Let's chat about your equipment options for the bike portion of a triathlon:
Bike – Obviously you are going to need a bike but the type and cost of bike is totally up to you and there are no rules to the type of bike that must be used in a Tri.  You can even use that old, rusty mountain bike you have sitting in the garage as long as the brakes work! I would suggest a tune-up just to make sure everything is working and make the event a little easier for you. If you want to try this out before you actually purchase a bike, many bike shops will rent bikes and you can always check around to see if you have any friends of comparable size that would let you borrow their bike.  The price range on a bike varies considerably anywhere between $200 up to $10,000 for the professional road bikes.  I've found that a road bike in the range of $1000-$2000 will be a good quality bike that will perform well for the average triathlete and you can also look on Craigslist because there are often some pretty amazing deals available.
Helmet – Any helmet will do as long as it is approved by the Consumer Products Safety Commission (CPSC)—fortunately, this is true of virtually all helmets sold in the U.S. these days.  A more pricy, quality helmet will offer more vents and will be more aerodynamic.  Helmets a requirement for all Triathlons so no way to avoid it.  Plus I've had way too many friends go down hard on their bikes saved only by their helmet!  You'll also probably want sunglasses while riding to avoid any irritation due to wind, rocks or pollen.
Shoes – If you are just starting the sport of triathlon, you will most likely wear the same running shoes for both the bike and run portion of the event.  But as you advance, you will notice that more serious triathletes and cyclists wear cycling cleats that actually clip into their pedals for better performance on the bike and then they switch into their running shoes for the run portion.  Even though you have to take the time to switch shoes, you more than make up for that time in your faster bike splits because a greater amount of force you produce is transferred to the pedals when you are wearing cleats.
Toe clips or Lock-in pedals – If you are new to Cycling and Triathlons, you will feel most comfortable using just a traditional pedal – meaning you just place your foot on top of the pedal and push and you are not locked into the pedal in anyway.  This is safer because if you need to quickly stop, you can easily touch down however, it is not as efficient.  As you advance, you may consider trying toe clips.  This type of pedal has a cage that you insert your running shoe into and then tighten the straps so that your foot is positioned tightly against the pedal and minimizes the force that you lose as you pedal.  This is better than just a traditional pedal however, you have to practice and feel comfortable preparing for a stop by loosening the straps so you can quickly get your foot out of the pedal to touch down.  The more serious cyclist and triathlete will advance to lock in pedals – a mechanism similar to skils that has your cycling cleat locked into the pedal.  This is the most efficient type of pedal but will require practice to quickly twist your foot to remove it from the pedal when you need to stop.
Cycling Shorts – A specialized short with padding will make your training rides a lot more comfortable.
Maintenance equipment (tubes, air pumps, chain lube etc.) – Your local bike ship will have everything you need and most offer free bike maintenance classes to teach you everything you need to know to fix flats and take care of your bike.
Bike Training Tips:
Bike Fit – Probably one of the most important things you can do is invest in a professional bike fit.  It will make your rides more comfortable, increase your performance and minimize your risk for injury.  Most bike shops will offer this and you can check around to see who has the best reputation for this service.
Bike 2-3x/week – Start by gradually increasing your distance until you can comfortably cycle the distance you are training for.  Once you have mastered the distance, then you can start to incorporate speed intervals and/or hill training to work on your strength and performance. For someone cycling three days per week, I typically like to see one longer endurance ride at an easier pace, one moderate distance and intensity ride and one shorter and harder ride.
Understand the terrain of your event – If it is a hilly ride, be sure to train the hills so you are mentally and physically prepared for the inclines.
Consider joining a cycling or triathlon training club to add variety and good solid instruction to your training.
We are hosting the Girlfriends & Dudes Triathlon, Duathlon and Kids Triathlon on Sunday July 20th as a fundraiser for the Children's Center.  This event is perfect for new Triathletes because the ½ mile swim is in a calm section of the Columbia river at Frenchmans Bar so you get to swim with the current. Many of those fearful of the water love that if they just floated in the water, they'd get to the finish line in about 30 minutes and at any point, they can wade to the shore and touch down if they need a break.  The bike is a 12.5 mile flat ride and the 3.1 run/walk is on a flat, paved trail.  You can also donate an additional $25 to Children's Center and get Charity VIP waive which means you get the best transition spot and get to start before everyone else. We also offer a Relay option, a Duathlon division and a Kids Race plus there will be a live band making it a really fun party!
You can register HERE.
You can find other Triathlon distances by visiting either of the following websites.
www.racecenter.com
www.active.com
Stay tuned next week as we review equipment needs and training for the running portion.
Sherri McMillan, M.Sc. has been inspiring the world to adopt a fitness lifestyle for over 25 years and has received numerous industry awards including International Personal Trainer and Fitness Presenter of the Year. She is the author of five books including "Go For Fit – the Winning Way to Fat Loss" and "Fit over Forty" and is the featured presenter in various fitness DVDs.  She is the owner of Northwest Personal Training in downtown Vancouver and can be seen running, hiking or cycling with her two children, Brianna and Jackson.  She can be reached at www.nwPersonalTraining.com or www.ShapeupwithSherri.com
Note:  As an avid Columbian reader, you can redeem a 2 week pass at her world-class training studio to help get you started.  Contact 360.574.7292 for more details.