Try a Tri – Swim, Bike, Run Your Way To The Triathlon Finish Line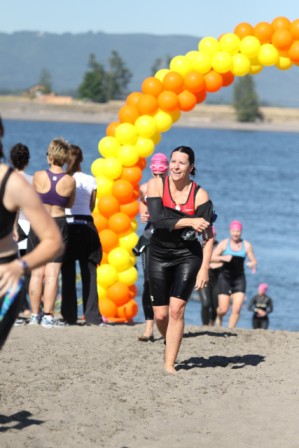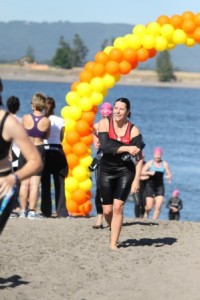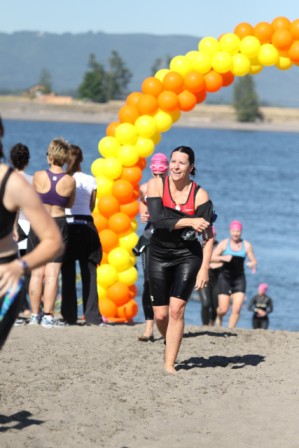 Last week we discussed the various distances in the sport of Triathlon. My hope is by the end of this series, a large number of you will be inspired to try your first Tri this summer! And nothing will bring me greater joy than to know I helped you get to the finish line!
Today we are going to tackle the first of the three disciplines, swimming. For most considering trying a Triathlon, the swim portion is the part that freaks them out the most so today, I hope to give you a boost of confidence and help you realize that you can do this!
Let's start with some of the equipment you will need for the swimming portion:
Goggles – you need these so you will be able to put your face in the water and still see where you're going.  With that said, I do know some people that finished a Triathlon without using goggles or putting their head in the water at all by using the side or breast stroke. So if putting your face in the water makes your nervous, don't let that detour you.
Swim cap – this is most important for those of you with mid length and long hair to keep it out of your face.  In a race you will be required to wear a cap for safety reasons so organizers can see where all the swimmers are.
Bathing Suit – haven't heard of any nude Tris in the area but this is the NW!
Wet Suit – These rubber suits will keep you warmer, more buoyant and faster in the water but not a necessity to completing a triathlon. Many triathlon shops will allow you to rent a Wet Suit so you can try one out before you make a purchase.  Some people don't like the idea of having to stuff themselves inside a wet suit and some say wet suits make them feel a little claustrophobic while others couldn't imagine swimming in open water without a wet suit so it really is a comfort thing. A local spot to rent and purchase wet suits in our area is http://www.athleteslounge.com/
You can also invest in various training tools including kick boards, hand/leg fins and pull buoys to add variety to your workouts and enable you to focus on various aspects of your technique.
Swim Training Tips:
Get a swim coach or join a swimming club at your local pool: Since swimming takes place in a fluid environment that is 1000x more dense than air, any minor flaw in technique is magnified significantly and slows you down tremendously. A swim coach who can provide you with simple instructions to keep your body streamlined and minimize drag is absolutely critical.  Tips that helped me the most are:

Keep your head down looking at the bottom of the pool.
Really stretch and reach your arm forward before you 'catch and pull the water'
Keep your arm in front of your shoulder and close to your body so your thumb almost brushes the side of your body
Use your core as you rotate your torso side to side
Kick from your hips

Practice swimming free-style but it's ok to include other strokes as well to improve your feel of the water and balance out your body.
Learn to bi-lateral breathe which means you breathe every 3rd stroke to both the right and left sides. It helps to keep you in a straight line and eliminates muscle imbalances.
You must practice swimming in the open water. It will better simulate race conditions and help avoid any panic attacks on race day. I know quite a few competitive swimmers who only practiced in the pool and then had a horrible race day swim because they weren't used to that environment. In our area, popular spots to train for Open Water swimming are Frenchmans Bar, Klineline Salmon Creek, Battleground Lake and Blue Lake. My only suggestion is to watch the water safety reports and use Swimmers Itch Guard if you are prone to getting bites in fresh water conditions.
When you are open water swimming, you have to Practice 'sighting' – There are no lines on the bottom of a lake to keep you swimming straight.  You must use a fixed object on land, like a big tree or building in front of you to keep you focused and on a direct path.
I would suggest swimming 2-3x/week. Start by gradually increasing the number of laps you can swim without stopping until you get to 1000-1500m.  Then you can start to incorporate speed drills to work on your power in the water.  Once you are able to swim the distance of your Triathlon, I would suggest your swim workouts include one endurance workout (swimming without stopping), and 1-2 swim interval workouts that incorporate technique and speed drills.
We are hosting the Girlfriends & Dudes Triathlon, Duathlon and Kids Triathlon on Sunday July 20th as a fundraiser for the Children's Center.  This event is perfect for new Triathletes because the ½ mile swim is in a calm section of the Columbia river at Frenchmans Bar so you get to swim with the current. Many of those fearful of the water love that if they just floated in the water, they'd get to the finish line in about 30 minutes and at any point, they can wade to the shore and touch down if they need a break.  The bike is a 12.5 mile flat ride and the 3.1 is on a flat, paved trail.  You can also donate an additional $25 to Children's Center and get Charity VIP waive which means you get the best transition spot and get to start before everyone else. We also offer a Relay option, a Duathlon division and a Kids Race plus there will be a live band making it a really fun party!
You can register HERE.
You can find other Triathlon distances by visiting either of the following websites.
www.racecenter.com
www.active.com
Stay tuned next week as we review equipment needs and training for the biking portion.
Sherri McMillan, M.Sc. has been inspiring the world to adopt a fitness lifestyle for over 25 years and has received numerous industry awards including International Personal Trainer and Fitness Presenter of the Year. She is the author of five books including "Go For Fit – the Winning Way to Fat Loss" and "Fit over Forty" and is the featured presenter in various fitness DVDs.  She is the owner of Northwest Personal Training in downtown Vancouver and can be seen running, hiking or cycling with her two children, Brianna and Jackson.  She can be reached at www.nwPersonalTraining.com or www.ShapeupwithSherri.com
Note:  As an avid Columbian reader, you can redeem a 2 week pass at her world-class training studio to help get you started.  Contact 360.574.7292 for more details.