New poll: 'Initiative on initiatives' 517 is no sure thing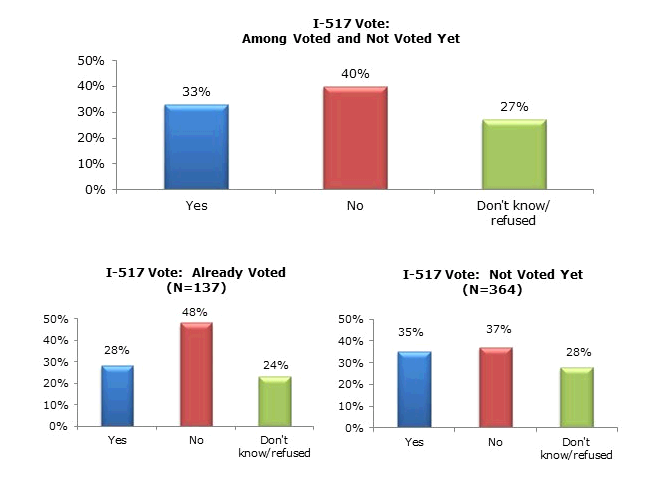 Forty percent of Washington voters surveyed last week said they have voted no or plan to vote no on Initiative 517, according to Portland-based polling firm, Moore Information. I-517 would make it easier to get voter initiatives on the ballot in Washington state.
In Moore's survey of 500 Washington voters, 33 percent said they voted yes or plan to vote yes on the initiative, while 27 percent said they were undecided or that they didn't want to reveal their vote. Moore Information described the initiative as being "on shaky ground."
According to the Washington voter's pamphlet, I-517 would "set penalties for interfering with or retaliating against signature-gatherers and petition-signers; require that all measures receiving sufficient signatures appear on the ballot; and extend time for gathering initiative petition signatures."
The initiative was brought forward by conservative activist Tim Eyman, a professional initiative sponsor.
Moore also found that the intensity of those voting against the initiative was stronger than the intensity of those voting for it, and the firm found that those living in the Central Puget Sound and Eastern Washington regions were more often opposed to I-517, while other parts of the state, such as Clark County, were more supportive.
The Moore Information polling firm is used by U.S. Rep. Jaime Herrera Beutler, R-Camas, and its services were used by The Columbian earlier this year to poll Clark County residents on the controversial Columbia River Crossing project.
The I-517 survey took place Oct. 23-24 and included phone calls to cell phones and land line phones. The poll's sampling error is plus or minus 4 percent. Here's a chart displaying the poll results: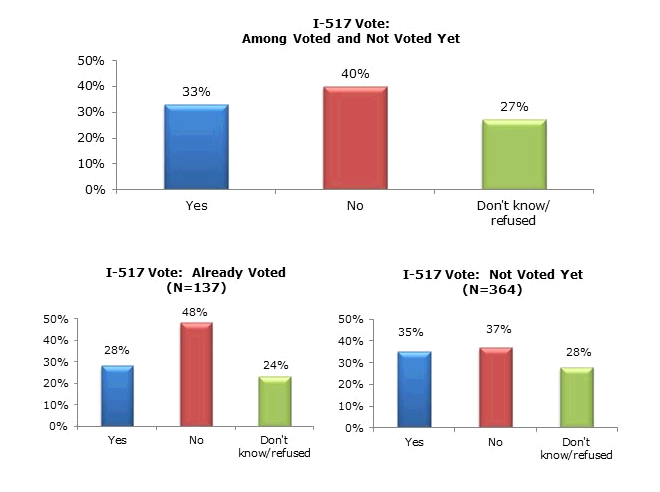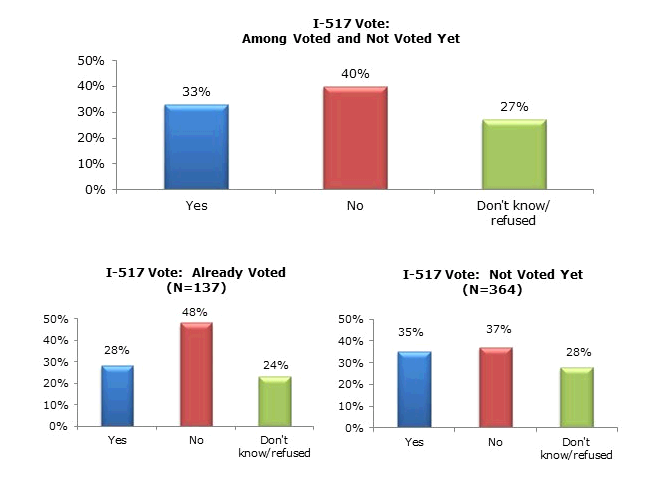 Ballots must be postmarked by Nov. 5, or deposited in a ballot drop box by 8 p.m. Nov. 5. Here's a list of ballot drop-off locations in Clark County: