Who Wants A Cookie-Rescue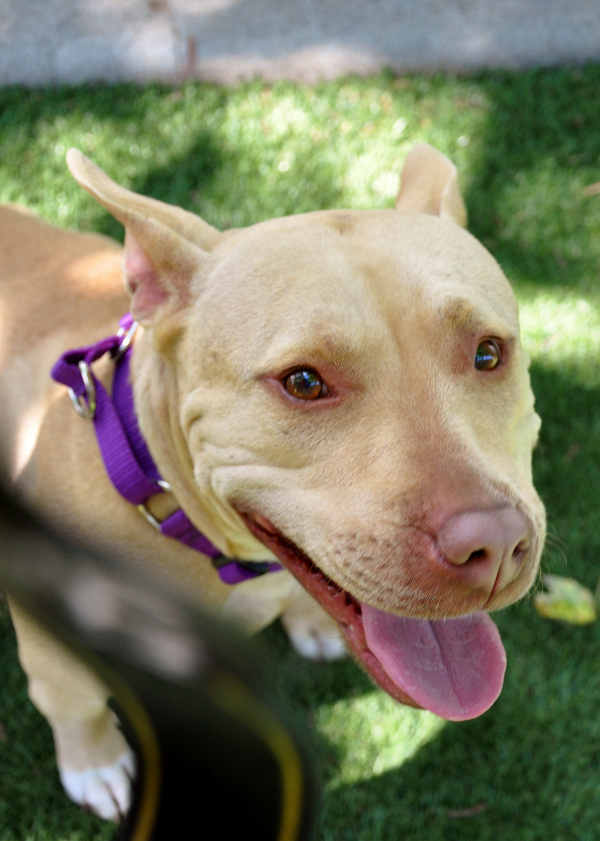 A few weeks back, I was having lunch with friends at Who Song and Larry's. Just off the shore we noticed a boat had sunk in the river. I later found out it was the boat of a homeless man. The man lost his job, bought the boat with limited funds and was living on it. His dog Cookie also lived on the boat with him. The boat ran into some rocks and sadly sank. So this rendered the man homeless again. Do to this sad state of affairs his dog (Cookie) is now looking for a home.
Cookie is now a rescue in foster care, and is available for adoption through Must Love Dogs NW.
Cookie has lived on the streets too long, and needs to have a real home to call her own. She is about 5 years old, and is a super sweet pit-bull. She was underweight but has gained about 10 pounds since her arrival. She was injured as a youngster and broke her left front leg. Sadly, it healed that way. However, she is very active and doesn't seem to be limited by her injury. They are giving her daily joint supplements as an added measure. Honestly, she does not seem bothered by her leg and just wants to play and love you.
She is great with people, kids and other dogs. She has not been tested with cats. She is a blonde beauty and has lots of charm. She also loves to cuddle and thinks she is a lap dog. You really have to meet her to appreciate her beauty and charm.
Anyone interested in adopting her must own their home and have a fully fenced in yard. You can fill out an application at Must Love Dogs NW.
I would love to see Cookie find the perfect family to love her. She has been through a lot in her short life and just needs a home of her own. If you can give her the life she deserves please adopt her.