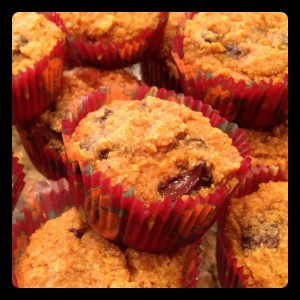 DISCLAIMER: I'm not sure who's more excited to share this beautiful recipe. Myself or my 10-year-old daughter, Bella? She's been dying to write Paleo recipes. If you've followed my blog for a while, you may have noticed her 'resistance' to our lifestyle change. Bless her heart. With a dose of loving persistence, my Bella-Boo is now at the point of creating her own Paleo recipes. #winning
Bella and I spent the weekend perfecting a seasonal treat that's sure to bring a smile. Pumpkin Surprise Muffin. Named by my sweet Bella, and filled with all her love. Pumpkin and vanilla swirl around traces of cinnamon, nutmeg and ginger. A blend of tapioca and coconut flour provide for a moist grain-free and gluten-free base. Toss in a handful of quality chocolate and you've got a delightful seasonal Paleo treat fit for Starbucks and available in your kitchen.
PUMPKIN SURPRISE MUFFIN
GROCERY LIST (makes 1 dozen)
1/2 cup coconut flour
1/2 cup tapioca flour
1 tsp baking soda
1 tsp cinnamon
1 tsp nutmeg
1/2 tsp ginger
1/3 cup coconut oil, melted
1/3 cup coconut sugar
4 eggs
1/3 cup pumpkin (I use canned)
1 tsp vanilla
1/4 cup maple syrup
1/2 cup chocolate chipe (I use Enjoy Life (dairy/grain free) chocolate chunks)
BAKING INSTRUCTIONS (prep time: 5 minutes, bake time: 20 minutes)
1) Pre-heat oven to 350 degrees.
2) In a small mixing bowl, sift together coconut & tapioca flours, baking soda, cinnamon, nutmeg and ginger. Set dry mixture aside.
3) In a large mixing bowl, wisk together melted coconut oil and sugar. Add eggs, pumpkin, vanilla and syrup. Wisk until combined. Add dry mixture in two batches, stiring to combine after each batch. Stir in chocolate chips.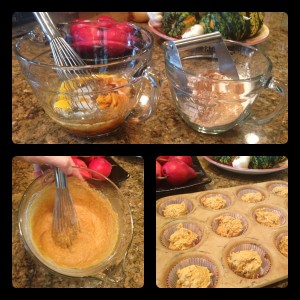 4) In a non-stick or lined muffin pan, use a large cookie scoop (my gadget of choice), to fill cups with muffin mixture. Bake 20 minutes. Remove from oven and place muffins on a cooling rack.
5) Serve when cool to the touch or store at room temp up to three days.
From my kitchen, to yours … with a dose of loving persistence. Enjoy!!