Who doesn't love a good drumstick?! I know I do. Now a days, it's hard to find one that's not drenched in high fructose corn syrup. AKA, sauce. I've decided sauce is for the birds. Who needs it, when you can have flavor?!
Generously rub your drumsticks with olive oil, salt & pepper, add a bit of fresh rosemary and bake on low for 2 hours — tasty morsels of rosemary chicken fall right off the bone. Now that's finger lickin good!!
GROCERY LIST **makes 5 servings
3-4 lbs chicken drumstick
2-3 TBSP olive oil
1/2 – 1 tsp salt
1/4 – 1/2 tsp pepper
1 TBSP fresh rosemary, chopped or 1tsp dried
COOKING INSTRUCTIONS
Bake in a 350 degree preheated oven for 2 hours, turning every 30 minutes.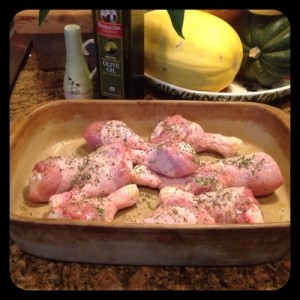 From my kitchen, to yours….. ENJOY!!!