COOKING, THE UNIVERSAL LANGUAGE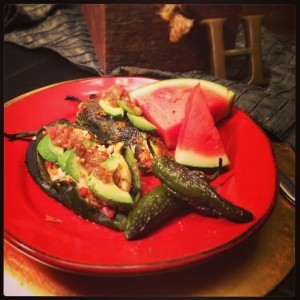 I am very blessed to have many colorful friends who come from all walks of life. Each of whom helped shape who I am today and who I will become tomorrow. One of the greatest joys in my life, is learning from others — who they are and where they came from. We are all so different, yet much the same.
My buddy Franco, who married my sweet cousin-in-law and cherished friend MeLisa, was born and raised in the heart of Mexico. Franco offers a unique perspective on life. What he shares of his upbringing equally breaks and warms my heart. The stories of struggling to provide, how nothing is waisted nor taken for granted and his Mom's homemade everything, from doilies to sell, clothing to wear and food to eat — they all resonate with me and open my eyes to a life beyond mine.
I love MeLisa's stories of the time she and Franco traveled to Mexico to visit his family. Fully submerged into a culture where not one person, but her husband, spoke her language. The beauty of it all, she came home with the most gorgeous recipes, proving that cooking truly is a universal language. She's observed and learned the art of making homemade salsa (to die for!!), carnitas, pan (bread), tortillas, hot cinnamon water and pollo de Juan…. just to name a few.
My husband and I have been honored with many a fiesta with Franco and MeLisa Maya. Each time we come away inspired by their life story AND what they served for dinner! And thus, I leave you with this recipe. Grain-free and dairy-free Chicken Chile Relleno & Pan Fried Jalapeños, packed full of love and the flavors of Mexico.
Chicken Chile Relleno & Pan Fried Jalapeños
GROCERY LIST **makes 4 servings
Chicken Chile Relleno
1.5 lbs boneless skinless chicken breast
1 yellow onion, divided in two halves (one half thinly sliced)
salt
8 poblano pepper
1 TBSP coconut oil
1 jalapeño, sliced (for less spice, discard seeds)
1/2 cup fire roasted red peppers, sliced
1 tomato, chopped
1/2 cup kale, chopped
1/2 tsp onion powder
1/2 tsp garlic powder
1/2 tsp oregano
salt & pepper
juice of 1 lime
salsa, optional
avocado, optional
Pan Fried Jalapeños

olive oil
8 jalapeños
juice of 2 limes
salt
COOKING INSTRUCTIONS **prep time: 30 min., bake time: 375 degrees for 15 min.
1) Fill a large soup pot halfway with water, add salt and 1/2 an onion. Bring to a boil over high heat. Add chicken breast and reduce heat to medium-high, continue to boil for 20 minutes.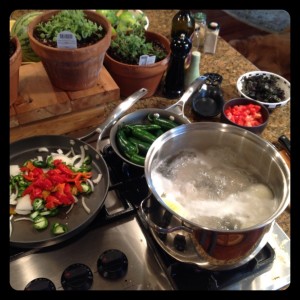 2) Meanwhile, broil poblano peppers until somewhat charred, about 5-6 minutes on both sides. When peppers have cooled, gently peal away top layer. Cut a slit from stem to end, remove and discard seeds. Set peppers aside.
3) Once chicken is near fully cooked, remove from pot and shred with two forks. Set aside.
4) In a large frying pan, melt coconut oil over medium-high heat. Sauté sliced onion, jalapeño and fire roasted red pepper 3-5 minutes. Add shredded chicken, tomato, kale, seasonings and lime juice. Sauté for 5 minutes.
5) Pre-heat oven to 375 degrees. Stuff chicken mixture into poblano peppers and bake for 15 minutes.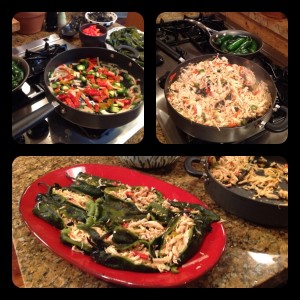 6) Meanwhile, in a small frying pan add enough olive oil to cover the bottom of the pan. Add jalapeños, lime juice and salt and fry over medium heat until blackened on all sides, about 5-7 minutes. Consider slightly covering pan with a lid, oil tends to pop as the jalapeños cook.
From Mexico, to The Mayas, my kitchen and now to yours …. ENJOY!!