Confessions of a Paleo Mum
This recipe is dedicated to Grant Garlish's Mother, a kind soul who has enthusiastically supported my Paleo endeavors:
Easter weekend was an eventful one, to say the least. In typical Helmes' fashion, we ran here, there and everywhere. Between chiropractor visits, CrossFit Game WODs, an early Saturday morning dance performance, packing for Bella's Spring Break in Florida, mother-daughter pedicures before she left — AND THEN, EASTER — we kept our priorities straight and made it to the Garlish Paleo BBQ with our beloved CrossFit crew.
What I didn't have time to do?? Make a Paleo side dish for the BBQ. I totally pulled a fast one and picked-up an extra-large side of cooked carrots with onion and plums from New Seasons Market. I even put them in a pretty bowl, in attempts to make them look homemade.
My cover was quickly blown when Grant's Mama raved over "my" carrots and asked for the recipe. Eeek!! My overly honest self, confessed the carrots were store bought. I continued my confessional, blurting out they weren't technically Paleo because of the canola oil and 'candied' (sugar) ginger. **GASP!! I promptly swore I'd put my Paleo in a Pinch twist on this scandalous, yet oh-so-delicious, side dish.
And that I did.
Paleo-fying everyday recipes, isn't as tricky as you'd think. By replacing canola oil with coconut oil and 'candied' ginger with straight-up ginger, cinnamon & nutmeg, one can confidently claim this as PALEO. Adding my Paleo in a Pinch twist and freshly out of dried plumbs, I opted for dried figs instead. The result is candy for your mouth, a recipe welcomed for weekday dinners, BBQ's and holidays alike.
Candied Carrots with Fig & Ginger
GROCERY LIST **makes 4 side servings
3 large carrots, peeled and cut into large pieces
1 cup dried fig
1 yellow onion, halved and sliced
2-3 TBSP coconut oil, melted
1 TBSP fresh ginger, grated or finely sliced
1/8 tsp cinnamon
1/8 tsp nutmeg
salt to taste
COOKING INSTRUCTIONS **prep time: 10 minutes, bake time: 1 hour
1) Pre-heat oven to 350 degrees.
2) In a baking dish mix together all ingredients.
3) Cover baking dish with lid or tinfoil and bake for 1 hour, stirring halfway through.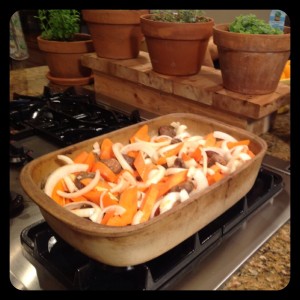 From my kitchen, to yours…..Paleo-fying the world, one dish at a time. ENJOY!!