I love a good Italian meal. I love it even more when it's a Paleo Italian meal. That's right folks, let's ditch the heavy cheese and pasta — say goodbye to that gut ache. I promise you won't miss it. From the first bite of Ragù & Sketti Squash, you'll be saying "HELLO, Italian Paleo!! You must be tired from running in and out of dreams!!"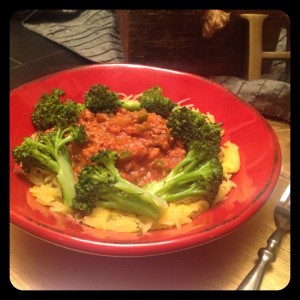 GROCERY LIST **makes 5 servings
olive oil
1/2 yellow onion, chopped
1/2 green pepper, chopped
2 cloves of garlic, minced
1/2 cup mushroom, chopped
1.5 lbs 100% grass-fed ground beef
1/2 lbs ground pork sausage
2 tsp Italian seasoning
salt & fresh cracked pepper, to taste
1 large can crushed tomatoes (I like the Whole Foods brand with basil)
1/2 small can of tomato paste
1/2 cup coconut milk, canned
1 spaghetti squash
COOKING INSTRUCTIONS **total cook time: 45 minutes
1) Pre-heat oven to 350 degrees. Cut spaghetti squash in half, lengthwise, and de-seed. Place on a baking pan and bake 45 minutes.
2) Meanwhile, in a large frying pan, warm olive oil over medium heat. Sauté onion, green pepper, garlic and mushrooms 3-5 minutes. Remove from pan and set aside.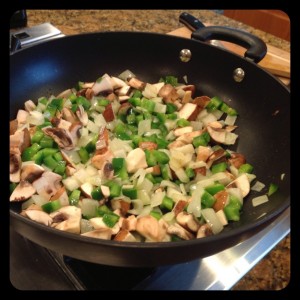 3) In the same frying pan, add beef, sausage and seasonings. Brown over medium-high heat, about 10 minutes, breaking up meat into bite sized pieces.
4) Add veggie sauté to the meat with crushed tomatoes, tomato paste and coconut milk. Stir and bring to a boil. Reduce heat to low and simmer 25-30 minutes.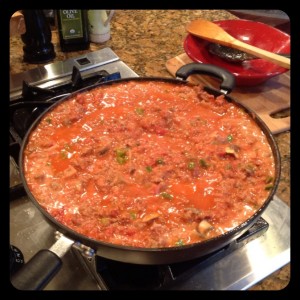 5) Remove spaghetti squash from oven and let cool a few minutes, so it can be handled easily. Using a fork, scrape squash into a large bowl. Spoon a generous amount of squash into individual bowls and top with ragù.
From my kitchen, to yours ….. making your Italian Paleo dreams come true!! ENJOY!!