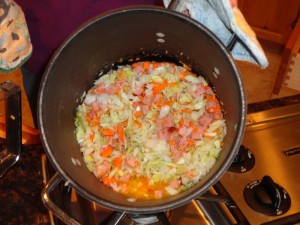 The recent cool weather gave me the perfect excuse to make one of our favorite comfort foods: lentil soup.  I've made it so many times over the years that it has long been without a given recipe.  During our years on the Oregon coast most of the veggies came directly out of our year-round garden.  This time I made it with the following ingredients:
1 ½ pounds lentils (soaked over night and rinsed thoroughly)
½ pound ham cubed (bacon can be used instead)
½ chopped onion
3 minced garlic cloves
3 ribs chopped celery
3 chopped carrots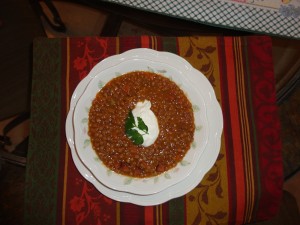 1-2 cups chicken broth (depending on desired thickness of the soup)
salt to taste (optional)
2 diced potatoes (optional)
olive oil
sour cream and parsley for garnish
Begin by sautéing the onions and garlic in a soup kettle until soft.  Add ham, carrots, and celery and sauté for about three more minutes.  (That carrot, celery, onion combo, Ol' Mick's Southern trinity, is a standard starting point for many of our soups and stews).   Add the lentils and chicken broth and bring to a boil.  Simmer the soup for a few hours until the lentils are cooked.  Potatoes may be added and cooked until soft.  A dollop of sour cream and a sprig of parsley make a nice presentation when the soup is served.
We like our lentil soup on the thick side, almost like a porridge.  We have served it for lunches and dinners and, Friday morning before visiting family cemetery plots, a filling, very satisfying breakfast.