A few years ago, I spoke with a successful art leader from Portland about how Vancouver could build its audience for its galleries. Keep doing what you're doing, I was told, with art talks. Galleries and museums often offer free lecture series to the public, for the dual purpose of connecting art lovers and expanding public understanding of arts.
Part of my job is to develop and administer arts education, and the first program I created when I started my job was the Autumn Art Talks series. It has a fresh theme yearly. Last autumn the theme was the neurology of creativity. One of the events featured a biologist who explained exactly how our brains work when we're creative. That was a fun one.
Autumn Art Talks are beginning this week at North Bank and the theme is The Business of Creativity. Artist Trust Artist at Large Erin Dengerink will speak on Thursday, Oct. 8 at 5:30 about how individual artists can improve the business behind their craft. Next week on Wednesday, October 14th at 7pm, project:PRINT's David Cummings will present about how to develop sponsorship relationships with businesses. The events are free and open to the public.
For a list of upcoming arts events, it's a great idea to go to Arts of Clark County's website and sign up for their newsletter. I've seen more and more artist talks popping up around the community, and some organizations like the Society of Washington Artists have them quarterly. If you want to host an art talk for your organization, be sure to let the local newspapers and Arts of Clark County know about it. We can all help each other get the word out about our events.
Building relationships is all about talk!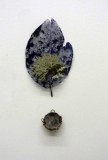 Artist Erin Dengerink