So, I have my hero and heroine falling in love with each other. What next? Why, I find a way to get them eating something romantic. At the beginning of the book I'm currently writing, Dominic tries to get Catherine to have lunch with him. She refuses because, busy with building her business and raising her teen-age son, she doesn't do social things. Dominic isn't accustomed to having women turn him down. He comes up with a plan to convince her involving–well, that's a plot twist I'll save for later.
Anyway, she says yes and he whisks her to the Jersey Shore (this one takes place in Philadelphia where I grew up, back in the day–Ben Franklin's day.) They share cioppino, crusty bread, a little vino and then head back to Philly. I'm sure the restaurant owner put more time into his cioppino than I do into mine but then, I'm usually in a bigger hurry.
So here's the dish–it has lots of seafood which is one of the oldest of aphrodisiacs, probably because of the sea's vast, salty, fertile nature. But even if its reputation is exaggerated, this fisherman's stew, claimed by the Italians in San Francisco as their invention, is delicious.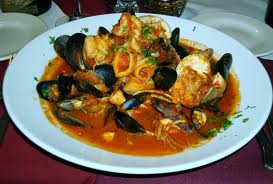 For 2 servings
olive oil to coat bottom of large, heavy saucepan
1/2 onion, chopped
1 large garlic cloves, finely chopped
1/4 teaspoon dried crushed red pepper flakes
1 bay leaf
1 jar of your favorite prepared spaghetti sauce (I like Paul Newman's)
Dry white wine or clam juice
An assortment of seafood–for example, 1/2 pound manila clams, scrubbed, 6 uncooked large shrimp, peeled and deveined, a half dozen large scallops, 1/2 pound assorted firm-fleshed fish fillets such as halibut or salmon, cut into 2-inch chunks
Saute onion and garlic in olive oil until soft and fragrant. Add jar of spaghetti sauce and thin with wine or clam juice until it is the consistency of a thick soup. Bring to a boil. Reduce heat to low and add fish. Simmer for 5 minutes and add shrimp. When they begin to turn pink, add clams or scallops and cover. Check after a few minutes to make sure all the clams are open. Discard those still closed.
Serve with bread, wine and a lot of love.