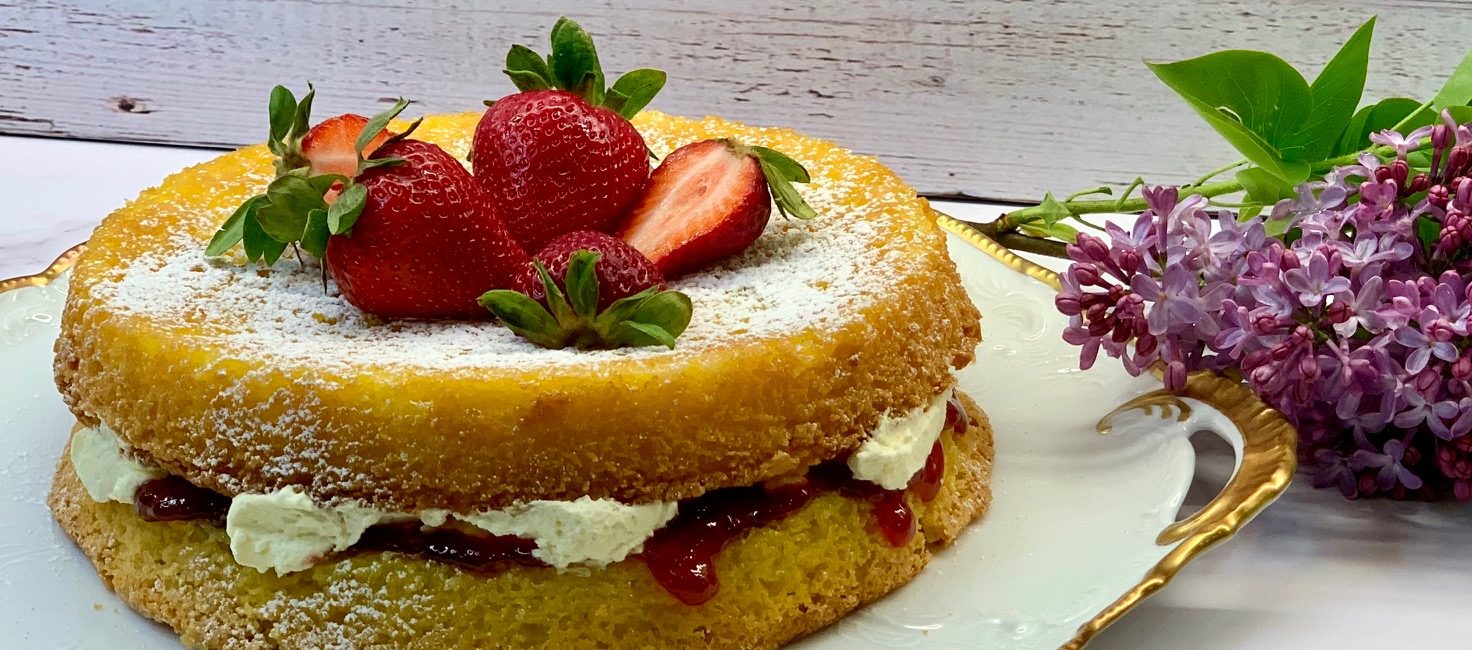 Here's to you mom. The hundreds of home cooked meals, mountains of laundry, endless hours spent listening, and your innate ability to make everything all better. Your sage wisdom and finesse as a problem solver extraordinaire have not gone unnoticed. There is no one like you. 
Give mom the royal treatment and make plans for the special day she deserves. Celebrate with the Queen of English cakes: the Victoria Sponge. The Victoria sponge, also known as the Victoria sandwich cake, was named after Queen Victoria, who loved to enjoy the cake with her afternoon tea. Her version would have been filled only with jam, but modern takes include cream, like whipped or buttercream, as well. The top of the cake is not iced or decorated, but it does get a light dusting of sugar for the finishing touch. The recipe, made with equal proportions of flour, fat, sugar and eggs, evolved from the classic pound cake. It was the invention of baking powder in 1843 by English food manufacturer Alfred Bird that allowed the cake to rise more than was previously possible.
My mom loved a celebration, particularly, a sense of occasion. She knew each day was precious, and she had no fear, or intention, of missing out. Given the choice, she would certainly eat dessert. This one would definitely get her seal of approval. It's easy to make and fancy, too, and with the exception of the whipped cream, you can make this with what you already have on hand. Because the recipe is in metric measurements, I converted it to the English system to speed things along for you.
Proper ingredients are a must here, as well as bringing the eggs and butter to room temperature. Caster sugar, also known as baker's, or superfine sugar, is finer-grained than regular granulated white sugar. Widely available in the United Kingdom, you can make a DIY caster sugar by pulsing granulated sugar in your blender until it reaches a finely ground – but not powdery – consistency, about 2 to 3 pulses. Don't balk at the large amount of baking powder. It is necessary in this case because this recipe calls for all-purpose flour, as opposed to the self-rising variety.
There are two methods for making Victoria Sponge. The traditional method involves creaming caster sugar with butter, mixing thoroughly with beaten egg, and then folding flour and baking powder into the mixture. The modern method involves simply whisking all the ingredients together until creamy. This can either be done by hand or with an electric mixer or food processor. My suggestion: go the traditional route. This cake is all about pomp and circumstance, so go the extra mile. If you're truly in a hurry, follow the modern method. It will still yield a delicious cake, no one the wiser with the exception of purists.
If you only have one 8 inch cake tin, you can bake the sponge and slice it in half. There were several recipes that called for 1/2 teaspoon of vanilla, which I think could be a nice addition to the cake. If you want to test for doneness, the internal temperature should be 200º-209º F. Be sure to use a good quality jam here. Strawberry or raspberry are traditional in the English cake, but you could certainly give this a little Northwest flavor and use another berry jam, along with some of our beautiful berries as we move into season. 
Brew a piping hot pot of proper tea and sit down with mom for a chat. Slice up and wedge for each of you and enjoy a leisurely afternoon. Wishing you a very happy Mother's Day.
Victoria Sponge
225g all-purpose flour (1 cup)
15g baking powder (3 3/8 teaspoons)
240g softened unsalted butter (1 cup)
240g caster sugar (1 cup)
4 large eggs, at room temperature, lightly beaten
icing sugar for dusting (powdered sugar)
for the filling
150g strawberry preserves (3/4 cup)
250ml double cream (heavy whipping cream) (1 cup)
250g strawberries, hulled and sliced, optional (1 1/4 cup)
Preheat oven to 180º C (356º F). Grease the sides and bottoms of two 8 inch sandwich tins (round cake pans), then line the bottoms with a circle of baking paper. 
Sift flour and baking powder into a small bowl and set aside. In a medium bowl, cream butter and sugar together until light and fluffy. Beat in eggs a little at a time, adding a spoonful of flour if the mixture threatens to separate. Sift in the flour in 3 separate additions, folding it in with a large metal spoon. 
Divide mixture between prepared tins. Bake 25-30 minutes, until cakes are golden brown, well risen, and a skewer inserted in the center comes out clean. Cool in tins for 10 minutes, then turn out onto a wire rack to cool completely. 
Spread strawberry jam over one cake and place on a plate. Whip cream until soft peaks form, then pipe or spread it over the jam. Place the other cake on top and dust with icing sugar. Top or serve with fresh berries. 
Modern method:
Break eggs into a large mixing bowl, then add the sugar, flour, baking powder and butter. Mix together until well combined using a hand mixer or wooden spoon, being careful not to over mix. 
– Mary Berry, bbc.co.uk