Vegan Caesar Salad – To CBD or Not To CBD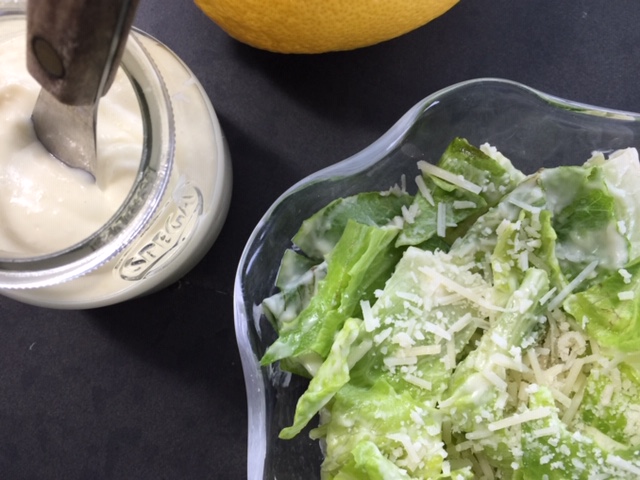 To CBD or not to CBD?  That is a question only you can answer, but if you are someone who is choosing to incorporate cannabidiol, or CBD, into your health and wellness regimen you may be wondering where to begin.  Cooking with CBD has been a hot topic for some time now,  and adding CBD to food and beverages is becoming more and more mainstream. There are more than a few coffee shops in Portland where you can ask for an add shot of this popular new add in, and you can now even find CBD at your grocery store.  New Seasons Market, embracing this new wellness trend, has a huge array of products for both people and pets, and they were also sampling coffee with the option to add CBD the last time I was there.
If you do decide to try adding CBD to your cooking, here is a great recipe to start with.  The oil will disperse evenly in the salad dressing and the bold garlic, mustard, and Parmesan flavors will override any tones from the CBD.  You won't even notice that you added it.
This make at home Caesar salad couldn't be easier thanks to the magic of aquafaba, that wonder ingredient you might be throwing away when you drain a can of chickpeas.  Combined with just a few other ingredients, aquafaba (chickpea liquid), emulsifies beautifully, creating a creamy, thick, swoon worthy dressing that also happens to be vegan and egg-free, so there's no fear of salmonella from the raw egg used in the traditional Caesar salad recipe.  Don't knock it till you've tried it:  whether you are a vegetarian or not, this dressing is delicious.
I tried several aquafaba mayonnaise recipes, but the one I liked best was from Serious Eats.  It takes only 2 minutes to make and yields a generous cup, which is more than enough to dress plenty of Caesar salads, plus leaves enough for other things like sandwiches, dips, and sauces.  If you already buy Vegenaise or Fabanaise, this recipe is a game changer.  Grab your immersion blender – you can do a lot with this simple sauce.  Use it just as you would regular mayonnaise, or punch it up a bit by adding herbs or spices. Thinned with a bit of lime juice, it makes a delicious crema for your tacos or you can use it in place of the Vegenaise in this Roasted Cauliflower with Curry and Lime, which continues to be one of my favorite recipes.
I used avocado oil in place of the vegetable oil with good results.  Because of the fresh garlic, the finished mayonnaise was a bit garlicky.  To moderate this a bit, I suggest using garlic powder, about 1/2 to 1 teaspoon, in place of the fresh garlic, especially if you are planning to use this primarily as mayonnaise.  If you are making Caesar salad dressing, go ahead with the fresh garlic.  It's perfect!
After you make the mayonnaise, measure out about 1/2 cup or so to make salad dressing with. Taste and adjust to your liking with a bit more lemon juice, Dijon mustard, a shake or two of Worcestershire sauce, and about 1 teaspoon of Nutritional Yeast. Opting to use CBD?  Add desired amount here.  Stir well.  Use about 1 to 2 tablespoons to dress a large bowl of romaine lettuce, tossing well and adding more if needed.  Season generously with freshly ground black pepper and top with Vegan / Parmesan cheese.  Serve for a sweet, cozy dinner at home with your Valentine.
Easy Vegan Mayonnaise
2 medium cloves garlic, minced
1 tablespoon freshly squeezed lemon juice
2 teaspoons Dijon mustard
3 tablespoons liquid from 1 can of chickpeas
12 whole chickpeas
1/2 cup vegetable, or avocado oil
1/4 cup extra-virgin olive oil
Kosher salt
Combine garlic, lemon juice, mustard, chickpea liquid and chickpeas in a tall container just wide enough to accommodate the head of an immersion blender, or, combine all ingredients in the jar of a standard countertop blender.  Blend at high speed until smooth.  With blender running, slowly drizzle in vegetable or avocado oil, emulsifying until creamy and thick.  With blender still running, slowly drizzle in olive oil.  Season to taste with Kosher salt.
– recipe from Serious Eats, J. Kenji López-Alt