Tomato and Cucumber Salad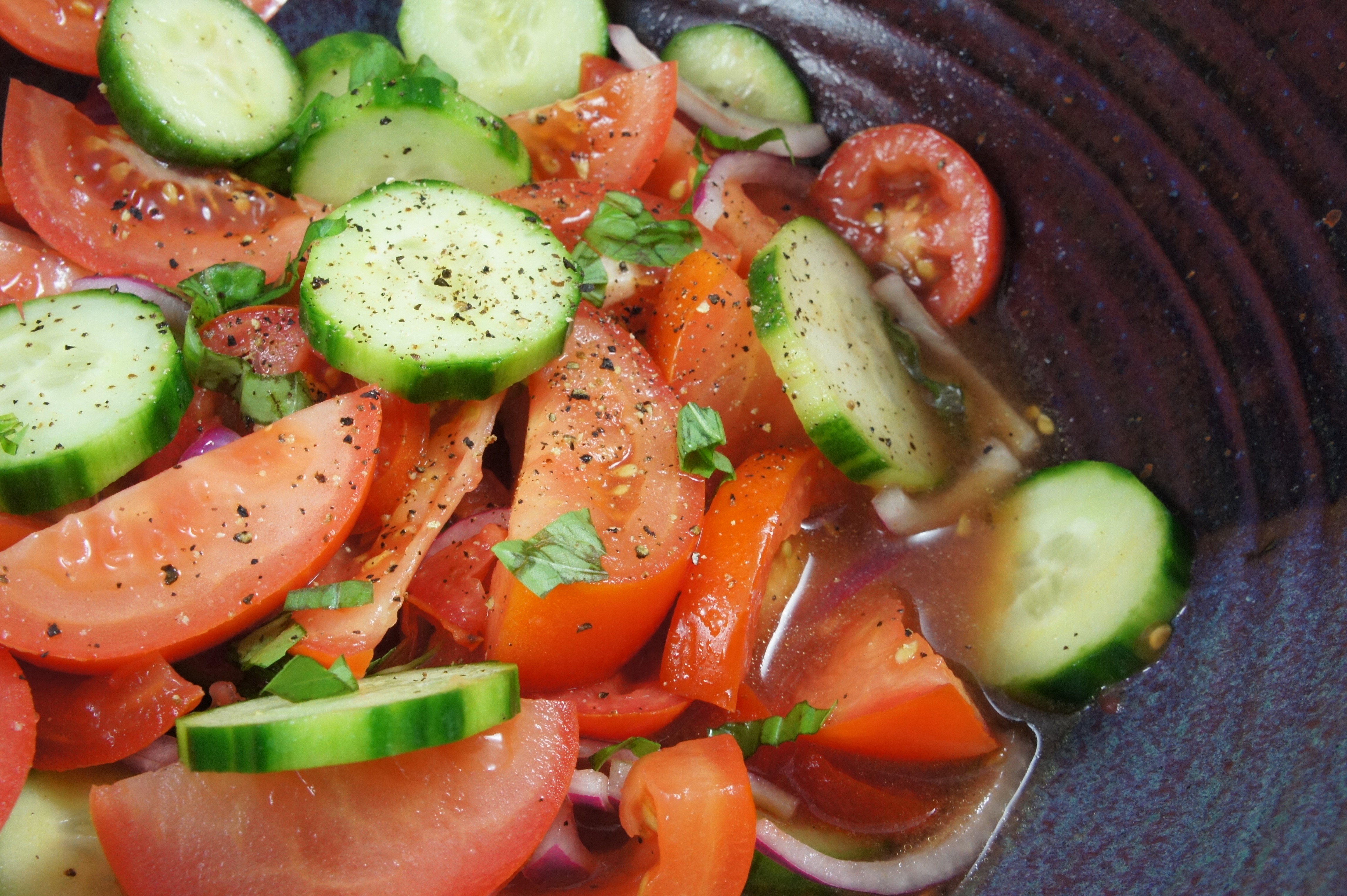 Can you still feel summer?  There's still time to savor the last bit of Northwest sunshine.  Never mind that leaves are falling and Starbucks has pumpkin spice lattes.  Revel in the fact that you are still wearing shorts and sandals!  Don't waste one minute in the kitchen.  Make this juicy salad and triage some of that burgeoning pile of tomatoes on your counter.
Men take note:  There is no lettuce of any kind in this salad, so even you salad haters should find something to love.  If you have tomatoes, cucumber, and onion you're all set. This is a very easy recipe – don't get too caught up in measuring.  It's better to use up however many tomatoes and cucumbers you have, adjust the oil and vinegar to your liking, and then let it sit, and sit, and sit.  The longer this salad sits, the more juice forms at the bottom of the bowl.  Get your bread ready.  The juice at the bottom is the best part!
Tomato / Cucumber Salad
5 (or more!) ripe tomatoes 
1 large cucumber
1/4 red onion
red wine vinegar
olive oil
sea salt
freshly ground black pepper
fresh basil
Slice tomatoes lengthwise into wedges.  Peel cucumber, leaving alternating strips of peel, and slice.   Slice onion fairly thin.  Combine all in medium mixing bowl.  Pour red wine vinegar over, enough so that you have about 1/2 inch of liquid at bottom of bowl.  Add several pinches of sea salt and freshly ground black pepper.  Drizzle with olive oil.  Slice basil into thin ribbons and add.  Stir to combine.  Let sit about 5 minutes, then stir to combine again, tasting and adjusting seasonings as needed.
This recipe has been around a long time, and I imagine it originated from a woman who either had too many tomatoes, or just  discovered she had no lettuce.  Either way, I remember my mom making it often during the summer.  We loved to sop up all the tomato vinaigrette with crusty bread, and had no problem polishing off the tomatoes and cucumbers, too.  Feel free to leave the basil out, use a splash of white vinegar, or add some balsamic vinegar.  Add as much, or as little, olive oil as you like.  Serve in small bowls and spoon extra vinaigrette into each portion.  Put this  alongside whatever you might be grilling and go enjoy these last laissez faire days of summer.