Tomato And Cucumber Salad With Peach Dressing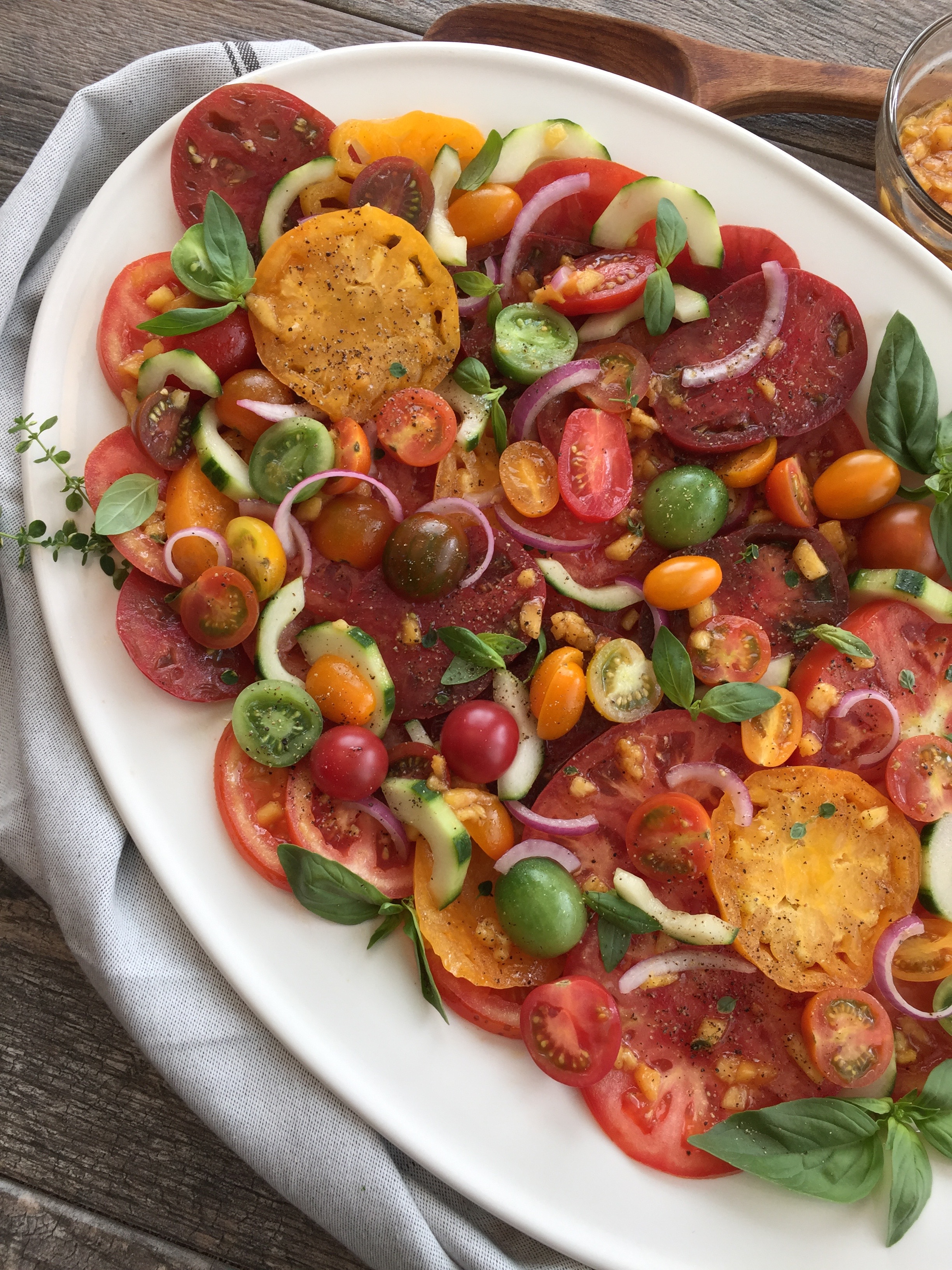 Ladies, grab a chair and put your feet up… it's Father's Day.  Want to make a man happy?  Back off and let him do what he wants most:  totally dominate the meal planning and be left alone with his grill. Your job for this holiday is to provide a supportive role:  make a cheese plate, think of a side dish, and oh, yes, don't forget his favorite dessert.  You will gather the supplies, set things up, and clean up whatever mess ensues.  But let your guy plan the menu and let him man the flames.
This couldn't be easier.  Grocery stores are proudly displaying Northwest grown just about everything, and beautiful produce is yours for the taking. If you make a trip through our local Farmer's Market you can find an impressive display of berries, cherries, tomatoes, snap peas, apricots, lettuce and more.  This beautiful salad was on the cover of the July 2016 issue of Cooking Light.  Fast and easy to make, it will let you really enjoy the best of the picture perfect produce we have growing in the Northwest right now.
Making the Peach Dressing is a good way to brush up on your peach peeling so you'll be in good form for all the cobbler, pie, jam, and salsa that the summer has in store for you.  Repeat after me:  boil for 30, ice for 10.  Lower your peach into boiling water.  Remove after 30 seconds and transfer to a bowl of water with ice cubes.  What 10 seconds, then remove.  If your peach is ripe, the peel will slip right off – no knife needed.
Even though English cucumbers are seedless, they still have soft seeds in the center.  Remove these by scraping with the sharp end of a spoon and you will end up with a nice, neat half moon shape.  The original recipe instructed you to put all of the tomatoes into a bowl and toss them, but I thought this might compromise the beauty of the larger slices, so I dipped them in the dressing first, arranged them, and then added the other ingredients to the bowl and tossed.  The Peach Dressing was delicious and made the salad even better.  The recipe made enough dressing for this salad and one or two more.  I tried it on a mixed green salad, and it was good on that, too.
Tomato and Cucumber Salad with Peach Dressing
1 cup Peach Dressing
1 English cucumber
2 pounds multicolored heirloom tomatoes
3/4 cup thinly vertically sliced red onion
1/2 cup small basil leaves, divided
1 teaspoon kosher salt, divided
3/8 teaspoon freshly ground black pepper
Peach Dressing
3 tablespoons red wine vinegar
1 tablespoon chopped fresh thyme
1 teaspoon sugar
1 very ripe peach, peeled and finely chopped (about 1/2 cup)
6 tablespoons extra-virgin olive oil
Make Peach Dressing by combining red wine vinegar, thyme, sugar, and chopped peach in a large bowl.  Stir with a whisk and let stand 15 minutes, stirring occasionally.  Add oil slowly, stirring with a whisk until blended.
Peel cucumber at 1/2 inch intervals, leaving some strips of peel.  Halve cucumber lengthwise, remove seeds, and slice diagonally into half-moons.  Core tomatoes and cut into 1/3 inch thick slices.  Dip one side of large tomato slices into dressing, then arrange on platter.  Remove half of dressing to small jar and reserve.  Add cucumber, small tomatoes, onion, 1/4 cup basil, 1/2 teaspoon salt, and pepper to remaining dressing in bowl.  Toss well and let stand 3 minutes.
Arrange tossed salad mixture from bowl on top of large tomatoes on platter.  Garnish with remaining 1/4 cup basil, remaining 1/2 teaspoon salt and freshly ground black pepper. Serve with additional dressing alongside, if desired.