The Best Egg Salad Sandwich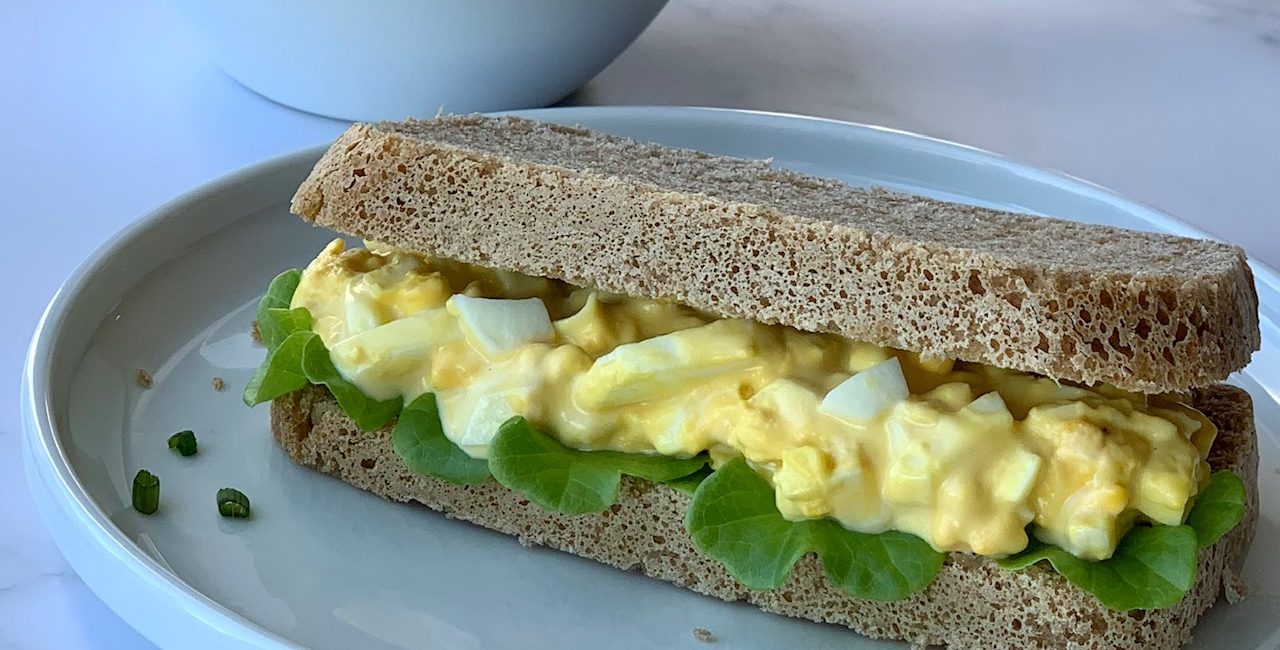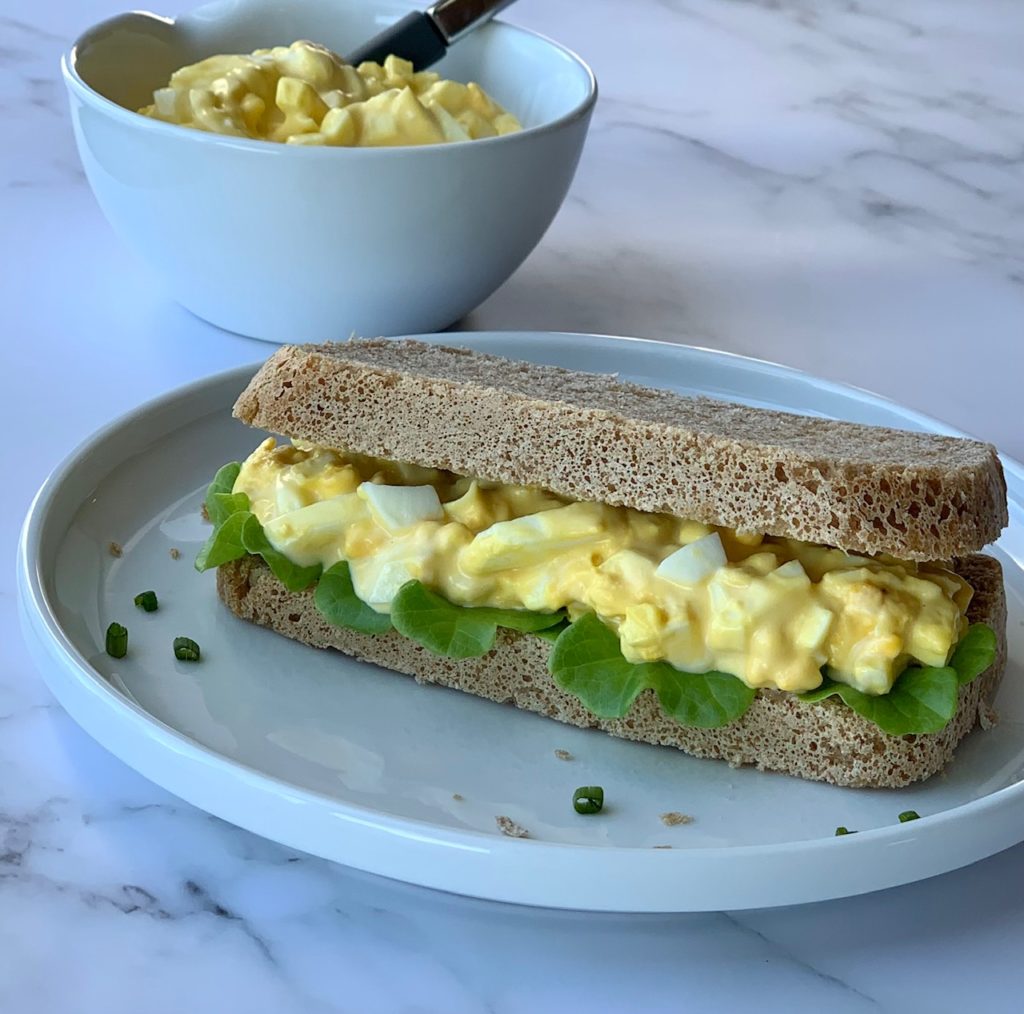 Is there anything an egg can't do? Poached, fried, or scrambled, eggs are there for you when you need a quick meal but don't want to fuss. When you don't have much on hand or when nothing else sounds good, eggs have got your back. And if you're looking for an economical, easy source of protein, they're a go-to solution for an endless variety of meals all day through. When there's nothing else to eat, chances are you have an egg or two. You can make a light dinner out of scrambled eggs and toast, or make a quick potato and egg burrito with salsa. Keep a dozen eggs on hand and you are invincible.
Let's start with breakfast. Aside from the usual scrambled, poached or fried, you can turn eggs into a breakfast casserole, a fill-as-you-like omelette, or make them into a breakfast sandwich like an Egg McMuffin. Top your oatmeal or your avocado toast with a jammy egg, or enjoy them soft boiled with toast cut "soldiers." Make Egg-in-a-Hole, french toast, or get fancy and make Eggs Benedict. If you have a very ripe banana, add an egg and make a zero-waste banana pancake. 
No time at all? Make an easy egg cup. Lightly coat the bottom and sides of a mug with non-stick spray or olive oil. Add eggs, egg whites, or any combination of eggs and whites to fill cup about half-way. Add 1 – 2 tablespoons of frozen kale or spinach, or other vegetables, and use a fork to stir well. Put mug in microwave and cook on high power for 1 minute. Stir well with fork and cook on high power for another minute.  Stir again and cook for 30 seconds to 1 minute more until eggs are lightly set.  Use fork to break up egg.  Add cheese, if desired, and season with salt and freshly ground black pepper.
There are many ways to enjoy eggs that aren't just for breakfast. Like clafoutis, both sweet and savory, shakshuka, frittata, quiche, and huevos rancheros. You can add eggs to fried rice, make spaghetti carbonara, or make easy deviled eggs. And for dessert there's custard, soufflé, and of course, Pavlova, the elegant meringue made from egg whites. There's a lot you can do if  you have eggs. 
Make some easy hard boiled eggs to keep on hand for snacks or to make egg salad. My favorite method for making hard boiled eggs in little to no time is to use the Instant Pot. It's quick, it's easy and once you try it, you'll wonder why you ever made hard boiled eggs any other way. The "5-5-5" Method yields perfectly cooked, easy-to-peel eggs every time.  It's my new way to do it, and I am betting it will be yours, too. I was skeptical at first, but became a true believer after I peeled my first egg cooked this way. For best results, use eggs that are a little "older," not the fresh ones you just bought. Older = easier to peel.
Now take those perfectly peeled eggs and use them to make The Best Egg Salad Sandwich. It's simple but deliciously satisfying and with any luck you might just have enough for tomorrow's lunch, too. Keep it easy by using just mayonnaise and kosher salt, or try the recipe below and zhuzh things up with a spritz of lemon juice and a sprinkling of fresh chives. Use the best eggs you can get your hands on – farm fresh ones will really shine here – and use the kind of mayonnaise that you prefer. I like making this with Vegenaise , which I also love using for chicken salad, too. If you have an egg slicer, you can use it to help dice your eggs. Slice the egg using the slicer, then transfer to a cutting board to dice your sliced egg in the opposite direction. 
Once cooked, eggs will keep in their shell in the refrigerator for up to 2 weeks. Store any remaining cooled eggs in a zip-top bag with a paper towel woven around the eggs for cushioning. This will help protect the eggs and also prevent them from absorbing any odor or flavor from surrounding foods. It will also keep your fridge smelling fresh. 
Eggs keep best when stored in their original carton and the dates you see on those cartons are not food safety dates. They are there as a guide for stores to know how long they can sell the eggs. With continuous refrigeration, raw eggs will maintain their best quality for 3 weeks after the "best by" date on the carton. Not sure if your eggs are still good? Just do a quick float test by putting your egg into a glass of cold water.  If it sinks, you're good. If it floats, toss it.
The Best Egg Salad Sandwich
4 farm fresh eggs
4 Tablespoons good-quality mayonnaise (Best Foods, Hellmann's or Vegenaise)
1 Tablespoon thinly sliced fresh chives or green onion
juice of 1/2 lemon
1/2 teaspoon kosher salt
sliced bread
Place eggs in a small pot and add water to cover by at least 1 inch. Bring water to a boil over medium-high heat, then remove from heat, cover, and let rest 10 minutes. 
Peel eggs and chop into 1/4 inch pieces. Transfer for a bowl, then add mayonnaise, chives, lemon juice, salt and pepper. Mix thoroughly. 
Toast bread then spread egg mixture evenly over half of slices, closing the sandwiches with the remaining slices. Cut in half and enjoy. 
– recipe by Daniel Holzman and Matt Rodbard
Instant Pot Eggs (5-5-5 Method)
Add 1 cup water to the bottom of instant pot, place wire trivet (or egg rack) inside and place eggs on trivet.  Seal and set to high pressure for 5 minutes. After cooking, let pressure release naturally for 5 minutes, then carefully release any remaining pressure. Transfer eggs immediately into an ice bath for 5 minutes.
– thekitchn.com