That Pink Drink (and a tea sandwich, too)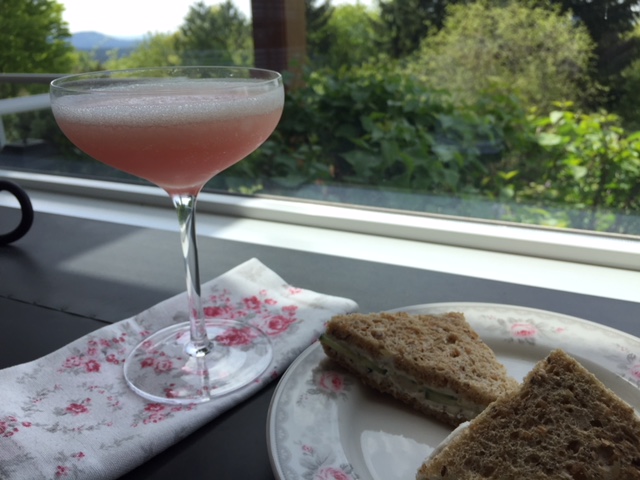 Cheers to you, Mom!  Eternal kisser of boo-boos, vessel of all sage advice, laundry stain whisperer…  you deserve some kudos and it's time to take a break.  Put down that mop, put up your feet, and quick, somebody fix mom a drink.
Moms are an endless source of wisdom about all matters great and small, and through the years my mom has given me all sorts of good advice.  I will still text or call Mom to find out how many days bacon is good before I turn to Google.  She taught me everything I know about house and home, a lot of it involving toothbrushes and cotton swabs.  Keeping things clean is an unending job.  Her very best cleaning tip: when you see it, clean it.  This means when you notice a fingerprint on a wall, or a smudge on the mirror, grab a cloth and clean it right away.  The flip side of this:  if something is dirty, you can just say you didn't see it.  Mom was one smart cookie.
This beverage made the rounds at our house over and over again during the 70's and 80's.  The pink slushy-thing was a standard for ladies' luncheons, bridal and baby showers, and pretty much anytime we needed a froofy drink to press into somebody's hand.  The one rule:  there was no telling what was in it.  It was only after you said how good it was, and…  asked for a refill, that my dad would tell you what it was.
Ready to be surprised?  Get yourself a can of pink lemonade from the freezer section at the store.  Here comes a recipe you can use all summer long, again and again.  Pair it with a sweet, little tea sandwich and you've got something special for mom.
Put your feet up Mom.  You deserve it.
That Pink Drink
1  12 fl. oz. can frozen pink lemonade concentrate
1 can Scotch whiskey
1 tray ice cubes
Pour can of lemonade concentrate into blender.  Fill empty lemonade can with scotch then add to blender.  Add ice cubes and blend on high speed until contents become slushy, adding more ice if desired.  Pour into stemmed glasses and serve.
Herbed Goat Cheese and Cucumber Tea Sandwiches
3 ounces herbed goat cheese
4 tablespoons cream cheese, room temperature
sea salt and freshly ground black pepper
1 tablespoon fresh chives, snipped finely
milk, if needed
1/3 English seedless cucumber, sliced very thin into rounds
10 slices whole grain bread
Combine goat cheese and cream cheese in a small bowl and mix together until smooth using a hand mixer.  Season with salt, freshly ground black pepper and chives, adjusting consistency with a bit of milk if needed, until it resembles soft butter.
Working two slices at a time, spread cheese mixture evenly onto one side of each slice of bread.  Top one of the slices with cucumber and then cover with other slice of bread, cheese side down, pressing lightly.  Trim crusts from bread and cut on a diagonal.  Place sandwiches on a sheet pan and cover with a barely damp paper towel.  Repeat with other slices of bread. Cover sheet pan with plastic wrap and refrigerate until ready to serve.