Sunrise Smoothie, Vegan Berry Protein Smoothie and Mint Chip Dessert Smoothie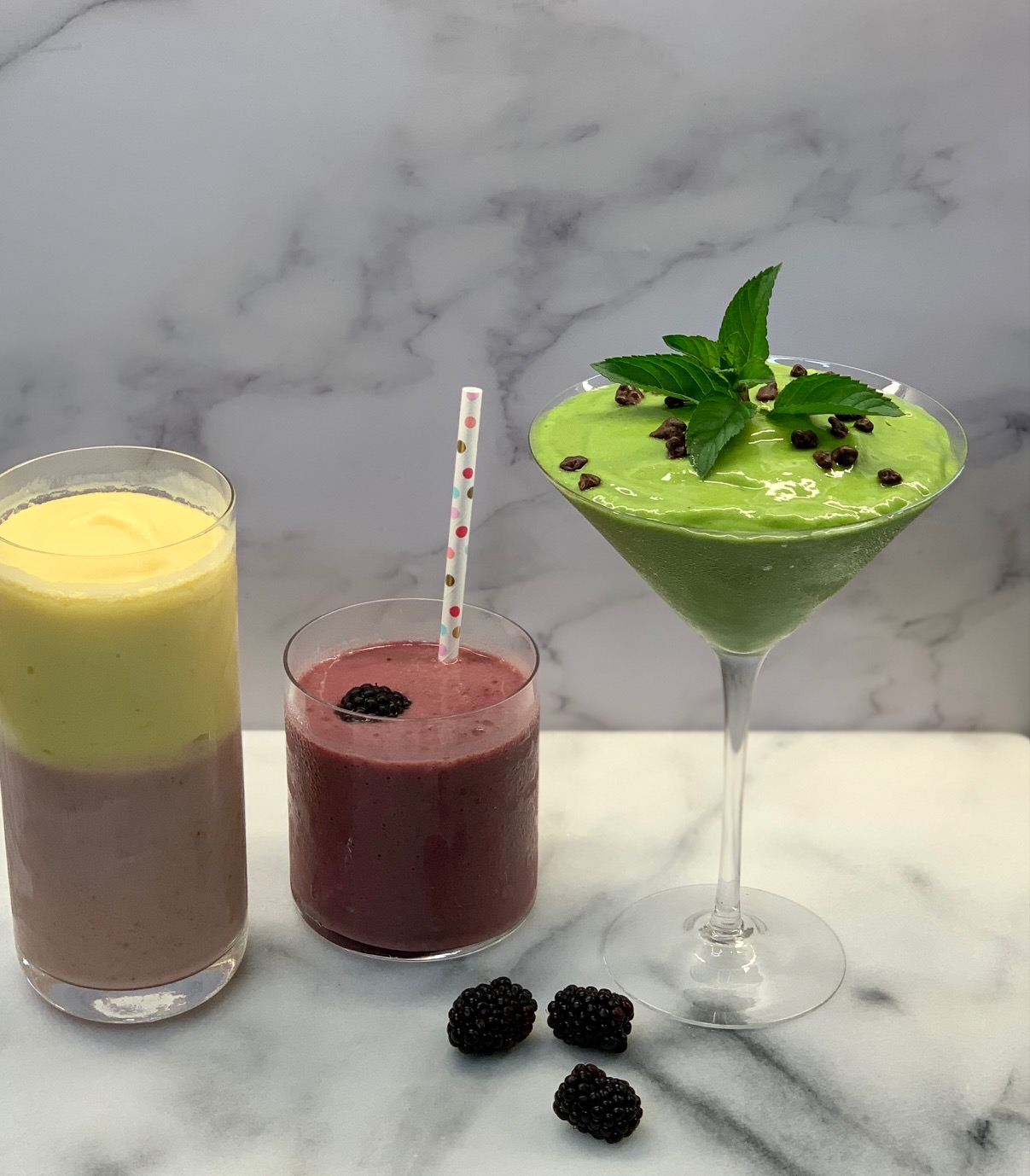 The happiest, healthiest, longest living people live in hot-spots around the globe known as "Blue Zones." You can add more vital years to your life by following their centenarian lifestyle and making the right food choices. Blue Zones meals are always delicious, affordable, nourishing and easy. 
Eating as they do in the Blue Zones is simple and you may already be doing some of the things, like shopping for foods at your local farmer's market or community-supported farms. Do your best to avoid factory-made foods, foods wrapped in plastic, food products made with more than five ingredients, and pre-made or ready-to-eat meals. 
Aim to eat at least three Super Blue Foods daily. You don't have to eat these in copious amounts to get all of their benefits. Here is a rundown of the Super Blue Foods: beans, greens, sweet potatoes, nuts (including peanuts and sunflower seeds), olive oil, oats (slow-cooked or Irish steel-cut are best), barley, fruits, green or herbal teas, and turmeric.  
With summer fruit and veggies at their best, eat fresh whenever you can, but don't forget to ABF (always be freezing). Why pay a premium for frozen fruit and berries when you can freeze your own? Don't let your the money you spend on food go to waste. Anytime you have more than you can eat, wash, slice and freeze on a baking sheet. Once frozen, transfer to a resealable bag, being sure to label and date. Having a frozen stash at the ready lets you make premium smoothies, a great way to embrace some Blue Zones benefits without even trying. 
Smoothies are a perfect way to jump-start your day or fuel-up after your morning walk or workout. Made with plant-based ingredients tied to the Blue Zones diet, you can use your blender to combine an assortment of nutritious and delicious ingredients for an easy breakfast meal in a glass. To get the most nutritional benefit of carbs, proteins, and fats, smoothies can be made with a combination of fruits and vegetables, nuts or nut butter, and a liquid base. Fruit contains plenty of fiber, but you can add more fiber containing ingredients like greens, hemp or chia seeds, pumpkin, veggies, oats, ground flaxseed, cocoa or cacao to make your smoothie more filling. Don't use additional sweeteners. If you want your smoothie sweeter, just add more banana to the recipe. 
Completely vegan, the Vegan Berry Protein Smoothie is packed with strawberries and blackberries and has an added boost of pea protein. Or try a Sunrise Smoothie, made from mango and pineapple layered with strawberry and banana, that tastes and looks just like a tropical sunrise. For dessert, blend up a Mint Chip Dessert Smoothie. Made from only nutrient-dense ingredients, it tastes like a splurge worthy treat, but it's entirely good for you. If you love mint chip ice cream, give this a try. 
In any of the recipes, feel free to substitute any plant-based milk, or yogurt, that you like. I used unsweetened vanilla coconut milk in place of the almond milk in some of the recipes so that I could make these nut-free. I tried making the Mint Chip Dessert Smoothie without the dates, and found that it still thickened and was plenty sweet with just the banana. Use fresh mint if possible. Fresh herbs are always encouraged in Blue Zone meals. 
Eat like the world's healthiest people. Eat fresh, eat local and eat for wellness, vitality and longevity.
Sunrise Smoothie
serves 2
For mango-pineapple layer
1/2 cup unsweetened vanilla almond milk
1/2 cup frozen pineapple
1/2 cup frozen mango
1/4 cup coconut yogurt
For strawberry-banana layer:
1/2 cup unsweetened vanilla almond milk
1/2 cup frozen strawberries
1 frozen large banana
1/4 cup coconut yogurt
shredded coconut, for garnish (optional)
Combine all mango-pineapple ingredients in blender and blend until smooth. Pour into 2 glasses and place in the freezer.
Rinse out blender. Combine all strawberry-banana ingredients in blender and blend until smooth. Pour on top of mango-pineapple mixture and top with shredded coconut, if desired. Serve immediately.
Vegan Berry Protein Smoothie
serves 1
1 cup non-dairy milk of choice
1/2 frozen banana
1/2 cup frozen strawberries
1/2 cup frozen blackberries
1 Tablespoon pea protein
Combine non-dairy milk, frozen banana, strawberries and blackberries, and pea protein in a high-powered blender and blend until smooth. Serve immediately.
Mint Chip Dessert Smoothie
serves 4
6 ounces unsweetened almond or coconut milk
4 cups spinach leaves
4 pitted Medjool dates

 

8 sprigs fresh mint leaves (or 1/2 teaspoon mint extract)
1 teaspoon pure vanilla extract
1 ripe avocado, pitted and peeled
2 large frozen ripe bananas, cut into chunks (peel and slice prior to freezing)
2 Tablespoons chocolate chips or cacao nibs
Place plant-based milk and spinach in a high-speed blender and blend; add pitted dates and mint leaves and blend. Add vanilla extract, avocado, and frozen bananas then blend until mixture is smooth. Add ice if necessary. Use a spoon and mix in some of the chocolate chips or cacao nibs, then dish into small bowls. Top each bowl with chocolate chips or cacao nibs. Serve immediately. 
-bluezones.com