Summer Tacos With Scallion-Peanut Relish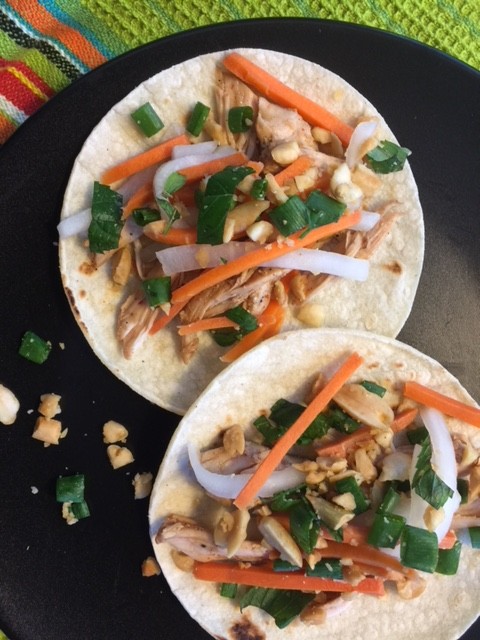 September is dishing out some of our best summer weather.  It's still sandal temp, and anyone who lives in the Northwest knows that the final days of this season are just heavenly.   Take one last bite out of summer with these Summer Tacos with Scallion-Peanut Relish.  The street taco size is kid-friendly, and the taco bar set up never gets old, whether you're serving family style or dishing these out for game day.  Corn tortillas and the fact that these are tacos spell Mexican food, but the spicy chicken filling and peanut-mint topping are decidedly Thai.  Here's a taste of what's left before we delve into pumpkin madness.
Speed your prep work by buying bagged, shredded carrots, and rotisserie chicken already shredded,  like they have at Costco.  Also, you can speedily wrap your tortillas in aluminum foil and warm them in the oven rather than charring them as the recipe instructs.  If you do opt to char your tortillas, keep them warm by wrapping them in a clean kitchen towel or aluminum foil as you work.
The original instructions were confusing, so I divided this recipe into three parts so that you can  follow along and prep the components quickly.  Add the tamari a tablespoon at a time, and taste as you go.  Two tablespoons were just right for me salt-wise, so I made up the difference with a little water for moisture.  Likewise with the honey, or you could use agave if you prefer.
I was not overly excited about the daikon in this recipe.  I dutifully cut it into matchsticks, but truly felt it could be omitted in the interest of saving time, or maybe some similarly cut cucumber could be substituted.
Enlist a helper to char the tortillas, or help with the peanut relish, while you work on the other components.  Put out all the bowls and let everyone serve themselves.  Don that sweater if you like, but you may have to take it off before lunch.  Summer, summer, summer!
Summer Tacos With Scallion Peanut Relish
carrot-daikon topping:
2 cups shredded carrots (from 3 medium carrots)
1 1/2 cups shredded daikon
1/2 teaspoon sugar
1/4 cup rice vinegar
1/2 teaspoon salt
chicken:
1/4 cup tamari or soy sauce
2 tablespoons honey
1-2 teaspoons sriracha
2 tablespoons rice vinegar
3 cups shredded rotisserie chicken
Scallion-Peanut Relish
1/2 cup roasted, salted peanuts, roughly chopped
1/3 cup packed fresh mint, chopped
5 scallions, green parts only, thinly sliced
1  12.6 ounce (24 ct.) street taco sized corn tortillas
Combine carrots, daikon, sugar, rice vinegar and salt in a medium bowl and toss lightly.  Let stand at room temperature, tossing occasionally, for at least 15 minutes and up to 1 hour.
Whisk tamari, honey, sriracha, and rice vinegar in a large bowl.  Add chicken and toss to coat.
Mix peanuts, mint, and scallions in a small bowl.
Warm tortillas over a low gas flame until lightly charred, turning to char both sides.  Fill tortillas with chicken and pickled carrot mixture.  Top with scallion-peanut relish and serve.
– adapted from recipe in Real Simple, August 2018