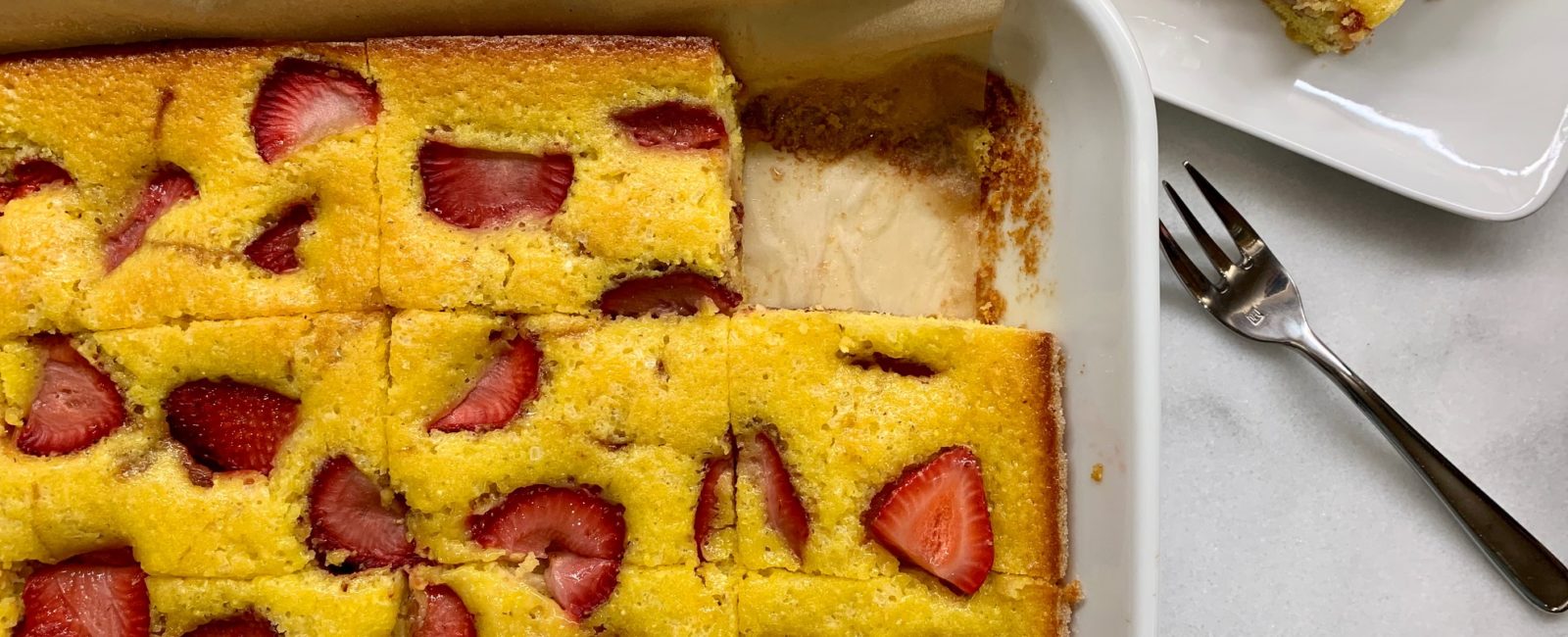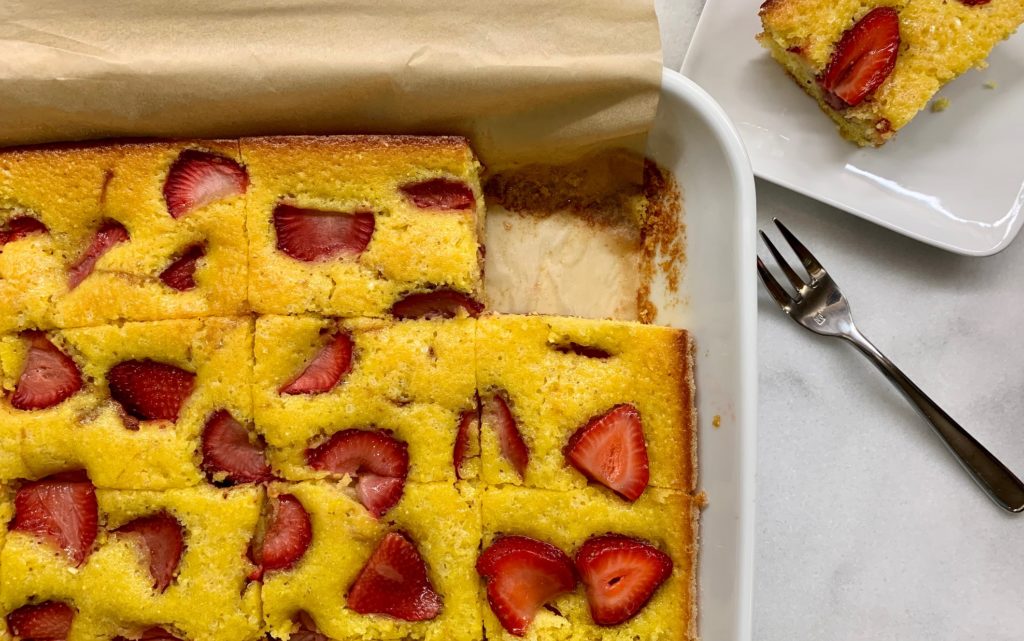 Garden picked or farmstead fresh, when life gives you strawberries, make Strawberry Snacking Cake. This olive oil and cornmeal sheet cake is perfect for brunch or tea time and it's a lovely way to show off Northwest berries that are so deliciously sweet and colorful right now. Swirled with jam and topped with pretty, sliced berries it's a great summer recipe. Enjoy with a cup of coffee or make your soirée a little more special. This effortless dessert fits the bill. 
You need only a whisk and a bowl, so it's a win for even the most hesitant baker. Let the sliced strawberries sit so they soften and soak up the sugar, glazing and brightening them in the process. The recipe called for 3/4 cup of olive oil, but 1/2 cup mixed into the batter looked just right to me, so I stopped right there. There were no deleterious effects and the cake was moist and flavorful just the same. You could also reduce the sugar to 1/2 cup as some of the reviewers did.  My strawberries looked their best just after baking, so for best visual appeal, try to serve this as soon as it cools. Easily adaptable, swap the strawberries with peaches, blueberries, or raspberries, or try adding almond extract instead of vanilla. 
Cake can be baked up to 4 days ahead and stored tightly wrapped. Live in the moment! Enjoy this right now… before the strawberries disappear. 
Strawberry Snacking Cake
8 ounces strawberries, hulled, thinly sliced lengthwise
3 Tablespoons plus 1 cup sugar, divided, plus more for pan
1 teaspoon kosher salt. plus more
3/4 cup extra virgin olive oil, plus more for pan
1 1/2 cups all-purpose flour
1/2 cup fine-ground cornmeal
1/2 teaspoon baking powder
1/2 teaspoon baking soda
3 large eggs
2 large egg yolks
1/2 cup plus 2 Tablespoons sour cream
zest of 2 lemons
3 Tablespoons fresh lemon juice
2 teaspoons vanilla extract
1/2 cup strawberry jam (preferably Bonne Maman Intense)
Preheat oven to 350º F. Combine strawberries, 1 tablespoon sugar and a pinch of salt in a medium bowl and gently toss. Let sit until ready to use, stirring occasionally.
Coat a 13×9" pan lightly with olive oil. Line pan with parchment paper, leaving an overhang on large sides. Sprinkle sugar generously over pan, tilting pan to coat evenly; tap out excess.
Combine flour, cornmeal, baking powder, baking soda, 1 cup sugar and 1 teaspoon salt in a medium bowl and whisk together. In a large bowl, whisk eggs, egg yolks, sour cream, lemon zest, lemon juice and vanilla. Add dry ingredients and whisk to combine. Gradually add oil using a rubber spatula to fold in until oil is incorporated and batter is smooth. 
Scrape batter into prepared pan, spreading evenly to edges and smoothing surface. Dollop jam on top with a small spoon, then gently swirl into batter using a butter knife. Arrange reserved strawberries on top of batter in even rows. Sprinkle with remaining 2 tablespoons sugar. 
Bake cake until golden brown and a tester inserted into the center comes out clean, about 40-45 minutes. Let cake cool in pan before slicing. 
– recipe by Sarah Jampel, bonappetit.com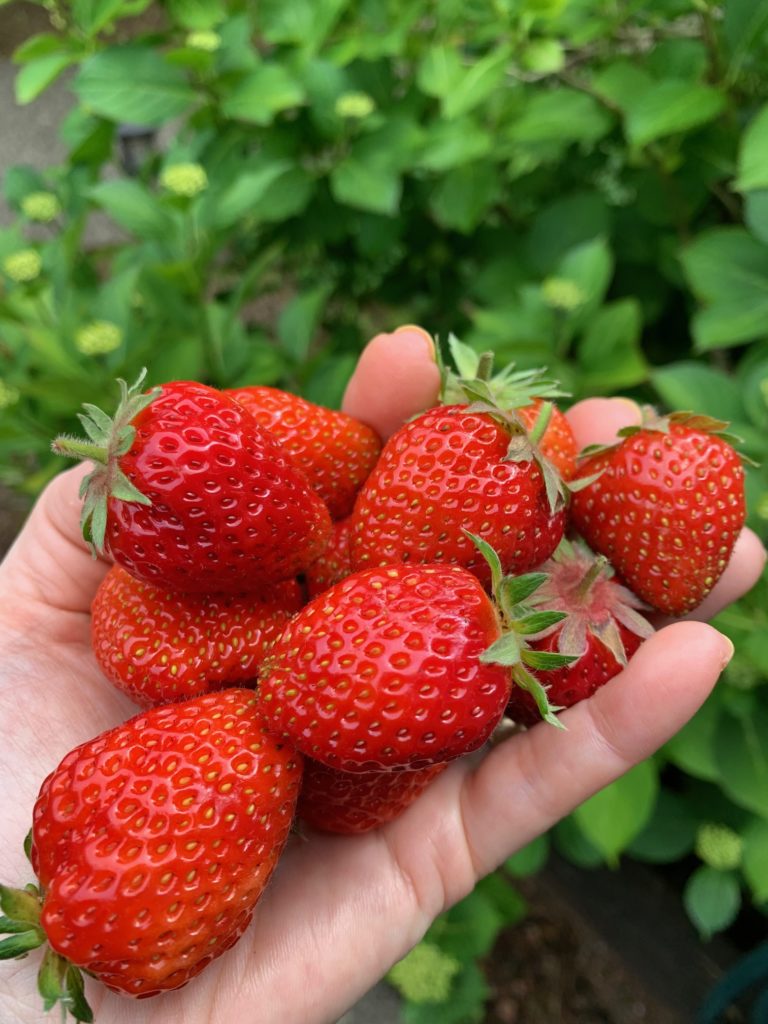 Tip: Preserve your bounty. Make berries last longer and get them ready to eat at the same time. Fill your salad spinner with berries. Cover completely with cool water and add a generous splash of white vinegar. Let berries soak 5 minutes, swirling lightly with your hand, then rinse well and let dry on a paper towel lined baking rack. When thoroughly dry, store in a berry container in your fridge.