Steakhouse Salad on a Stick
Memorial Day is right around the corner.  There will no doubt be copious amounts of barbecue, beer, wine, and lots of sides.  If we are lucky, there will also be a sufficient amount of beautiful sunshine, too.  Why not add something fun, impaled, and moveable to the mix?  I am a huge fan of anything poked with a stick, and I can't wait to get the skewers out again, so when I saw these salads in the June issue of Food Network magazine I had to bite.   All of them had appeal, but I have my doubts about skewering a hard-boiled egg, and am not so sure about poking a wooden skewer through a crouton.   But the Steakhouse Salad?  I was sold.   Bacon, blue cheese, poke it with a stick… you got me.  Yes, it's a salad, but it's not what you'd expect, and you can get just about anybody to eat something when you put it on a pointed stick and tell them they can run with it.
The Blue Cheese Dressing recipe that follows is from the Iceberg Wedge Salad recipe I posted back in 2015.  Also a great crowd pleaser, if you're not inclined to poking and threading your salad.   If you're time crunched, you can always use a store-bought dressing that you like, but give this home made recipe a try.  I think it is, by far, the best blue cheese dressing recipe I have found and tastes just like what you get when you order a salad someplace out.   You can make it ahead, which is always a good idea, and let the flavors develop.  You may even be lucky enough to have some left over to bottle and keep in your fridge for the next week.
Have a great Memorial Day.  And stock up on those wooden skewers.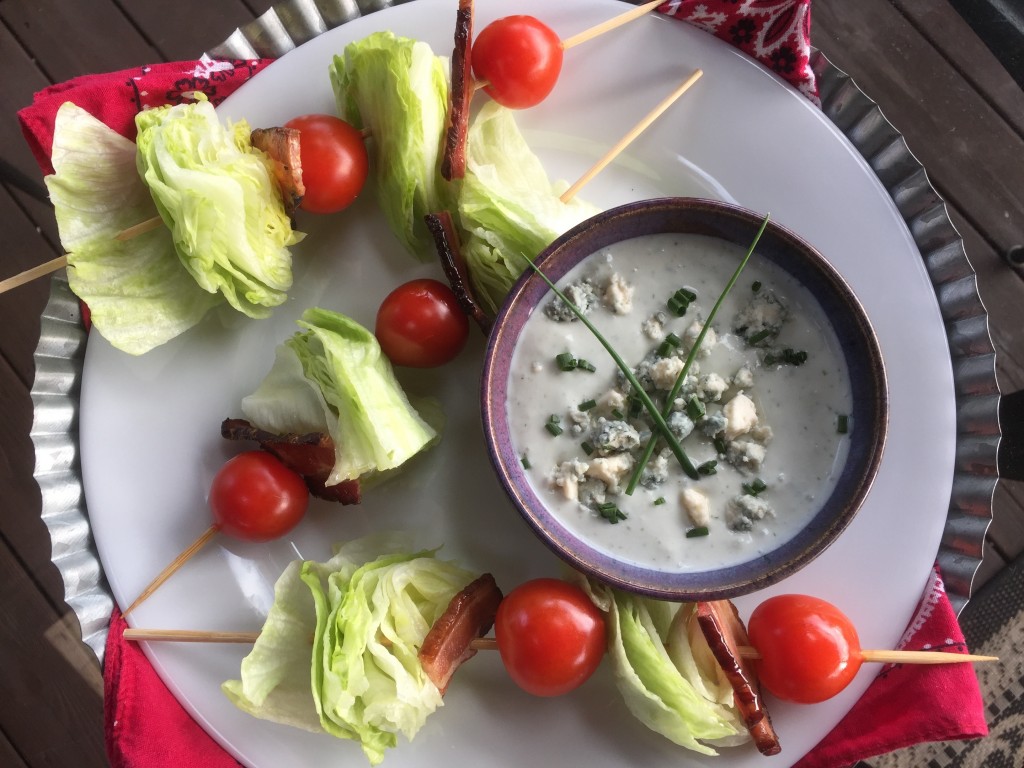 Steakhouse Salad
1 head Iceberg lettuce
1 lb. thick cut bacon
1 pint cherry tomatoes
Cut lettuce into smallish, skewerable-sized wedges.  Cook bacon until lightly crisp and then cut each strip  into 2 inch sections.  Skewer wedge of lettuce, piece of bacon, and cherry tomato – 2 times for each skewer.  Serve with blue cheese dressing.
Blue Cheese Dressing
2 tablespoons white wine vinegar
1 heaping tablespoon finely chopped shallot
sea salt
1/2 cup milk
3/4 cup light sour cream
1 tablespoon fresh chopped chives
1/2 cup crumbled mild blue cheese
freshly ground black pepper
Combine 1 tablespoon white wine vinegar, chopped shallot, and a pinch of sea salt in a small bowl.  Let stand.  Measure 1/2 cup milk (I used skim, but you can use 1%, 2%, or whole) and remove 1 tablespoon.  Add 1 tablespoon white wine vinegar and stir well.  Let stand.
Add sour cream, chives, and blue cheese to shallot and vinegar.  Add milk, starting with 3 tablespoons, whisking well, or use an immersion blender.  Add more milk to adjust consistency if desired.  Season with salt and freshly ground black pepper.