Steak Tacos with Cilantro-Radish Salsa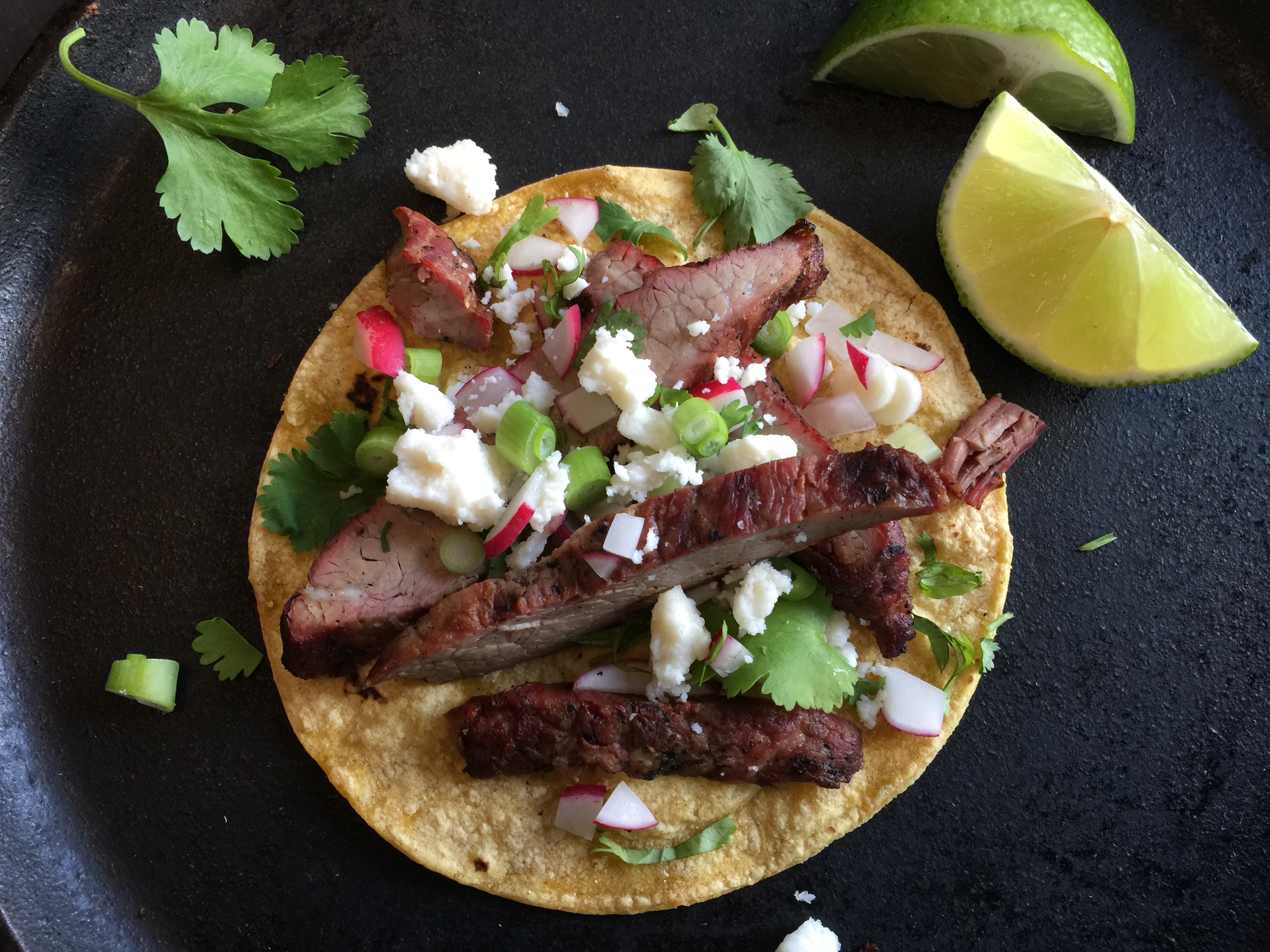 It's beautiful outside!  Don't just stand there!  Grill something!  The sun has returned – insert great dramatic emphasis from last night's end of the world-like thunderstorm – and that grill has never looked better.  Sure, we've been grilling all winter long – a little rain does not stop that around here.  But once the skies clear, it's a whole other story.
These steak tacos are so fast and easy you can pull them off tonight.  Even if you weren't planning to.  The flank steak grills quickly, and the radish-cilantro slaw only requires a small amount of prep.  So restaurant worthy but ridiculously simple, you will think you went to a food cart.  But ya didn't.
The original recipe was for a skillet on the stovetop, which you can certainly do.  Or, take the easy way out.  Grill that steak, have no dishes.  Expert steak grilling instructions courtesy of Google and Bobby Flay.  You're welcome.
Steak Tacos with Cilantro-Radish Salsa
2 tablespoons vegetable oil, divided
1 lb skirt or flank steak
Kosher salt, freshly ground black pepper
1/2 cup fresh cilantro leaves with stems
4 radishes, trimmed, chopped
2 spring onions or 4 scallions, white and pale-green parts only, thinly sliced
1/2 serrano chile or jalapeño, finely chopped (remove seeds if desired)
2 tablespoons fresh lime juice
8 corn tortillas, warmed
2 ounces queso fresco or Cotija cheese, crumbled
lime wedges for garnish 
Remove steaks from refrigerator and let sit, covered, at room temperature for about 20 minutes.  Heat grill to high.  Brush both sides of steak with oil and season liberally with salt and pepper.  Place steaks on the grill and cook until brown and slightly charred, about 4 to 5 minutes.  Turn steaks over and continue to cook to desired doneness (3 – 5 minutes medium rare, 5- 7 minutes medium, 8 – 10 minutes medium-well).  Transfer to cutting board and let rest 5 minutes before slicing.
While steak grills, chop half of cilantro and toss with radishes, onions, chile, lime juice and remaining 1 tablespoon oil in a medium bowl.  Season radish salsa with salt and pepper.
Slice steak and serve on tortillas topped with radish salsa, queso fresco, and remaining cilantro.  Garnish with lime wedges.
"Steak Tacos With Cilantro-Radish Salsa" –  Epicurious, Bon Appétit – June 2014