Spinach, Artichoke and Sausage Pinwheels and Baked Brie with Cranberries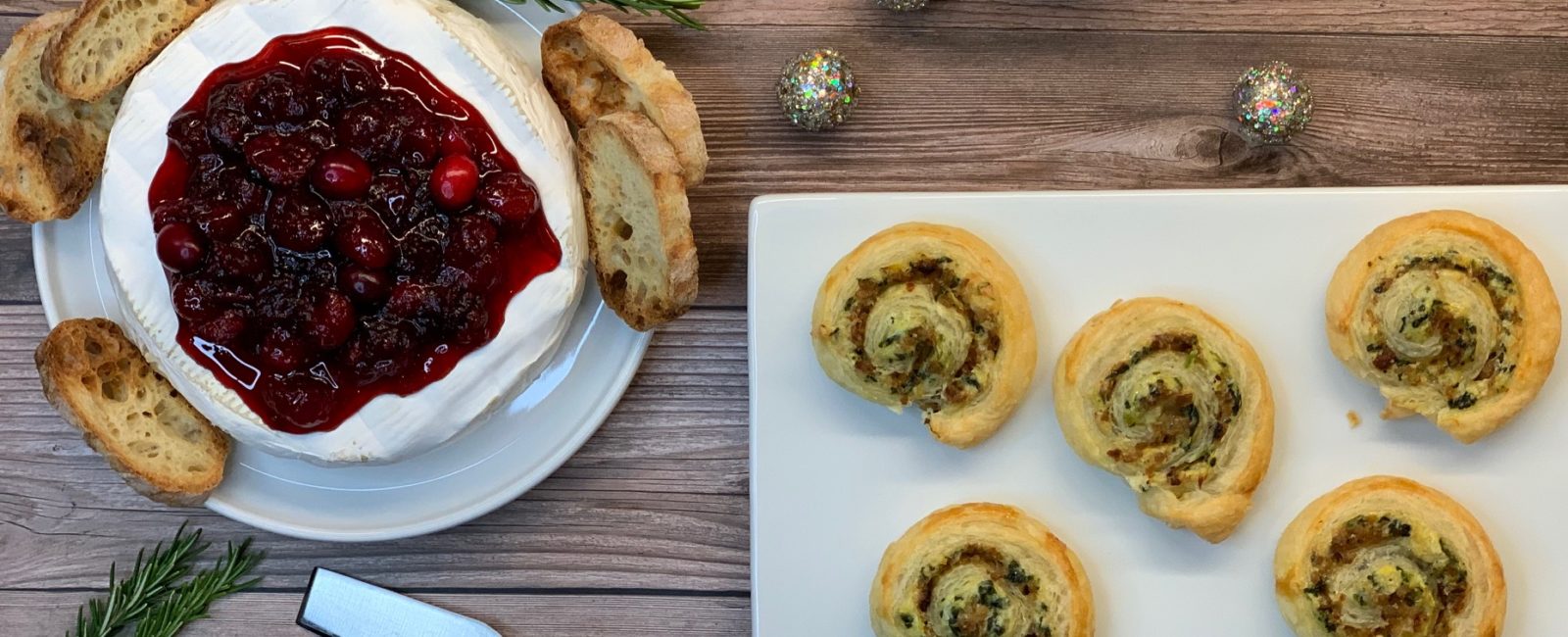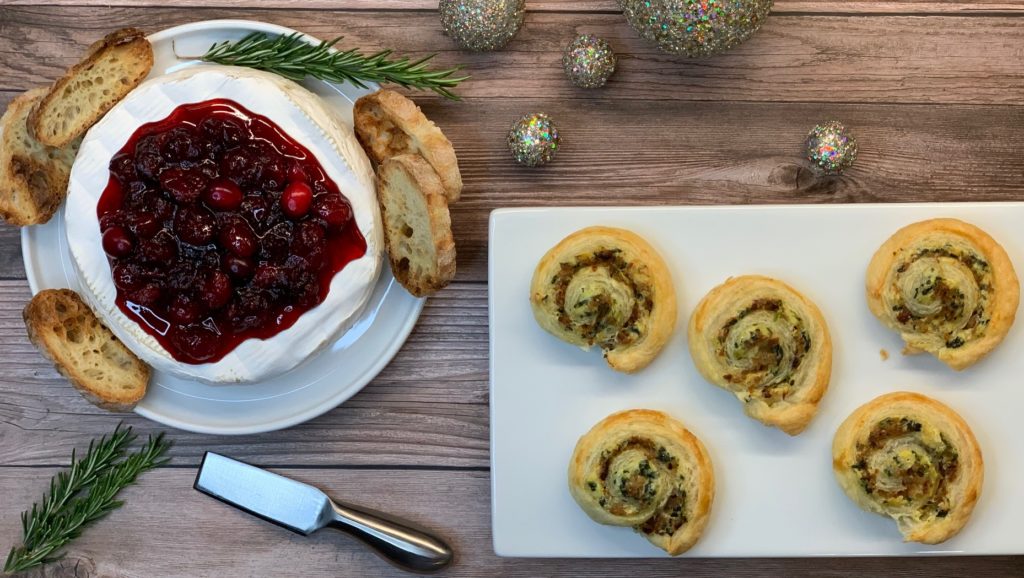 Set your sights on a new year and get ready for the confetti, 2022 is winding to a close. Pull out some board games, chill something bubbly, and enjoy the last night of this year. Warm appetizers are the clear winner when it's cold outside, and here are two easy appetizers you can make and enjoy at home. 
Spinach, Artichoke and Sausage Pinwheels are a cinch to make and impressive to serve. They're the best of both worlds, with warm spinach-artichoke dip and sausage bread filling rolled into a crisp, flaky, buttery bite. Start with a box of puff pastry from the freezer section at your grocery store. While it defrosts you can brown the sausage and make the quick cream cheese, artichoke and spinach filling.
The recipe calls for 1 pound of sausage, but I ended up using only half of that to make the pinwheels. If you have bread dough of any kind (even the one in the tube), you can make a quick sausage bread at the same time. If not, freeze your remaining sausage in a resealable freezer bag to use for soup, spaghetti, casseroles, or pizza. To make neat appetizers, use a clean paper towel to wipe your knife between cuts. Slice your pinwheels with a back and forth sawing motion rather than just pressing down to help keep them nicely circular. 
Baked brie is the perfect easy appetizer and topping it with sweet, tangy cranberry jam makes it festively dressed for the holidays. A winning combination that's easy, elegant and flavorful, you can make the fresh cranberry topping in just minutes. Serve with warm toasted bread rounds or some of your favorite crackers. Pretty, easy, and delicious, it's always a hit. 
Out with the old and in with the new. Cheers to 2023! 
Spinach, Artichoke and Sausage Pinwheels 
makes 40 pinwheels
1 tablespoon extra-virgin olive oil
1 pound hot Italian sausage, removed from casing and crumbled
6 ounces (about 1 cup) chopped artichoke hearts, drained and thawed if frozen
8 ounces cream cheese, at room temperature
1 cup frozen spinach, defrosted, drained and finely chopped
1 teaspoon crushed red pepper flakes
1/2 cup grated Parmesan cheese
kosher salt and black pepper
2 sheets frozen puff pastry (from a 17.3-ounce package), thawed
All-purpose flour, for dusting
1 large egg
Line 2 baking sheets with parchment paper. Warm oil in a large skillet set over medium-high heat, then add sausage. Cook sausage until no longer pink, breaking up with a spoon as it cooks, about 8 to 10 minutes. Remove from heat and let cool to room temperature.
Combine artichokes, cream cheese, spinach and red pepper flakes and Parmesan cheese in a large bowl and stir together. Mix thoroughly until well combined; add salt and pepper to taste. 
Unfold one pastry sheet onto a lightly floured work surface. Spread the cheese mixture evenly over the entire surface of dough, then sprinkle with sausage. Starting from the longer edge, tightly roll each sheet of dough into a log, (jelly-roll style). Pinch seams closed, then place seam side down. Using a sharp knife, cut into 20 evenly thick pieces, then place on prepared baking sheet spiral-side up. Repeat with other piece of puff pastry.
Whisk egg and 1 tablespoon of water together in a small bowl to make an egg wash. Brush tops of pinwheels with egg wash. 
To freeze and store, put into freezer until firm, then transfer to a resealable container. Freeze up to 3 months.
To bake immediately, preheat oven to 375º F. Place pinwheels in freezer while oven preheats. Bake pinwheels until puffy and golden, about 25 to 30 minutes. If baking from frozen, bake for 35 minutes. Serve warm. 
-Jeff Mauro, foodnetwork.com
Baked Brie with Cranberries 
1  8-ounce Brie cheese wheel
1 cup fresh cranberries
2 tablespoons water
1/4 cup brown sugar
2 tablespoons honey
optional garnish:
walnuts or pecans
fresh orange zest
fresh rosemary sprigs
Preheat oven to 350º F. Add water, cranberries, and brown sugar to a saucepan set over medium-low heat. Simmer until cranberries start to pop, about 7-8 minutes. Remove from heat and let cool for 2-3 minutes; stir in honey.
While cranberries cook, place brie on a parchment lined baking sheet, oven-safe baking dish or in a mini iron skillet.  Bake for 12-15 minutes, until the cheese is soft to the touch.  Remove from oven and let sit for about 5 minutes.  Use the parchment paper to move the brie to a serving platter and gently spoon on the cranberry mixture. Top with walnuts or pecans, orange zest, and/or rosemary. Serve promptly.