Spinach and Artichoke Dip Pasta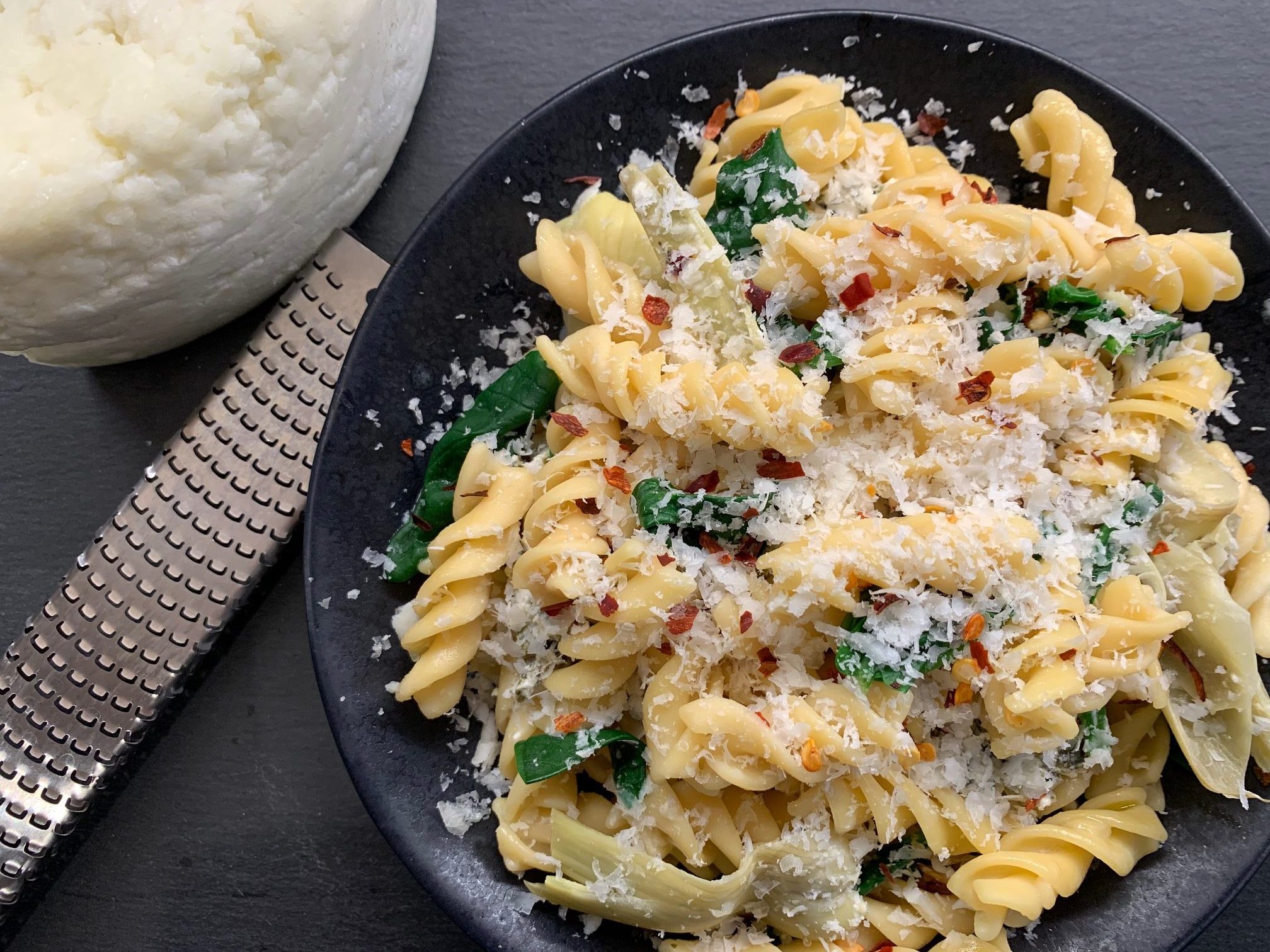 Whether you're just tired of cooking, trying to eat more veggies, or doing a few practice runs for your Super Bowl menu, this quick, easy Spinach and Artichoke Pasta has you covered. Eat the warm, creamy dip on its own or add the pasta and make a whole meal out of it, one batch does double duty depending on your whims. Using your slow cooker or Instant Pot means there's virtually no active cooking, leaving you free to embrace all that new year cleaning and organizing, or Netflix binge-watching. You decide. 
If you have a small-size slow cooker or smaller Instant Pot, use it for this recipe. I used my 3 quart Lux Mini Instant Pot and found it to be just right. You can lean on whatever kind of pasta you have in your pantry, but using whole-wheat or a gluten-free chickpea or lentil pasta will add more fiber and protein while making this more nutritious. Be sure to cook your pasta al dente. Removing it from the cooking water while it's still firm ensures that it will hold its shape when tossed with the warm sauce. Feel free to use reduced-fat or non-fat versions of the cream cheese, sour cream and yogurt, but I recommend using at least one source of full fat dairy for creaminess and flavor. I used whole milk Icelandic-style yogurt, about 3/4 cup mixed with 1/4 cup reduced-fat sour cream, to add even more protein to this dish. Swap kale for the spinach, add mushrooms, or just keep it as is. You could add a protein like leftover cooked chicken or shrimp (or bacon?), but you certainly don't need to. This protein-rich, vegetable focused dinner is a delicious way to embrace Meat Free Monday.
If you love spinach dip so much that you could make a whole meal out of it, why not do just that? Adding some whole grain pasta to an already dreamy dip makes a creamy, comforting, healthy dinner in no time at all. Or, pair your warm dip with carrot and bell pepper sticks plus whole-grain crackers for a healthy weekday snack. Either way you play it, you're off to a good start. 
Spinach and Artichoke Dip Pasta
8 ounces cream cheese, cut into chunks

 

1 10-ounce package frozen spinach, thawed and drained, or 1 5-ounce

 

package fresh baby spinach

 

1 13-ounce can quartered artichokes, drained and roughly chopped
1 cup light sour cream or plain Greek yogurt
1 clove garlic, minced

 

1 teaspoon garlic salt
1/2 cup grated Parmesan cheese, plus more for serving
freshly ground black pepper

 

8 ounces rotini (can be whole-wheat or gluten-free), cooked al dente

 

1/2 – 3/4 cup reduced fat milk, as needed
crushed red pepper flakes (optional)
For dip:
Add cream cheese chunks, spinach, artichokes, sour cream or yogurt, garlic, garlic salt, grated Parmesan cheese and freshly ground black pepper to the bowl of a small slow-cooker or Instant Pot and lightly stir to combine. Cover and cook on low for 2-3 hours or on high for 1 hour.  
For pasta: 
Thin hot dip with milk before tossing with hot pasta. Top with grated Parmesan cheese and crushed red pepper flakes.