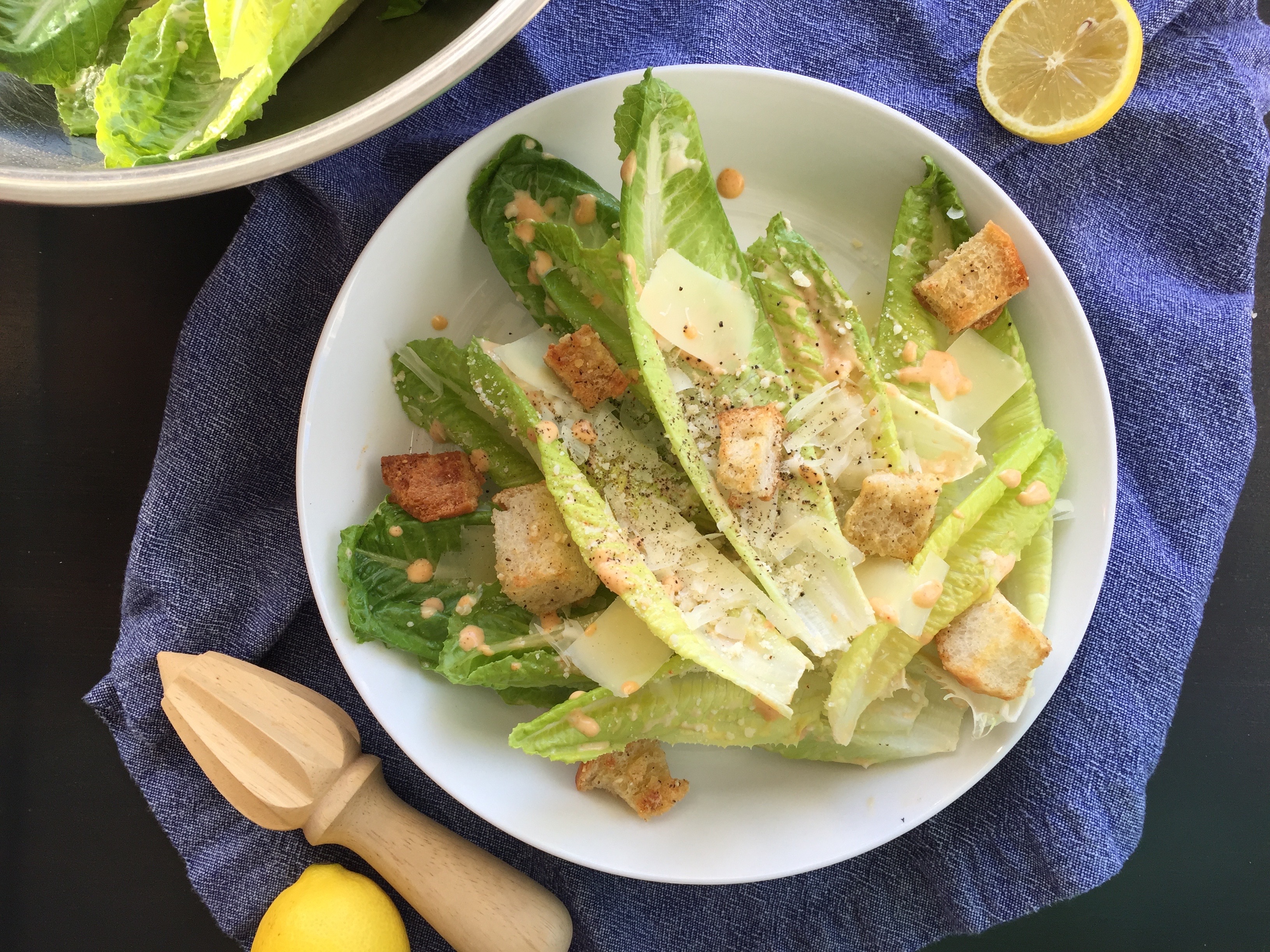 Caesar salad is a snap to make at home, and knowing how to make a good Caesar dressing is something everyone should know.  Put a hot twist on your Caesar with this Spicy Caesar Salad recipe from Cat Cora. Using mayonnaise in the dressing not only speeds things up, but also eliminates the concern over raw eggs.  It also means this dressing will keep well in your fridge, at least for 5-7 days, and with the leftover dressing you can make another Caesar, maybe grilled this time, topped with steak, chicken, or shrimp for another easy meal.  Store what's left in a small, covered jar in your fridge and you're good to go.
Asian chili paste gives the dressing its spicy kick, but you could use Sriracha, gochujang, or maybe a little Tabasco, if you want to try something different.  I think chipotle might also work well here. I opted to use anchovy paste in place of the anchovy oil and minced anchovies called for in the original recipe and also used Vegenaise instead of mayonnaise, but may try the mayonnaise next time, just to see how it compares.
Use your blender or food processor for the dressing and you can skip having to mince the garlic.  Buy the biggest bag of romaine lettuce you can find.  Unlike bagged salads, it keeps well in your fridge.  Buy your Parmesan cheese in a wedge and grate it yourself to save money. You can cut it into small cubes and process it in your blender if you have a high-speed (Vitamix) one.  Do this first, before you make the dressing, and you can make a batch of grated cheese to keep in a container in your fridge.  I added 2 tablespoons of grated cheese to the salad dressing because I think it improved the flavor.  You can taste it first and see what you think.  Top the finished salads with some of the finely grated cheese and then use a vegetable peeler to make some large slices to put on top. Enjoy it today, and maybe even more the second time, knowing it's at least one meal this week you won't have to think about.
Spicy Caesar Salad
Anchovy Croutons
1/3 loaf French Bread, cut into bite sized cubes
1/8 – 1/4 teaspoon anchovy paste
3 tablespoons olive oil
2 tablespoons finely grated Parmesan cheese
salt and pepper
Spicy Caesar Dressing (makes about 1 cup)
1/2 cup mayonnaise or Vegenaise
1/4 cup extra virgin olive oil
2 tablespoons red wine vinegar
1 1/2 tablespoons freshly squeezed lemon juice
1/2 tablespoon Asian chili paste
1/2 tablespoon Dijon mustard
1/2 teaspoon Worcestershire sauce
1/2 teaspoon minced anchovies (or anchovy paste)
2 cloves garlic
2 tablespoons Parmesan cheese
Salad
23 leaves romaine lettuce hearts
1/2 cup freshly grated Parmesan cheese
For the croutons:
Preheat oven to 375ºF.  Line a baking sheet with parchment paper.  Mix the anchovy paste with the olive oil in the bottom of a large bowl.  Add the bread cubes and toss with the oil.  Sprinkle cubes with cheese and season with salt and pepper.  Spread the seasoned cubes out on the parchment lined baking sheet and bake for 6-8 minutes, until lightly browned and crunchy.  Remove from oven and set aside.
For the dressing:
Add all ingredients to blender container and blend until smooth and emulsified.
For the salad:
In a large bowl, drizzle the dressing over romaine leaves and toss.  Transfer dressed lettuce to serving plates.  Sprinkle with Parmesan cheese and top with croutons.  Serve immediately.
adapted from Spicy Caesar Salad, Cat Cora