Speedy Pumpkin Skillet Lasagna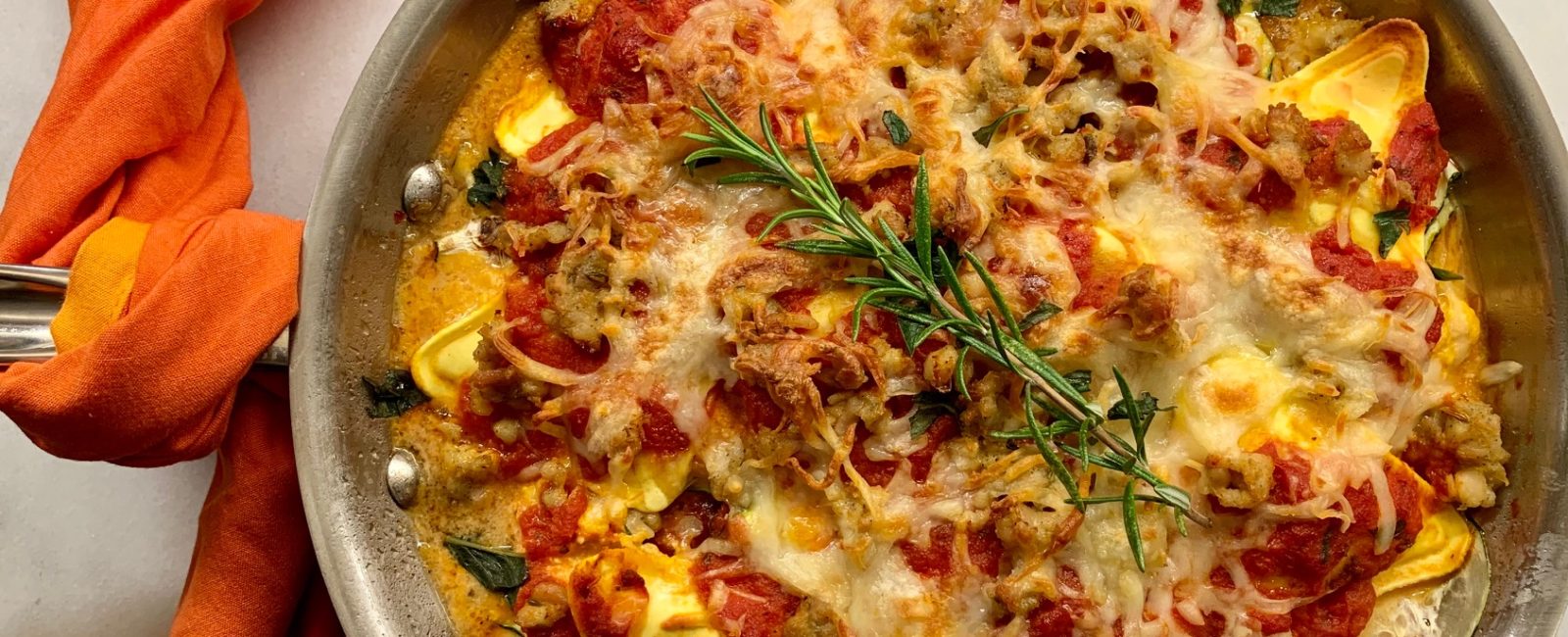 Your next cook from home assignment is an easy one. This Speedy Pumpkin Skillet Lasagna is a one dish bake that's packed with fall flavor and the speedy prep makes it perfect for a weeknight. With several servings of veggies built right in, there's no need to serve a side. You can add a tossed salad if you like, and dinner is done.
I used a roll of Isernio's Hot Italian Chicken Sausage to reduce the fat and skip having to remove the casings. To lighten this recipe further, you can use part skim ricotta and lite mozzarella. If you can't find, or don't have, any of the ingredients, swap in and out as you like. Feel free to add in other vegetables, like thinly sliced yellow squash, a bit of frozen kale or spinach, or even frozen riced cauliflower. Use a mandoline to slice your zucchini. It speeds up your prep and ensures quick, even cooking. 
If you're short on time, use a jar of your favorite sauce. Just brown the sausage, add the wine, let it reduce, then pour in the sauce. You can use any variety of frozen ravioli or refrigerated ones, just expect and allow for a longer cooking time if you use the frozen. Pop this in the oven and your whole house will smell so good you'd swear you were at your favorite Italian restaurant. Enjoy! 
Speedy Pumpkin Skillet Lasagna
Pumpkin-Cheese Filling
1 cup pumpkin purée
1 cup ricotta

 

1 egg
1/3 cup grated Parmesan cheese
freshly ground black pepper
Sauce
1 Tablespoons extra-virgin olive oil
1 medium onion, chopped
3 cloves garlic, minced
1 pound spicy chicken Italian sausage, casings removed

 

1/2 cup red wine
1 28-ounce can tomato sauce
1 Tablespoon dried basil
2 teaspoons dried Italian Seasoning
1/2 teaspoon dried oregano
1 teaspoon dried parsley
freshly ground black pepper
Ravioli-Zucchini 
2

 

9-ounce packages fresh ravioli

 

1 large zucchini, very thinly sliced
8 ounces shredded mozzarella cheese (2 cups)
fresh basil or fresh rosemary (garnish)
Preheat oven to 450º F. Combine pumpkin, ricotta, egg, Parmesan cheese and several grinds of black pepper in a medium bowl. Stir together and set aside.
Warm olive oil in a large ovenproof skillet over medium heat. Add onion and sauté until translucent, about 6 to 7 minutes. Add garlic; cook and stir until fragrant, about 2 minutes more. Add sausage and cook, breaking up with a wooden spoon, until brown. Pour in wine and simmer until reduced by half, then add tomato sauce, basil, Italian Seasoning, oregano, parsley and several grinds of black pepper. Stir together, cover and reduce heat to low. Simmer 15 minutes, stirring occasionally. 
Transfer most of the sauce into a medium bowl, leaving just enough to cover the bottom of the skillet. Top with a layer of ravioli. Spread half of the pumpkin filling over ravioli, then half of the zucchini. Top with half of the shredded cheese, then cover with sauce. Repeat layers, finishing with ravioli and sauce. Sprinkle with remaining mozzarella. Bake until thick and bubbly and cheese is lightly browned – about 10-15 minutes. Scatter basil or rosemary on top and let rest 10 minutes before serving.