Speedy Baked Ravioli Lasagna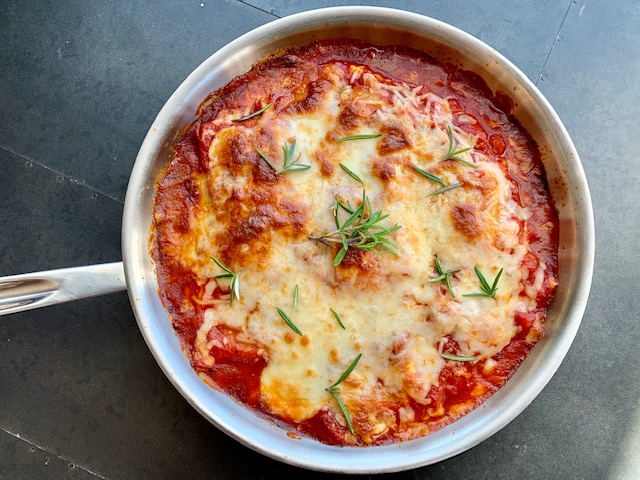 The food photo that beckoned me showed a skillet that I am not so sure belonged in the oven.  The recipe intrigued me, given the fact that it looked so easy and cooked all in one pan. Ravioli, not boiled, and somehow turned into lasagna. Could this really work and perhaps more important, would it be good? Let me say, yes!
I guarantee this will save your dinner on a night when you are unbelievably busy and do not have time to cook, which is pretty much every night, right? Easy and delicious, and because I am Italian, I feel qualified to judge. Vats of Sunday sauce, hundreds of stuffed artichokes, labor intensive cookies, hand made pastas, and many hours suffering through kitchen indignities qualify me as an expert. And you know what? This was really good.
The original recipe called for making your own spaghetti sauce, which is nice to do if you have enough time. It also called for frozen ravioli, but I wondered if fresh ones would work, and if they would cook faster.  I was in a true hurry the day that I made this, and knowing that dinnertime would happen while I was in between errands and  appointments, I needed to make it ahead and take it to go. I put everything together, popped in into the oven and it literally took care of itself, leaving me free to get showered and dressed during the short time it baked in the oven. 
You can make an easy home made sauce, or if you have some home made sauce in your freezer, thaw it and use it. Or, use your favorite jarred sauce (Trader Joe's Organic Marinara), like I did. I felt a little guilty about this not being hard enough, so I sauteéd a little garlic in olive oil and threw in a splash of wine when I made the sauce, but you certainly don't need to do this. You can use any kind of ravioli you like. I used Trader Joe's Beef Bolognese Ravioli, thinking that the meat filling would really capture the characteristic flavors of lasagna without the characteristic work. If you like the meat and cheese combination, adding some cooked, crumbled Italian sausage to the sauce and using cheese stuffed ravioli would also be a winner here, and I plan to try this combo when I make this again. You could also make this in a casserole dish, especially if you are just combining jarred sauce, ravioli and cheese. 
This was enthusiastically enjoyed and passed muster with the most biased, critical panel ever assembled: the Italian family. They even suggested that there was something about the heartily layered, cheesy-baked consistency that made them prefer this to lasagna (gasp!). Enthusiastic eaters all around, everyone was happy to enjoy a home cooked meal amidst the chaos of the day and relieved to not be forced into eating out. 
Get yourself some ravioli and try this. No suffering involved here. Just good food.
Speedy Baked Ravioli Lasagna
1 Tablespoon olive oil
1 garlic clove, chopped
1/4 cup (or a good splash) or red wine
1

 

25 ounce jar marinara sauce
crushed red pepper, several generous shakes

 

2

 

9 ounce packages fresh ravioli

 

8 ounces mozzarella cheese, shredded (2 cups)
1/4 cup water
1/3 cup grated Parmesan cheese
fresh basil or fresh rosemary (garnish)
Preheat oven to 450º F. Warm olive oil in a large ovenproof skillet over medium heat. Add garlic and cook, stirring until lightly golden and fragrant. Add wine and cook, stirring, a few minutes more. Add one third of sauce, and several generous shakes of red pepper, stirring to combine. Remove from heat. Add one package of ravioli, arranging evenly across bottom of skillet. Spoon another third of sauce over, then sprinkle with half of the mozzarella. Top with second package of ravioli, arranging evenly. Add water to jar and shake well. Pour remaining sauce evenly over ravioli. Sprinkle with Parmesan and remaining mozzarella. Bake until thick and bubbly and cheese is lightly browned – about 10-15 minutes. Scatter basil or rosemary on top and let rest 10 minutes before serving. 
– adapted from recipe by Grace Parisi, as seen on Food52