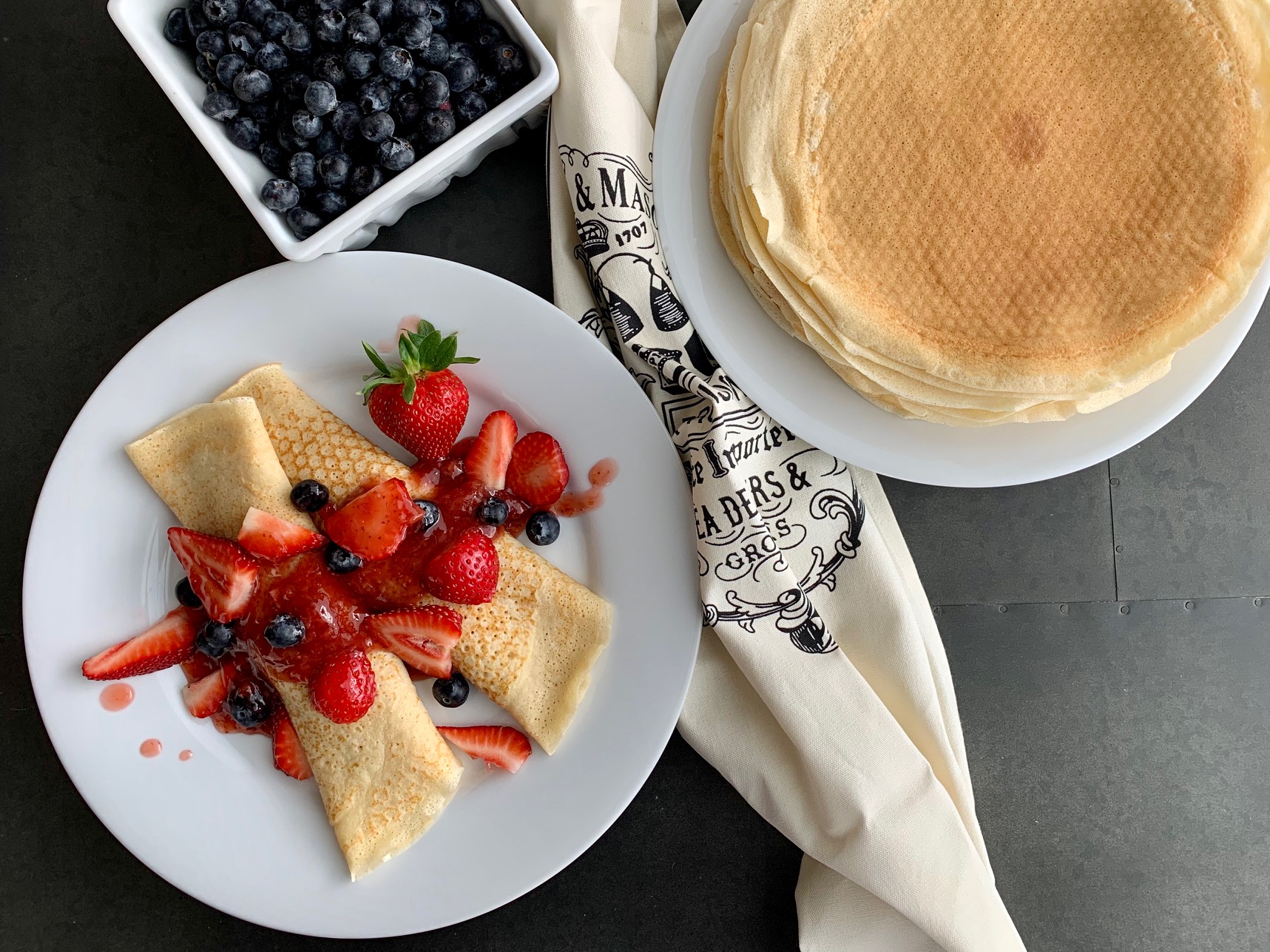 Baking in earnest continues, and my kitchen has come to resemble a science project-indoor garden-classroom of sorts. Various projects line the back of the counter, things sprouting, crystals growing (one of us was making rock candy), each undertaking a work in progress. 
It's a perfect time to experiment and there is nothing more perfect to try your luck on than sourdough starter. I will be the first to admit that bread, like sewing, is not my forte. However, I am more than a little proud of my sourdough starter as just about anyone in my house that I can corner long enough to listen will tell you. The sourdough starter process is a lot like bringing home a new baby, or puppy. It is going to command a lot of your time and attention. It has needs you must be prepared to address. There is going to be some mess involved. And it's going to keep you on a feeding schedule. 
The one thing no one prepares you for, however, is the discard, and oh, there is going to be a lot of it. Determined not to let any of my precious flour go to waste, I tried to bake my way out, making muffins, and pancakes, and crackers. Try as I might, I couldn't keep up and before long I had several jars of discard I was shamed into adding into whenever I couldn't bake something as fast as I was feeding. 
This week we made crepes. I am not sure what I was more excited about, finding a good use for all that discard, or using up more of that lifetime supply of not the right size parchment paper that's been frustrating me. But let's talk about crepes. Delicious and versatile, light and airy, crepes are fancy-fillable with whatever suits your mood, be it savory or sweet. Crepes make you feel good. They're a great way to take what you have and make it look like it was what you meant to make, even if it's not. And who couldn't use a little of that right now?
Stacked preparedly in your fridge, a stash of crepes puts you gleefully ahead of the game for tomorrow's breakfast, a quick lunch, or tonight's "I'm tired of cooking" dinner. Pull out the pile and let everyone follow their whims. Kids can do PB&J, mom and dad can be more sophisticated with some savory ham, asparagus, and Swiss, or ahem, last night's leftover whatever. And let's not forget dessert. With berry season right around the corner, crepes are a perfect dessert just waiting to happen. Spoiler alert: you need to make the batter the night before, so plan ahead.
Double this recipe. You have plenty of starter, right? Keep extra crepes refrigerated, for up to 5 days, if they last that long. Or, let crepes cool fully, then use waxed paper or parchment to separate for freezing. Stored in a freezer bag or other airtight container, they will keep up to 12 months. Thaw overnight in the fridge, or reheat several crepes at a time for about 15 seconds in the microwave.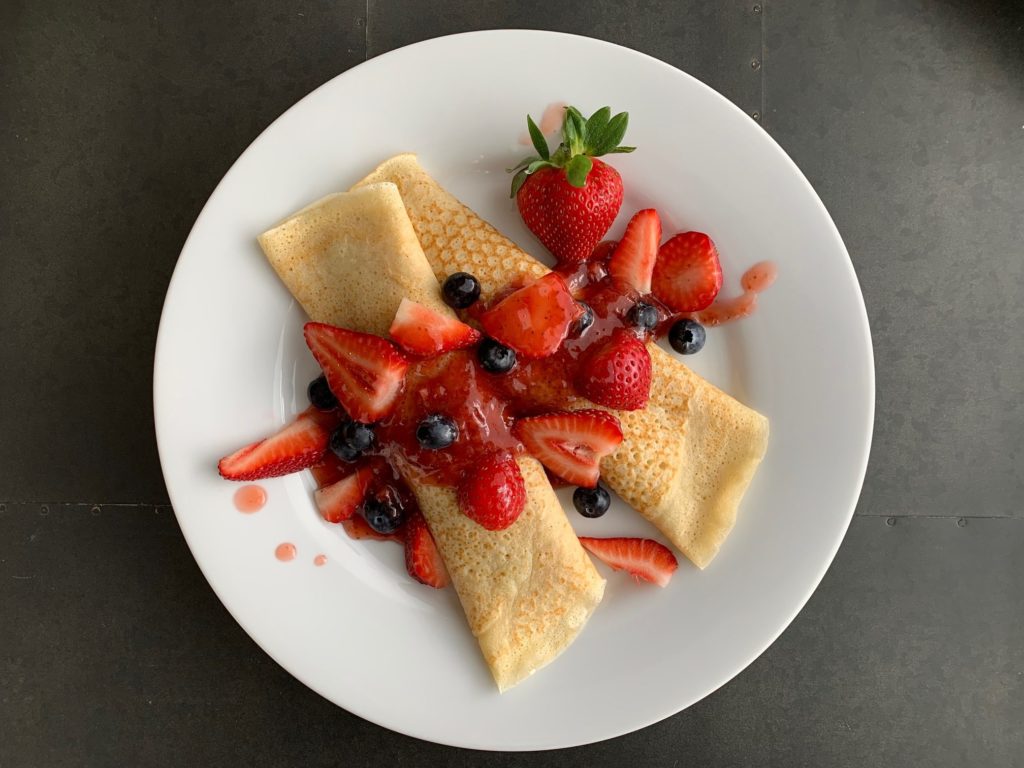 Sourdough Crepes
makes 12 crepes 
6 Tablespoons sourdough starter

 

2 cups all-purpose flour, divided
2 large eggs
3/4 cup plus 1 Tablespoon (or more) milk
3 Tablespoons granulated sugar
1/2 teaspoon baking soda
1/2 teaspoon kosher salt
3 Tablespoons unsalted butter, melted, plus more at room temperature
grapeseed or vegetable oil (for pan)
day before:
Combine starter, 1 cup plus 6 tablespoons flour, and 3/4 cup plus 1 tablespoon room-temperature water in a medium bowl and mix until no lumps remain. Cover and let sit overnight at room temperature. 
Fold in remaining flour (1/2 cup, plus 2 tablespoons). Add eggs, milk, sugar, baking soda, salt and melted butter, whisking until thick and pourable, about the same consistency of heavy cream (adding more milk if needed). Try to get batter as smooth as possible. 
Use oil to lightly coat a crepe pan or 10" nonstick skillet, then warm over medium-high heat. Pour enough batter into center of pan to cover about two-thirds of the bottom (about 1/4 cup). Lift pan, tilting at an angle, and rotate, swirling with your wrist to coat bottom evenly with batter. Cook undisturbed, until surface looks dry, bottom is golden brown, and crepe is easy to lift, about 45 seconds. Flip, using a silicon or other thin-edged spatula to gently turn crepe onto other side. Cook about 20 seconds, or until golden. Transfer to plate. Repeat with remaining batter.
– recipe by Kat Boytsova, as seen on Epicurious, April 2020
Note: If you do not have starter and want to join in on the fun, here's a link to the King Arthur website. Want to make crepes right this minute? Combine 1 1/2 cups milk, 2 eggs, 1 Tablespoon cooking oil, and 1/4 teaspoon salt and follow cooking directions above.