Smoky Chipotle Baked Beans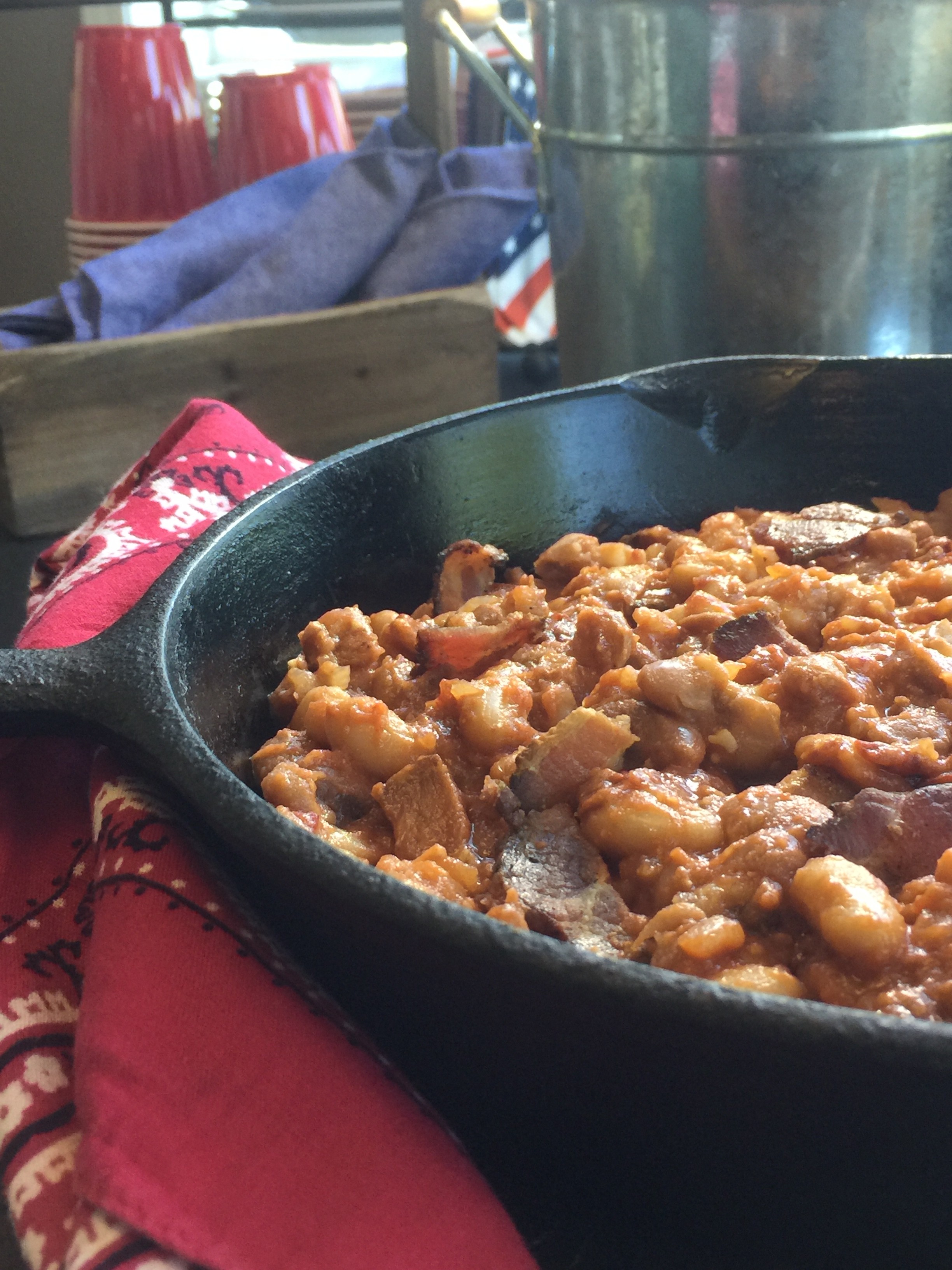 Who's ready for a barbecue?  Fire up the grill, stock the fridge with beer, and get ready to kick back for a bit.  Memorial Day weekend is here, and the sun is shining on us!  I am sliding in at the last minute with a great recipe you will use again and again all summer long.  Prep is minimal.  You chop some onion and garlic, cook some bacon, open a few cans of beans and stir a few more ingredients together.  Transfer it to the oven, and you're done!
Still feeling bad about the baked bean recipe I posted last year, I have not forgotten that I told you I would fix it and give you something better.  Well, this is it!  This recipe came from the January/February 2016 issue of Cooking Light.  It caught my eye because it promised to reduce the sugar (baked beans typically have 15g per 1/2 cup) but not the flavor.  Last night, at about 10:30 p.m., I felt a rumbling in my kitchen floor.  The kind you feel when they say we had a small earthquake.  Yes, this recipe made the earth move.  It rocked the ground because it was absolutely delicious and I am quite serious.  Just 5 grams of sugar, and only 2 of them are added from the maple syrup.  This should make amends.
Rather than browning the bacon in the pan, grill, or smoke, your bacon strips.  You can cook the entire pound this way, and have some leftovers.  Put a couple of whole, cooked strips in the pan with the onion while it cooks, then remove and cut them up to add back in before you put the beans in the oven.  Top with the remaining 2 slices, cut up, at the end.   Store the rest of the cooked strips in a ziptop bag and refrigerate, ready to eat for the weekend.
Smoky Chipotle Baked Beans
4 center-cut bacon slices, chopped
1 cup finely chopped onion
2 tablespoons white miso (soybean paste)
4 garlic cloves, minced
1/2 cup reduced sodium chicken broth
1 1/2 tablespoons maple syrup
1 tablespoon chopped canned chipotle chiles in adobo sauce
1 1/2 teaspoons cider vinegar
1/2 teaspoon smoked paprika
3 (15-ounce) cans unsalted navy beans or Great Northern beans
1 (8 ounce) can unsalted tomato sauce
Preheat oven to 350ºF.  Cook bacon in a 10-inch cast-iron skillet (or other ovenproof skillet) over medium heat for 5 minutes, or until crisp, stirring occasionally.  Remove bacon from pan with a slotted spoon, reserving drippings. Add onion to drippings in pan and cook 4 minutes, stirring occasionally.  Add miso and garlic and cook 2 minutes stirring frequently.  Stir in stock and remaining ingredients and bring to a simmer.  Place pan on oven and bake for 45 minutes, or until sauce is thick.  Remove pan from oven and sprinkle beans with bacon.