Slow-Cooker Thai Coconut Mussels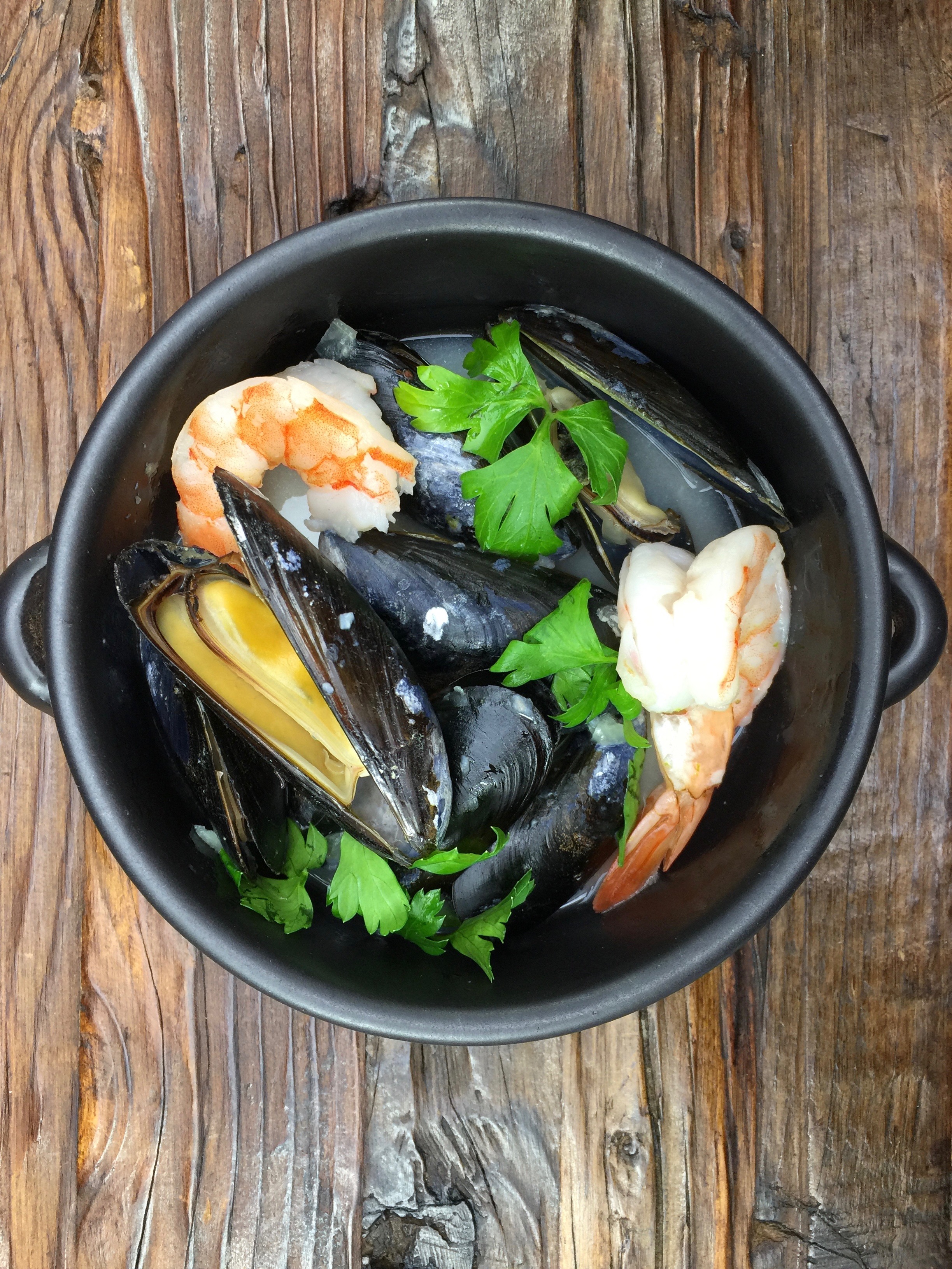 Sorry, mussels – I was not your biggest fan.  I am totally guilty of fishing all the other seafood out of the boil and leaving the mussels behind.  And if that's not bad enough, I have lived in the Northwest over 20 years now and have never once cooked them at home.  But all of that is over now.  Not only have I made mussels at home (twice!) but I now know they are fast, easy, and not so scary after all.  I even have a way to make them that won't heat your whole house up:  Thai Coconut Mussels cooked in the slow-cooker.  This recipe made me want to give mussels a chance.
Here's what you need to know to cook mussels at home.
You can buy mussels a day ahead.  Keep the bag from the seafood counter open, and keep it cool, until you get home.  Transfer mussels into a pie plate or similar shallow plate or tray with low sides.  Cover loosely with a moist dish towel.  Mussels are alive and need to stay that way until you cook them.
To clean mussels, transfer to a colander and rinse with cold water.  Depending on your mussels, you may need to debeard them.  Not the case with the mussels I purchased, but you can find good information on Google for this.
If you have any mussels that are open after rinsing, tap them a few times on the counter.  They should close right up.  If they don't, discard them.
I found Penn Cove mussels at Whole Foods, where I also found that my mussel dislike has spilled over into mussel ignorance.  I did not even know where Penn Cove was, but was pretty sure it was somewhere in the great Northwest.  Who knew we had world famous mussels and that there is an annual MusselFest, not to mention a mussel eating competition?  It's true.  All of this takes place in Coupeville, on Whidbey Island.  This will happen on March 4th and 5th next year (2017), just in case you are a serious mussel eater and want to calendar this so you can show off your skills.
This recipe is from Food Network's Jeff Mauro.   I added shrimp, just to be on the safe side, for those who might not be sure about the mussels.  If you want to do this, too, just add the peeled, cleaned shrimp at the same time you add the mussels. I did not use the fish sauce.  I have a new bottle in my fridge that I still can't bring myself to open, but hey, I just started to like mussels, so I may be able to get over this soon and try it.
I had never used a Thai chile before and was really surprised at how much heat that one little chile could make.   It also gave the broth that distinctive Thai flavor that makes Thai food, and these mussels, so good.    And… I had to substitute Thai red curry paste for the gochujang.  Does anyone know where to buy gochujang?  I have not been able to find this anywhere and I really want to try it.
You can set the broth up ahead of time and let your slow cooker do the work, while you go off and do something else.  Go out.  Run some errands.  Get yourself a Frappucino.  When you get home, all you have to do is add the mussels and coconut milk and wait 15 to 20 minutes.  You can make the garlic bread to kill time while you wait.  Open that crockpot, and be impressed.  I think this could be a really good appetizer for company, too.   I may be going to that MusselFest after all.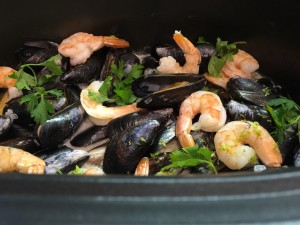 Slow-Cooker Thai Coconut Mussels
4 servings
1 cup chicken stock
1 tablespoon fish sauce
2 cloves garlic, grated
1 small Thai bird chile, chopped
1 stalk lemongrass, smashed with a knife
1 shallot, minced
2 pounds fresh mussels, cleaned, scrubbed, and debearded
1 1/2 cups unsweetened coconut milk
1/2 cup fresh cilantro leaves
zest of 1 lime, plus 1 tablespoon lime juice
Crusty Gochujang Garlic Bread, recipe follows
Add stock, fish sauce, garlic, chile, lemongrass and shallot to a 6- to 8-quart slow cooker.  Cover and cook on high for at least 2 hours.  Add the mussels and coconut milk and continue to cook on high, covered, until the mussels open, another 15 to 20 minutes.  Discard any unopened mussels.  Stir in cilantro, lime zest and juice.  Ladle into bowls and top with additional fresh cilantro and a lime wedge.  Serve with Crusty Gochujang Garlic Bread.
Crusty Gochujang Garlic Bread
1 stick salted butter, at room temperature
2 tablespoons gochujang
1 clove garlic, grated
1 crusty baguette, sliced in half horizontally
Preheat broiler.   Mix butter, gochujang, and garlic in a small bowl.  Smear butter mixture on baguettes halves and transfer to baking sheet.  Broil until golden, about 3 to 5 minutes.