Slow Cooker Kale, Red Pepper, and Feta Frittata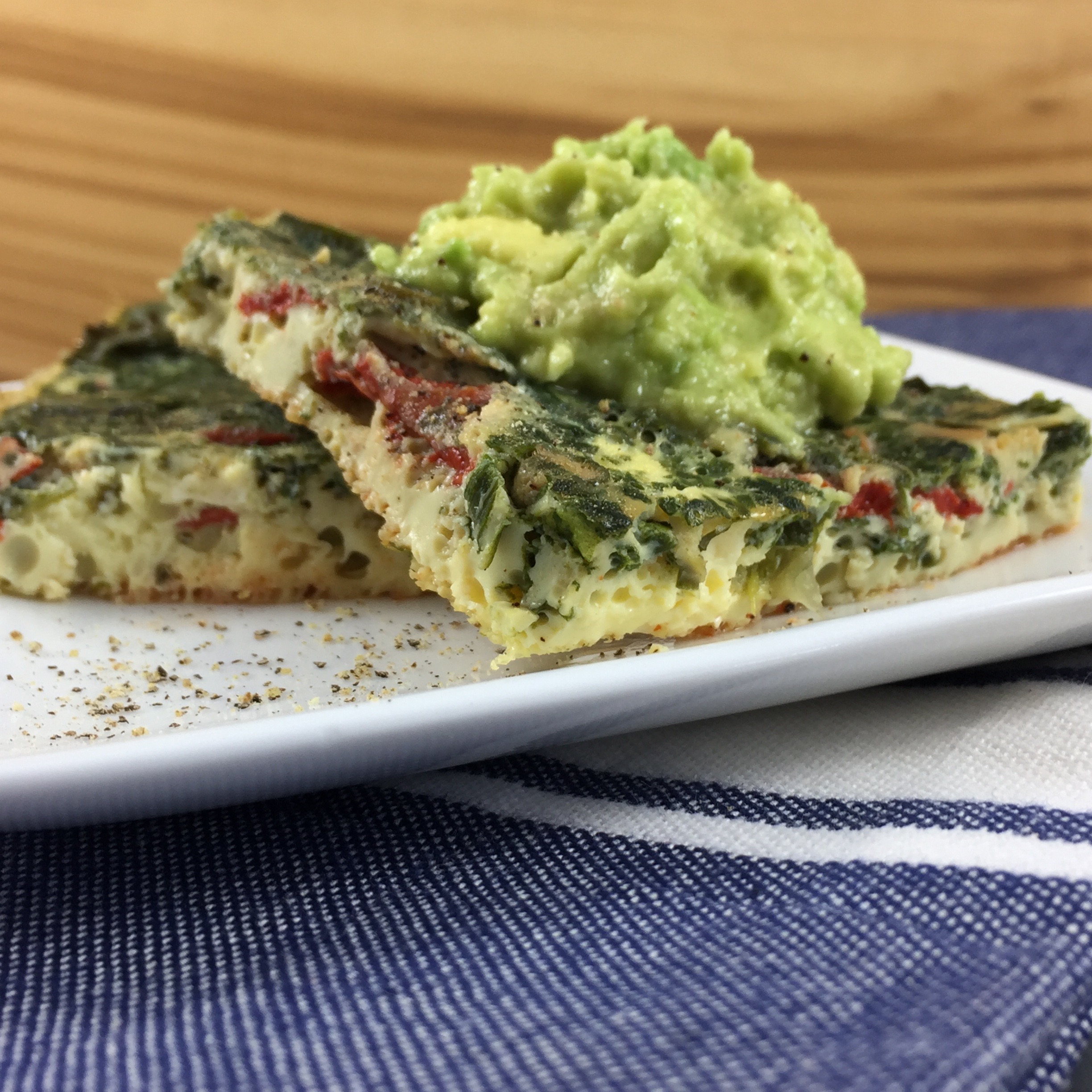 How about breakfast in bed?  Wouldn't you just love to wake up to a nice, hot meal someone else made for you?  Now what if you could do it for several days?  And, could it please be fast, easy, and healthy?  Hold on to your potholders, because here it comes…
January is National Slow Cooking month, and appropriately, I have had no problem keeping my crockpot plugged in and busy.   Some days I barely get one thing cooked before I have another slow-cooked-something in mind.  I love this appliance so much that despite its hefty-Hummer size, it has earned a place of honor on my countertop.  Always on the lookout for new ways to use my favorite helper, I make as much as I can with this bit of kitchen wizardry.  That said, I have never tried, but always wondered about, cooking eggs in the crockpot.  Boy, am I sorry!
This recipe came from Kalyn's Kitchen via Pinterest.  I have made it several times this month, changing up the ingredients each time, and getting to enjoy several days' worth of worry free mornings to follow.  The original recipe called for fresh kale, which had to be sautéed first, but I used frozen kale to speed things up.  I also used 4 whole eggs and 6 whites, even though the basic recipe called for 8 eggs.  You could use all whites, any combination of eggs and whites, or even use more than 8 eggs, just as long as you watch the cooking time and make sure they are set.   Feel free to use more or less of the ingredients, as well.  You can add more cheese if you like, or not so much onion, if you don't care for it.  Use your eye to tailor how much you use to the size of your crock pot.  You get the idea.
The night-before prep was fast and easy.  Put ingredients into magic pot, walk away for 3 hours, and… "Presto!" –  breakfast for several days.  Imagine, 5 minutes of prep work and several days' worth of breakfast ready to go.  Think about using this recipe as a template, and feel free to tweak this basic idea to use what you have on hand.  I have used spinach instead of  kale.  Cheddar in place of Feta.  I added some cooked, crumbled Italian sausage.  Once, I tossed in some sliced kalamata olives, and mushrooms were a nice add-in another time.   I have not tried hash browns, but I think you could scatter some of those in, too.  And, if you must know, I just happened to have some cooked bacon that really helped make the next 3 days better.  You can pretty much add or subtract anything you like, pour in the eggs, and you're good.   After breakfast, portion and refrigerate any leftovers and forget about having to make breakfast for a few days.  Reheat gently in the microwave.   Plus, these little squares can go places.  They can travel well to the office, or wherever you happen to be going.  Just remember to toss them in your bag, or else they will end up on your kitchen counter while you are on vacation.  (Oh, yes, I did….)  We had to buy breakfast out that morning.
Slow Cooker Frittata with Kale, Red Pepper, and Feta
olive oil, to lightly coat slow cooker
1/2 cup frozen kale
1/4 cup roasted red pepper, drained
1/4 cup sliced green onion
1/3 cup crumbled Feta cheese
8 eggs, well beaten 
sea salt or salt substitute
freshly ground black pepper  
Lightly coat the bottom of slow cooker with olive oil or non-stick cooking spray.  Scatter frozen kale over bottom of cooker.  Dice red pepper into fairly small pieces and add to crock pot along with sliced onion and crumbled Feta.  Pour beaten eggs over all.  Season with sea salt or salt substitute and freshly ground pepper.  Cook on low, 3 hours, or until frittata is set.
You may have to get creative about that 3 hour cook time.  You can set up your crock pot and refrigerate the liner (covered) before heading to bed.  Enlist your up-late-studying teen to plug in and start when they go to bed at 3 a.m.  Or, have that first person up do the honors.  You could make this the night ahead, after dinner, let cool and stash in fridge.  Just like magic, you have breakfast in 30 seconds or less in the morning.
I am already washing my crockpot up and getting ready to make dinner.  Now if I could just figure out how to get my crockpot to put this on a tray and serve it…