Slow Cooked Shredded Chicken Tacos
My stove is officially off.   We are in for a steamy stretch of searing temps.  How hot is it?  Hot enough that food carts are closed.  Hot enough that popsicles, ice cream, cold sandwiches, or anything iced sounds good.  You will however, tire of this at some point and want to eat something more substantial.  Something… cooked.  Keep your kitchen cool with easy chicken tacos you can make in the slow cooker.  If you really want to play it safe, take your slow cooker to the garage.  (Oh, yes, you can, and yes, I do!)  Toss the chicken and the seasonings in, set your crock pot to low, and forget about it for the rest of the day.  About 15 minutes before you plan to eat, shred the chicken right in the slow cooker.  Push the chicken to one side and add a can of drained beans, black or pinto, to the other side.  Cover the cooker and let the beans heat while you set out guacamole, Queso Fresco, salsa, sour cream, and anything else you like to top your tacos with.  Wrap your tortillas, several at a time, in a paper towel or clean kitchen cloth and microwave on high for 30-45 seconds.  You can lightly dampen the paper towel to add some moisture to the tortillas if you want.  And there you have it – a fast, easy, effortless meal that didn't heat your kitchen up at all.
Slow Cooked Shredded Chicken Tacos
2 teaspoons chili powder
1/2 teaspoon garlic powder
1/2 teaspoon onion powder
1 1/2 teaspoons ground cumin
1/2 teaspoon paprika
1/2 teaspoon crushed red pepper
1/4 teaspoon dried oregano
1/2 teaspoon sea salt
1/2 teaspoon ground black pepper
1/2 cup chicken stock or water
1/2 to 2 pounds (or 4 large) chicken breasts
1 – 15 ounce can black or pinto beans, lightly drained
corn or flour tortillas
toppings:
guacamole, or sliced avocado
Queso Fresco or shredded Mexican cheese blend
salsa
sour cream
fresh cilantro
lime wedges
sliced black olives
Combine all seasonings together in small bowl.  Pour water or stock into the bowl of 4-quart or larger slow cooker.  Sprinkle seasonings over both sides of chicken breasts then place chicken in slow cooker.  Cover with lid and cook 4 to 5 hours on low, or 2 to 3 hours on high, until chicken is tender and thoroughly cooked.  Using two forks, shred chicken in slow cooker.  Move chicken to one side and add can of beans.  Cover and let sit 15 minutes or more, or until beans heat.  Serve with warmed corn or flour tortillas and toppings.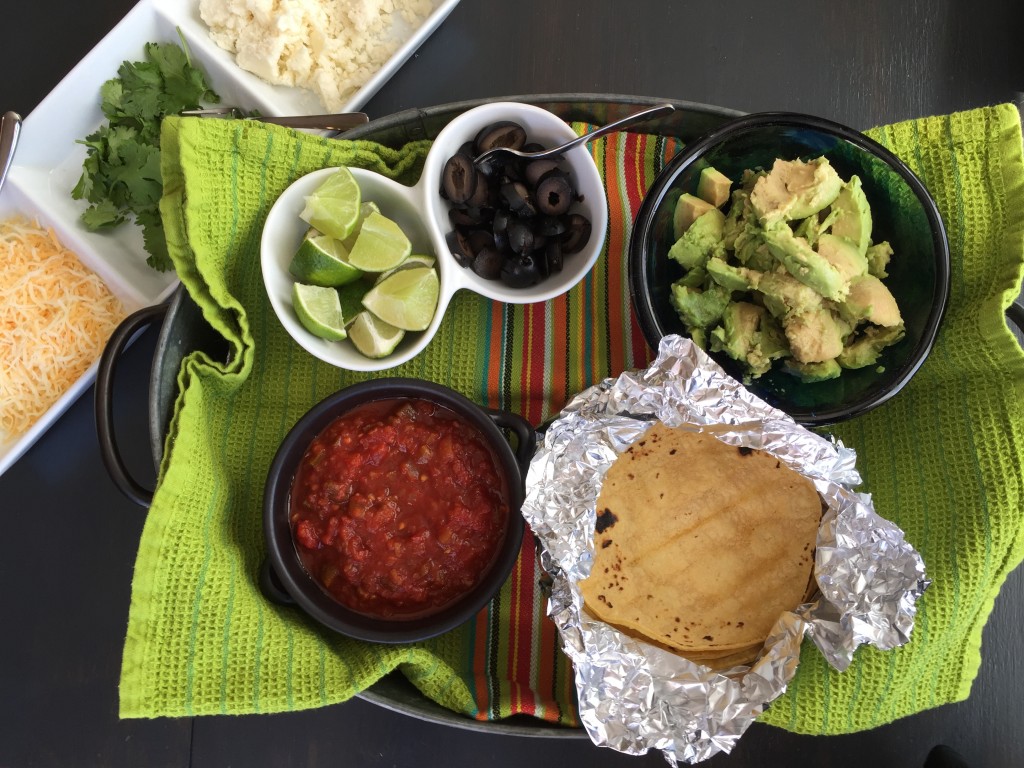 Now that you've got the hang of it, you can also cook unseasoned, shredded chicken breasts in your slow cooker.  Use the 4 breasts to 1/2 cup chicken stock or water ratio and cook as above.  Use for chicken salad, or to top grains or greens, stir into soup, casseroles, quesadillas, or add to sandwiches.
Next up – a frozen pop that's perfect for rehydrating in the heat.